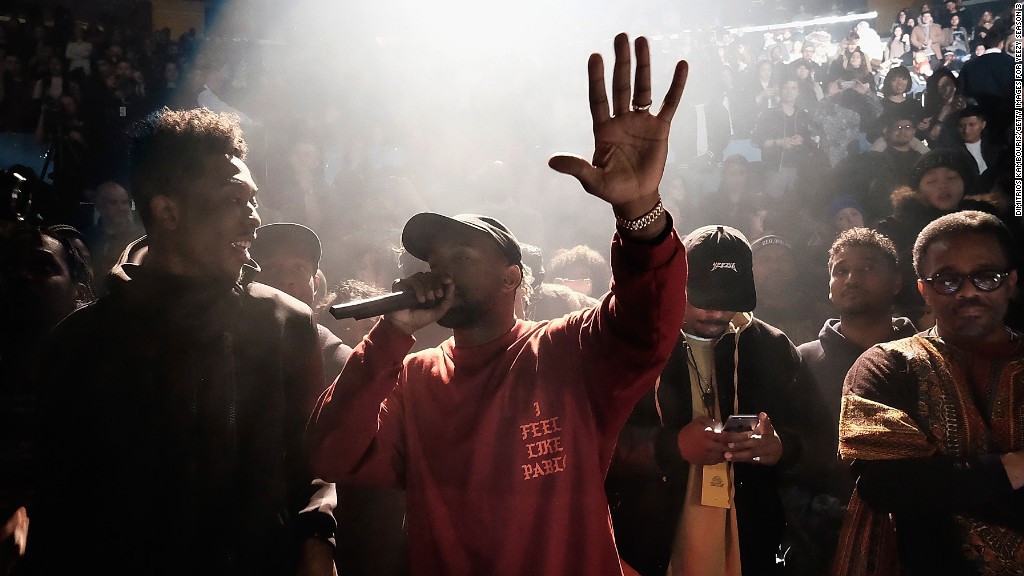 Kanye West has an endorsement deal for sneaker giant Adidas. He recently asked/begged/demanded that Apple buy Tidal, the streaming music site backed by fellow rapper Jay Z.
And his wife Kim Kardashian is minting money from a popular smartphone game from app developer Glu Mobile.
But apparently, Yeezy has saved his love for this one iconic brand: McDonald's, even though it looks like neither he nor Kim have any financial relationship with it.
Kanye cryptically tweeted to his 25.3 million followers on Wednesday that McDonald's is his "favorite brand." Although he forgot to include the apostrophe.
He didn't give any further details about what exactly it was that he liked so much about Mickey D's.
Is it the Happy Meal toys for his and Kim's two young kids? Is he a sucker for the special sauce on the Big Mac? Maybe he's one of those weirdos who actually like the Filet-O-Fish?
Or maybe Kanye, a pretty savvy businessman in his own right, is a fan of how Steve Easterbrook has turned the company around since taking over as CEO last year. Do Kanye and Kim own the stock?
Not sure. But what I know is that this isn't the first time that Kimye have shown their appreciation for the Golden Arches.
Kanye was spotted picking up food from a McDonald's drive-through in Los Angeles last year ... in a Lamborghini. I guess when you're spending almost a million dollars on wheels, the Dollar Menu is a way to cut back on other expenses.
Kim wrote a post on her own website last month about how much she loved Chicken McNuggets. And McDonald's responded by sending her a bunch of vouchers in a Givenchy wallet.
So maybe that's why Kanye is so appreciative of Ronald, Grimace, the Hamburglar and the rest of their crew.
Then again, Kanye's tweet shouldn't be that big of a surprise considering that he also just recently wrote an ode to the fast food franchise for the limited edition "Boys Don't Cry" magazine that accompanied some copies of Frank Ocean's new album "Blonde."
Shaksepeare, it's not. But here is the poem in its entirety.
McDonalds Man
McDonalds Man
The French Fries Had A Plan
The French Fries Had A Plan
The Salad Bar And The Ketchup Made A Band
Cus [Because] The French Fries Had A Plan
The French Fries Had A Plan
McDonalds Man
McDonalds
I Know Them French Fries Had A Plan
I Know Them French Fries Had A Plan
The Cheeseburger And The Shakes Formed A Band
To Overthrow The French Fries Plan
I Always Knew Them French Fries Was Evil Man
Smelling All Good And Sh-t
I Don't Trust No Food That Smells That Good Man
I Don't Trust It I Can't
McDonalds Man
McDonalds Man
McDonalds Damn
Them French Fries Look Good Tho
I Knew The Diet Coke Was Jealous Of The Fries
I Knew The Diet Coke Was Jealous Of The Fries
Even The McRib Was Jealous Of The Fries
I Could See It Through His Artificial Meat Eyes
And He Only Be There Some Of The Time
Everybody Was Jealous Of Them French Fries
Except For That One Special Guy
That Smooth Apple Pie
McDonald's was pretty happy to get some love from Kanye ... although they took issue with his "artificial meat" line.
But hey. Beggars can't be choosers. There were rumors before Kim and Kanye got married about him buying her a bunch of Burger King franchises as a wedding gift.
No word on whether North and Saint West are getting Mickey D's franchises of their own.