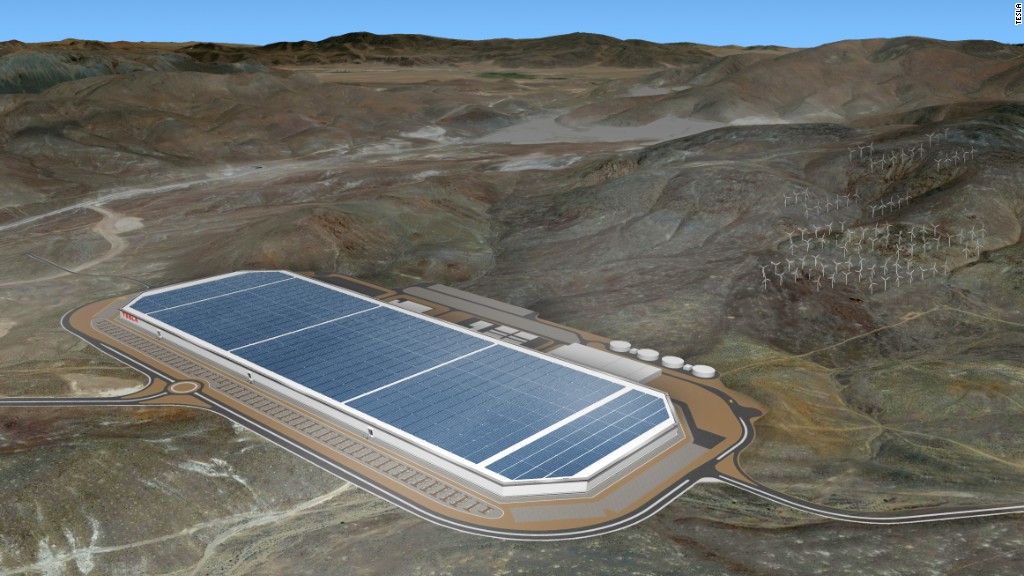 Elon Musk's vast clean energy kingdom has been built on incredible innovation -- and huge amounts of debt.
Now that Musk is combining Tesla and SolarCity into one company, there are signs of a cash crunch, as debt payments are coming due. Critics have even dubbed the planned merger a financial rescue of SolarCity (SCTY), the leading solar panel seller in the U.S.
SolarCity is burning cash rapidly. The company's cash stockpile plunged to $146 million at the end of June, down from $489 million last year.
For its part, Tesla (TSLA) revealed in a new filing this week that it owes $422 million to bondholders this quarter. These combined financial obligations are forcing Tesla to raise more cash, on top of the nearly $2 billion it raised via a stock sale as recently as May. Tesla said on Wednesday it plans to either sell more stock or bonds before the end of the year, but didn't say how much.
The new cash will help stem the bleeding at SolarCity and fund Tesla's other costly ventures, like its enormous GigaFactory.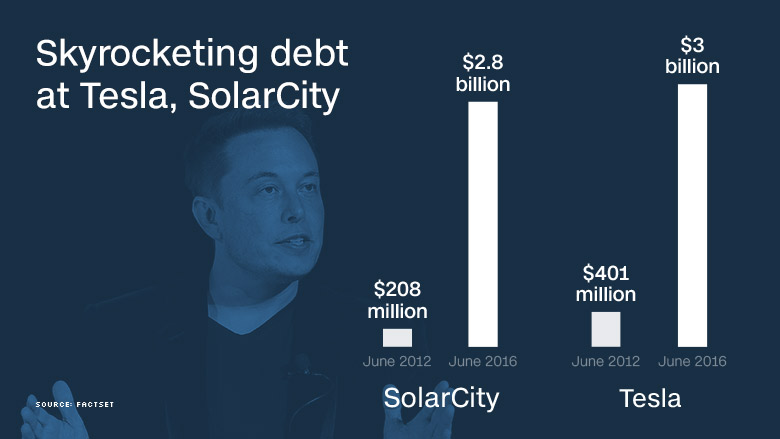 These cash crunch concerns are at the heart of opposition to the deal among some analysts.
"I'm not a fan of the SolarCity deal. We think it has the appearance of being a bailout," said Efraim Levy, an S&P Global Market Intelligence analyst who has a rare "sell" rating on Tesla.
"They're taking two bad businesses, in terms of cash flow, and combining them. That creates more havoc to juggle than if each were on their own," he said.
Related: Explosion at SpaceX launch pad at Cape Canaveral
Tesla said the looming merger actually caused certain SolarCity lenders to balk and delay funding its financing needs. SolarCity was also "unable to access the equity capital markets" as usual, Tesla said.
Colin Rusch, an analyst who covers Tesla at Oppenheimer, believes these financial pressures will ultimately speed up efforts to complete the SolarCity acquisition. The deal, first announced in June was valued then at $3 billion before being cut to $2.6 billion in early August. It is expected to close in the fourth quarter.
"Pressing liquidity concerns" will likely lead "both parties to move as quickly as possible to close the acquisition," Rusch said.
Musk's other big venture, SpaceX, was grappling with problems of its own on Thursday after one of its rockets exploded on the launch pad in Cape Canaveral.
SpaceX is independent from both Tesla and SolarCity, but investors seem to be betting bad news for Musk is bad news for the rest of his empire. Shares of Tesla fell 5% on Thursday, while SolarCity plunged 9%.
Meanwhile, there have been two other recent disclosures that have raised eyebrows about the financial situation at SolarCity.
First, SolarCity raised $124 million in a bond sale last week. But the vast majority of those bonds were purchased by Musk and his cousins: SolarCity CEO Lyndon Rive and Peter Rive, the company's technology boss.
That raised red flags for the S&P analyst Levy: "No one is buying it, so you guys have to buy it? And you're not buying equity, but bonds, which are more protected."
Tesla also revealed that 15 separate suitors considered acquiring SolarCity this summer. But ultimately all of those parties decided against buying all or part of SolarCity.
Related: How Tesla caused home prices to soar here
The solar company's shaky balance sheet couldn't have instilled much confidence. SolarCity's long-term debt has exploded from $208 million in June 2012 to $2.8 billion today.
Tesla, which generates far more revenue than SolarCity, has also racked up long-term debt of $3 billion, nearly double the level of two years ago.
These obligations, combined with the funding requirements of SolarCity, put even more pressure on Tesla to meet its goal of dramatically ramping up production to half a million cars a year by 2018.
"Long term, the SolarCity acquisition might make sense operationally," said Levy. "But in the short term, it creates more risk."