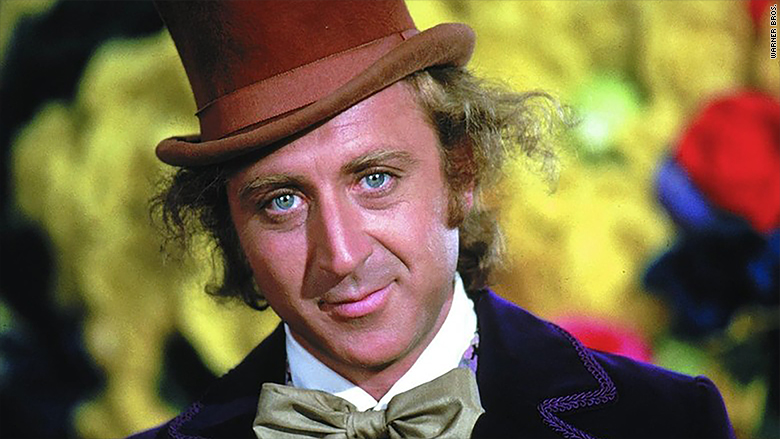 Two of Gene Wilder's most regarded films are headed back to theaters this weekend following the actor's death this week.
AMC Theaters is leading the charge with screenings of two of Wilder's films -- "Willy Wonka and the Chocolate Factory" and "Blazing Saddles" -- at 55 locations on Saturday and Sunday.
Regal Entertainment Group plans to hold two Saturday screenings of the 1971 children's classic, based on the Roald Dahl book, at 100 theaters, according to a representative.
Wilder's turn as Willy Wonka arguably stands as his most memorable role, while "Blazing Saddles," one of his many collaborations with director Mel Brooks, was among his most sidesplitting films.
Wilder, 83, died Monday due to complications from Alzheimer's disease.
AMC notably led a large roll out of Prince's "Purple Rain" following the singer's death in April. It initially screened at 87 locations and was expanded the following weekend due to demand.
There is money to be made here, sure. But it should be noted that AMC is offering its tickets for a mere $5 per film.
Plus, Paul Dergarabedian, senior media analyst at comScore, says theaters have more than that to gain by re-releasing films after the death of a revered actor or celebrity.
"The local movie theater is in a sense the town square and this is a great opportunity for theaters to connect with their patrons in a very tangible way that can bring people together and create goodwill with audiences and the community," he tells CNN via email.
Like "Purple Rain," "Blazing Saddles" and "Willy Wonka and the Chocolate Factory" are available for digital purchase on iTunes, Amazon and other platforms. But why then are audiences still eager to head to theaters when they can watch it in the comfort of their home? Dergarabedian says a personalized experience isn't what audiences are looking for in times of grief.
"The communal environment of the movie theater adds a huge measure of poignancy to the bittersweet feeling that we all experience after the loss of our favorite and most beloved stars and allows the audience to connect with other fans in a very public way that makes it a true celebration of the artists' work," he says.
A representative for AMC says decisions regarding all releases are "done in collaboration with our film programming team and the movie's distributing studio, who work together to determine the availability of a classic movie print, as well as potential movie-going interest."