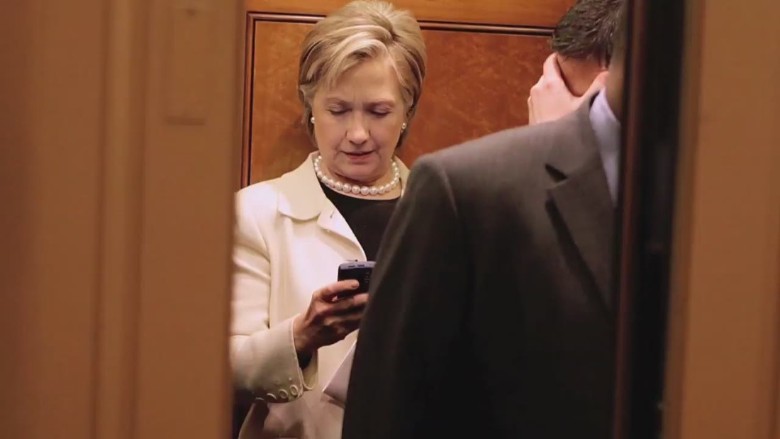 The last time Hillary Clinton held a formal press conference, David Bowie was alive, Bernie Sanders was on the cover of Rolling Stone and not a single American had cast a vote in either the Democratic or Republican primaries.
Clinton's refusal to hold another press conference is well documented and has been drawing scrutiny for weeks. Yet even in September, both Clinton and her running mate, Sen. Tim Kaine, dismiss the issue by claiming that the nominee speaks to reporters all the time -- a misleading assertion that is drawing increasing ire from the reporters who cover her.
On Thursday, Kaine told "CBS This Morning," "You see Hillary take questions from reporters every day," a claim reporters who cover Clinton described to CNNMoney as extremely misleading.
Clinton has not held a formal press conference with the national media since December 5, 2015. She has not even held a gaggle -- an informal fielding of questions that no political observer would mistake for a press conference -- since July. In the entire month of August, she did two national television interviews, both of them by phone. (That is, unless you count her in-person appearance on "Jimmy Kimmel Live!")
This is a stark contrast to Republican nominee Donald Trump, who has held at least 15 press conferences this year (16 if you count his brief Q&A session in Mexico City this week) and in terms of interviews has been one of the most accessible presidential candidates in modern history.
Brian Fallon, a Clinton campaign spokesperson, declined to address Kaine's remarks or the lack of a formal press conference in 2016.
Related: "Stay tuned:" Clinton won't commit to holding a press conference
What enables Kaine to claim that Clinton talks to reporters "every day" is the fact that Clinton has averaged more than an interview a day, as shown by an NPR review of her media engagements for the first seven months of 2016.
But these interviews -- primarily with national television and local radio -- are not the same thing as press conferences, in which a candidate stands before the dozens of reporters who have been tracking his or her every move.
On CBS, Kaine said, "I don't see what the massive difference is between a press conference and talking to the press everywhere you go. She talks to the press a lot. And I've been with her when she's talked to the press."
The difference, in short, is that candidates have a harder time evading questions in a room full of reporters than they do when talking one-on-one on camera, or fielding questions on the way to their campaign bus.
(Kaine correctly noted that Clinton had taken questions after an address to the National Association of Black Journalists and National Association of Hispanic Journalists, but that is different from addressing the national press corps that knows her positions better than anyone, including other reporters, and is therefore better equipped to ask probing questions.)
Kaine, too, has become more guarded since joining Clinton's ticket. As a senator, Kaine was known for being accessible to reporters on the Hill and in his home state of Virginia. Since becoming Clinton's running mate five weeks ago, he has held just four brief gaggles, all of which have lasted less than five minutes.
Meanwhile, Clinton, who has an 87% chance of becoming the next president, according to the New York Times data gurus at The Upshot, has not stood in front of the national media and answered a series of on-the-record questions in all of 2016.
Yet when asked by CNN's Anderson Cooper in August about her refusal to hold a press conference, Clinton simply shrugged it off: "Stay tuned," she said, "There'll be a lot of different opportunities for me to talk to the press."