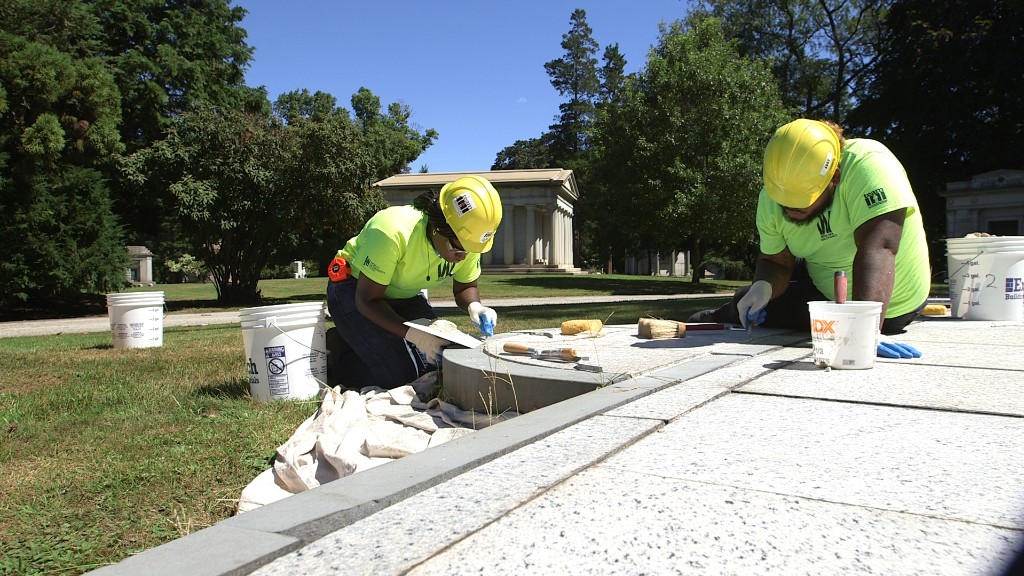 As his high school graduation loomed last year, Alejandro Soto was worried about his next step in life.
A lot of his friends in his Bronx neighborhood had tried to find work, but weren't successful. And Soto, 19, wasn't sure college was for him.
Little did he know he'd find his calling in a cemetery a few miles away.
Last summer, Soto joined the inaugural class of stone masonry interns at Woodlawn Cemetery, a national landmark where jazz great Miles Davis, James Cash Penney (founder of J.C. Penney) and Moby Dick author Herman Melville are buried. The group learned about cleaning and caring for different types of stones as part of the masonry restoration program.
Soto, who heard about the program through his high school, did so well that he was asked to stay on as an apprentice for 19 months to learn more skills and help with this year's crop of interns.
"I never thought I'd be working in a cemetery," said Soto, who always looked forward to carpentry class in high school and thought he'd become a painter. "But I love working with my hands. It's a peaceful place."
The program trains interns in documenting, preserving and restoring stone structures. They learn pointing, making foundations, caulking and cleaning, getting hands-on experience on some of the cemetery's 150,000-plus monuments and 1,300 private mausolea.
The 400-acre Woodlawn Cemetery launched the preservation training program last year to give city residents, ages 18 to 24, the opportunity to enter a well-paying trade, rather than just take a low-skill, low-wage job. It's one of a growing number of nationwide efforts designed to set high schoolers and recent grads, who suffer from higher unemployment rates, on a career path.
Related: These high schoolers are manufacturing airplane parts
This year, some 60 young New Yorkers applied for 16 spots.
After spending several weeks in the classroom, the interns took on rehabbing the Borden Memorial, where the textile magnate Matthew Borden, who died in 1912, and his family are entombed. They washed the stones to take off decades of grime. They repointed the mortar between the stones. They reset pieces that had shifted over the years.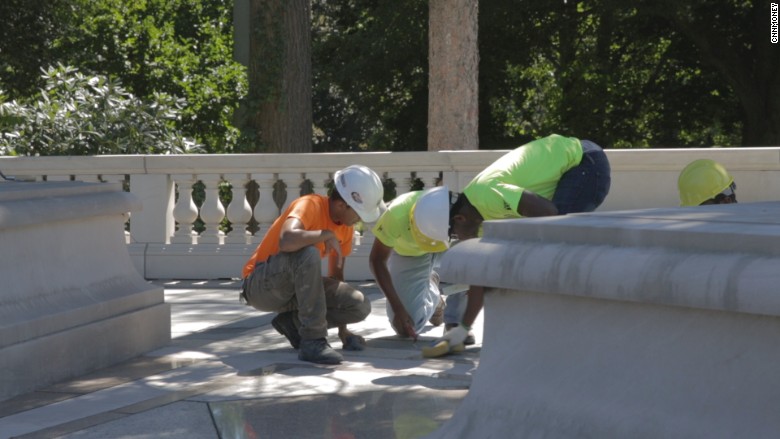 Masonry workers are in demand. The industry, which also encompasses masons who build structures with stone, brick and cement, is expected to grow 15% through 2024 as the U.S. population expands and more buildings are constructed, according to the Bureau of Labor Statistics. Median pay is just under $40,000 a year nationally.
The nine-week program at Woodlawn gives the interns a leg up when applying for jobs with contractors or trying to enter the Bricklayers and Allied Craftworkers Local 1 union four-year apprenticeship, said Rob Cappiello, the cemetery's resident craftsman. The union program, which requires applicants to have a high school diploma or equivalent, trains budding masons and masonry restorers on job sites alongside experienced contractors.
In addition to exposing young adults to the craft, the Woodlawn internship also teaches them vital soft skills, such as showing up on time and following directions. And, Cappiello hopes some of his love for the trade, which he entered more than 30 years ago, rubs off.
"I try to instill in them taking pride in their work," he said. Otherwise, "it's just a job, just a paycheck and it doesn't last very long," he said.
Related: College grads are getting nearly all the jobs
About three-quarters of last year's 12-person class found work, though not all in masonry restoration. Of those who stayed in the field, the cemetery took three into its apprenticeship, two got into the union's training program and another two were hired by private contractors.
The Woodlawn staff hopes to do an even better job this year of placing the interns, who are a bit older and more mature and focused, Cappiello said. The cemetery is also working with a social service agency that counsels disconnected youth and is talking to more contractors in hopes more will snap up the interns, who finish the program this week.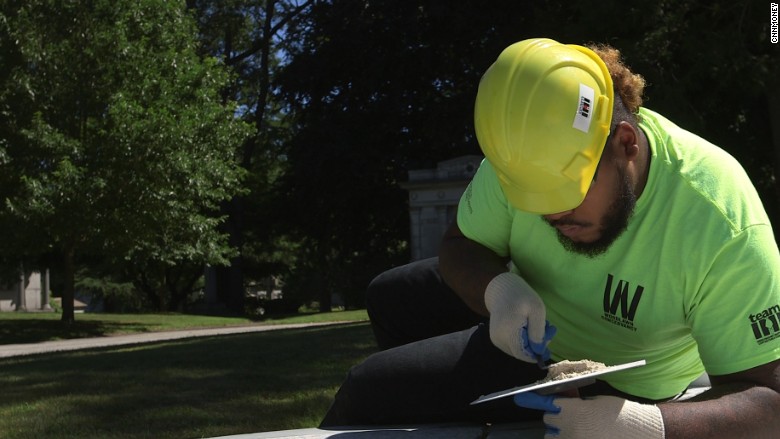 Soto still has time to decide what he'll do next. He's weighing whether to get a job at a cemetery or apply for the union's apprenticeship program, where he could learn to work on buildings. Though he's not eager to work on skyscrapers since he's afraid of heights, he's more confident about his future.
"I'm not worried about getting a job because the experience and skills I've learned here will serve me in other jobs," said Soto, who will also take classes at a local community college this fall.