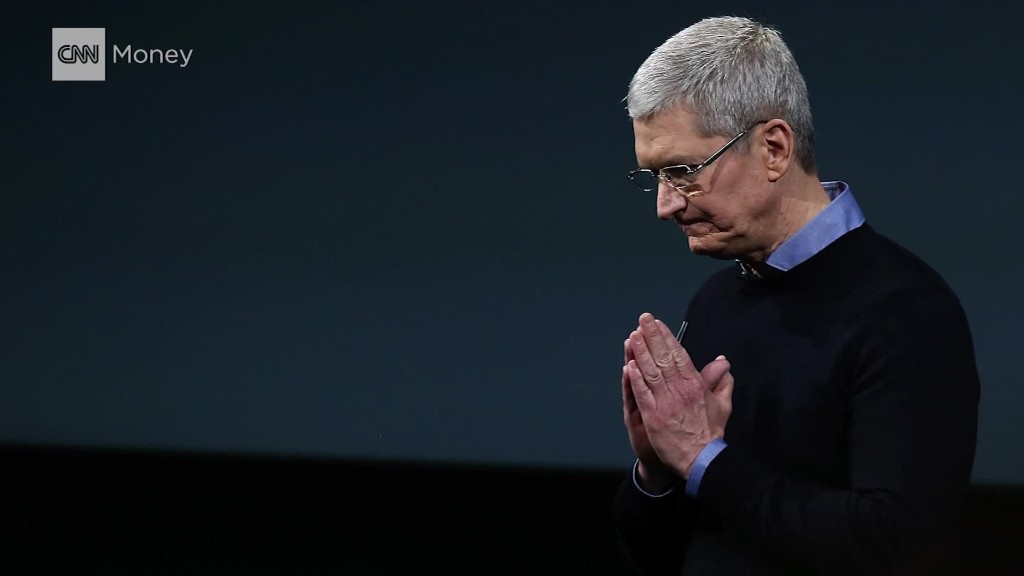 One hugely profitable multinational is told to pay billions more tax to a hard-pressed government. Taxpayers cheer.
Not in this Irish city. Across Cork -- where Apple (AAPL) has its European headquarters -- residents appear strongly in favor of letting the company off its massive 13 billion euro ($14.5 billion) tax demand from the EU.
The Irish government will decide Friday whether to appeal a ruling from the European Commission that requires it to collect back taxes from Apple. The money would go a very long way in a country that needed an 85 billion euro bailout in 2010.
But here's the problem: The technology giant employs almost 5,000 locals in a city with a population of about 125,000. And its presence since 1980 has attracted other large multinationals like Pfizer (PFE) and EMC (EMC).
There is a strong sense that the city owes its success to the company. People feel they've benefited directly from foreign investment, and are worried about anything that puts it at risk.
Pat O'Connell, a Cork fishmonger who has been in business in the area since 1963, said Apple has been crucial to the development of the city over the past 35 years.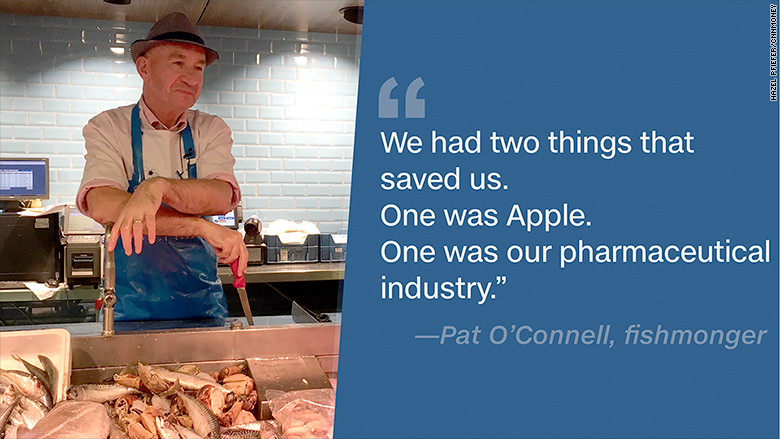 "From an Irishman's point of view and from a Cork man's point of view, Apple are very much part of Cork."
Apple CEO, Tim Cook, denounced the European Commission's tax ruling this week, which asserted that Apple paid just 0.005% tax in Ireland in 2014. Cook told the Irish Independent that the figure was "total political crap."
Des Cahill, mayor of Cork, hopes Ireland will appeal the EU tax ruling.
"The worst case scenario is Apple leaves. I'd like to think it's not possible ... I'm reassured by Tim Cook's statement where he reaffirmed his commitment to Cork and that's the best news that came out of a very confusing day."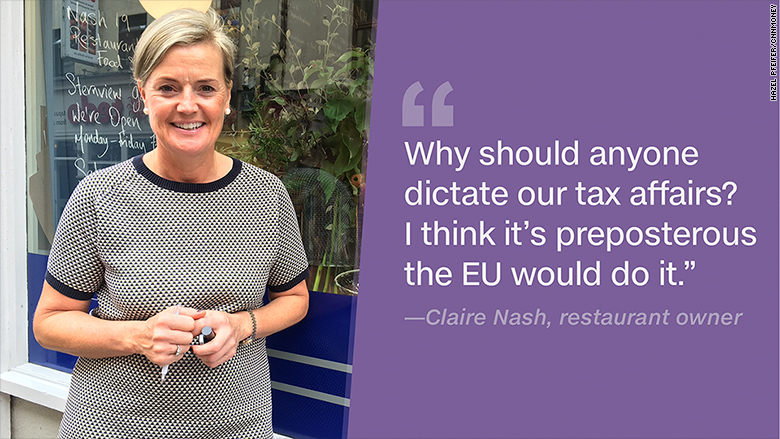 Claire Nash, a restaurant owner, said she didn't like the EU meddling.
"Why should anyone dictate our tax affairs? I think it's preposterous the EU would do it. I really do trust the government will sort this out," she told CNN.
Residents are grateful to Apple for helping the city get through Ireland's deep recession during the financial crisis.
"We had two things that saved us: one was Apple, one was our pharmaceutical industry. Both very much foreign direct investment," said O'Connell.
Local photographer Billy Mac Gill echoed those sentiments: "Apple is very important. It's good for the area, it's good for everything, it's good for commerce."
Related: Tim Cook's plan to move billions back to the U.S.
But not everyone has sympathy for Apple's case. Cork politician Donnchadh O Laoghaire supports his party's call not to appeal the tax ruling.
He said Ireland's special "sweetheart" tax deal with Apple led to a "substantial amount of lost revenue" and the government shouldn't let the issue drag on.
"In many ways the reputational damage has already been done," he said. "I think we need to accept this decision."