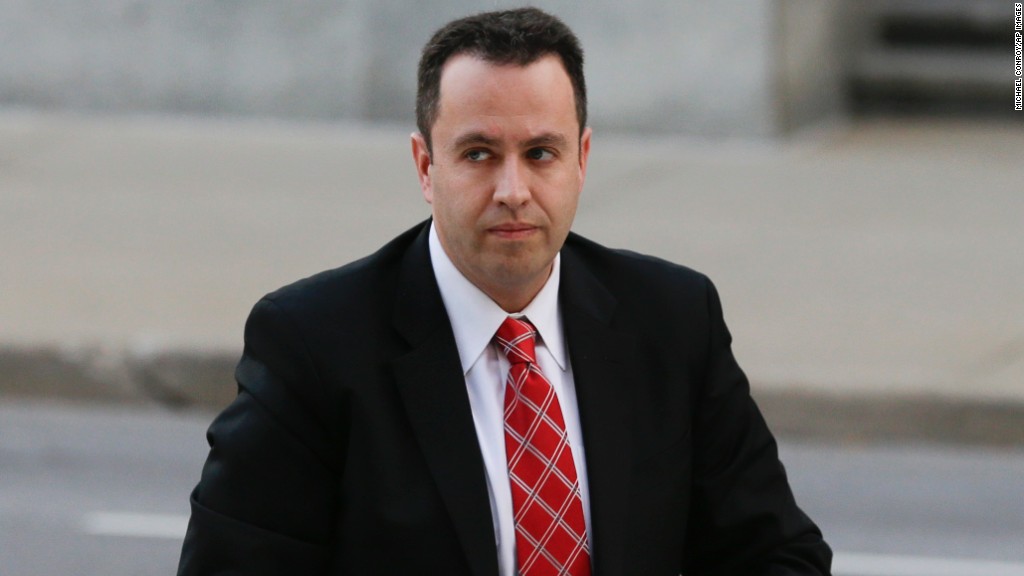 Jared Fogle, the former Subway pitchman who pleaded guilty to charges of child pornography and having sex with minors, is arguing in a court filing that one of his victims' parents is as responsible for her emotional distress as he is.
Fogle made that argument in a civil suit against him by one of his victims, who is seeking at least $150,000 in damages for the emotional distress she suffered because she was unknowingly photographed in the nude as a child.
She was photographed by Russell Taylor, a co-defendant of Fogle. Taylor, who like Fogle is in federal prison, is a co-defendant in the civil suit, as is his wife, whom the suit alleges knew he was photographing minors.
Fogle received and distributed those nude photographs and videos of the girl, according to her suit. It charges she suffered "severe, traumatic and permanent injuries and mental anguish as a result."
Related: Bill Cosby, Jared Fogle and other pitchmen gone bad
The suit does not allege that she is one of the victims with whom Fogle had sex. The victim is identified as Jane Doe to keep her identity secret.
In a motion filed in the case, Fogle's attorneys seek to have her parents, who are identified only by their initials, added as defendants in the case as well.
The motion says that the victims' divorced parents "maintained a hateful and abusive relationship toward each other, which included, but was not limited to, engaging in frequent fighting and arguing between themselves; abusing alcohol and getting drunk; and engaging in frequent fighting, physical abuse, and arguing with Jane Doe, which caused Jane Doe to suffer from emotional distress, anxiety, and major depression before she learned of any allegations involving" Fogle and the Taylors.
The motion also alleges that Jane Doe's parents' lack of supervision led her to engage "in various harmful activities, including, but not limited to, alcohol abuse, substance abuse, self-mutilation, and sexual activity with multiple partners" before the victim learned she had been secretly photographed.
Fogle is serving a 15-year, 8-month prison term in prison. He also agreed to pay $100,000 each to 14 of his victims under terms of his plea.