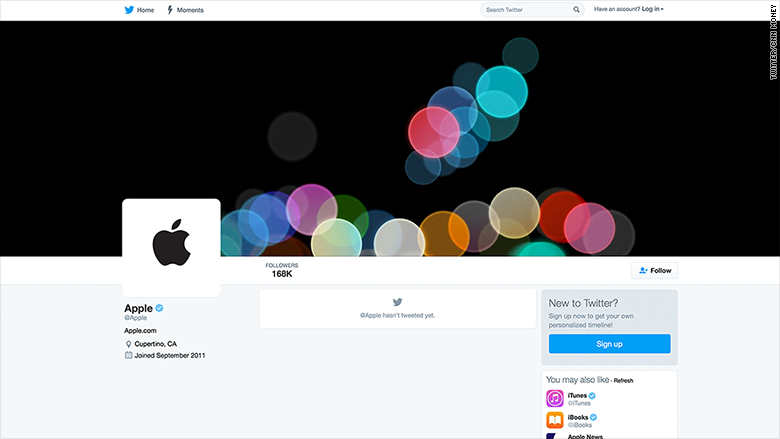 Apple has done something remarkable. Five years after first claiming the @Apple handle on Twitter, the company has finally shown the account some love.
OK, so it didn't actually tweet anything yet. But the default egg avatar has been swapped out for a crisp white Apple (AAPL) icon, and the background photo is now the art from its latest event invitation. (Apple is hosting a media-only product launch on Wednesday where it will likely show off the next iPhone.) The image shows the top of the Apple logo as illustrated with multi-colored bokeh lights.
Related: iPhone rumor roundup: What's expected for Apple's next smartphone
The account is even verified now and has the official blue checkmark to prove it. There are 116,000 followers eagerly awaiting @Apple's first tweet. It follows no one -- not even CEO Tim Cook (@tim_cook) who posts bland but cheery tweets about the latest company news.
The timing of the Apple account update and the use of the invite image have led many to speculate Apple plans to tweet out news during the upcoming event.
Apple tweets during an event would offer a sanitized alternative to the hundreds of tweets posted by tech reporters in the audience.
Related: EU hits Apple with $14.6 billion tax bill
The company doesn't have much of a presence on social media. There's no official Facebook or Instagram page, although it has tried and failed to start some of its own social media-like platforms. Remember iTunes Ping?
Apple has not yet commented on the move to spruce up its Twitter page.