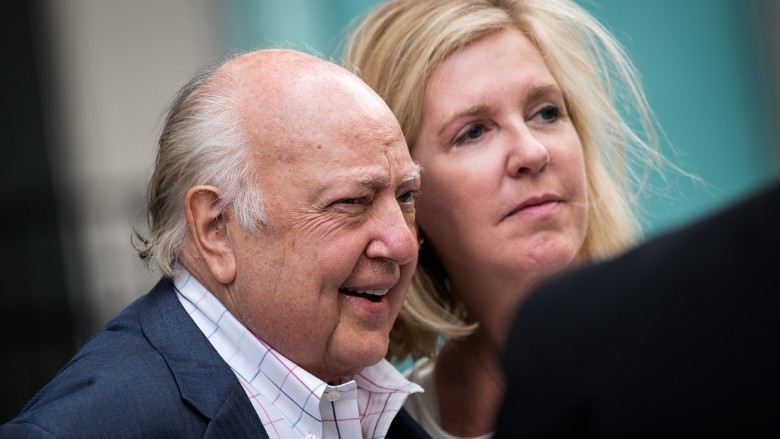 Roger Ailes has retained the libel lawyer who represents Hulk Hogan in his suit against Gawker and Melania Trump in her suit against The Daily Mail.
Attorney Charles Harder sent a threatening letter on Ailes' behalf to New York magazine and its national affairs editor Gabriel Sherman, whose reporting about Ailes' alleged sexual harassment has led the way this summer.
Ailes has denied the harassment charges against him, and his other lawyers have attacked Sherman in highly personal ways.
"New York Media and Gabriel Sherman were contacted by Charles Harder on behalf of Roger and Elizabeth Ailes, asking that we preserve documents related to the Ailes, for a possible defamation claim," a spokeswoman for the magazine said Monday.
Elizabeth Ailes is the wife of the former Fox News chief.
"The letter sent by Harder was not informative as to the substance of their objections to the reporting," the spokeswoman added. "Sherman's work is and has been carefully reported."
Sherman is also the author of a 2014 biography about Ailes. His latest story about the harassment scandal, "The Revenge of Roger's Angels," is the magazine's cover story this week.
The subheadline is "How Fox News women took down the most powerful, and predatory, man in media."
The legal letter arrived via email on Friday, hours after that article was published on NYMag.com.
The letter may foreshadow a defamation suit by Ailes, or it may just be an intimidation tactic.
Sherman declined to comment.
Harder did not respond to a request for comment on Monday. His involvement with Ailes was first reported by the Financial Times.
Harder led Hogan's invasion of privacy lawsuit against Gawker over the publication of a sex tape. Hogan -- whose effort was secretly backed by billionaire entrepreneur and Gawker opponent Peter Thiel -- prevailed in a jury trial earlier this year. The appeals process is currently underway.
Harder was also recently retained by Donald Trump's wife Melania, who sued The Daily Mail and a blog called Tarpley last week, alleging the two outlets made false and defamatory statements about her. The Daily Mail retracted the story in question after the suit was filed.
Related: In a post-Gawker world, Melania Trump's libel suit has a better shot
It may be just a coincidence that Harder is now representing the Ailes family as well. But Donald Trump and Roger Ailes are longtime friends. Ailes is informally advising Trump ahead of this fall's debates.
According to Sherman's cover story, Trump recommended a lawyer to Ailes "in the days after" ex-anchor Gretchen Carlson filed a harassment and retaliation suit against Ailes.
That suit triggered an internal investigation by the parent company of Fox News, 21st Century Fox; similar harassment allegations by other women; and Ailes' resignation on July 21.
Revelations about Fox News continue to trickle out.
Sherman's most recent story asserts that the executives both above and below Ailes looked the other way while he engaged in "predatory" behavior inside Fox News.
CNNMoney recently reported that copies of a 400-page opposition research file about Sherman made the rounds inside Fox News while Sherman was working on the biography.
Related: The "oppo research" against Gabe Sherman
Fox News has no connection to the legal letter sent by Harder on Friday. Ailes is now operating on his own.
He is known to have two other lawyers: Susan Estrich, who is based in California, and Mark Mukasey, who is based in New York.
Last week, while Sherman's cover story was being finished and fact-checked, both lawyers criticized the reporter.
Estrich said in a statement: "Sherman has made clear that nothing will stand in the way of his vendetta against Roger Ailes, and he will use any woman he can find—no matter how clearly and deeply troubled she is—to try to concoct allegations against Mr. Ailes. But Gabe is running out of women he can use and abuse. Ultimately, it will be clear that the real enemy of women is Gabe Sherman."
And Mukasey told The Daily Beast that "Gabe Sherman is a virus, and is too small to exist on his own, and has obviously attached himself to the Ailes family to try to suck the life out of them." Mukasey added, "Roger is fine and doing well, and is not going to allow a virus like that to poison the atmosphere."