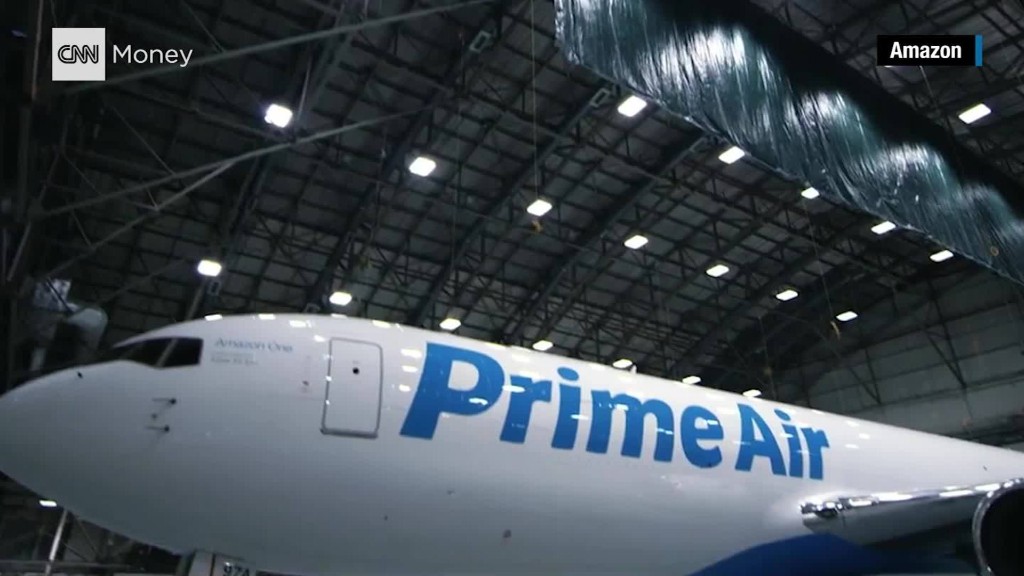 Amazon now has its own planes, several hit TV shows, a massive cloud computing business ... and oh yeah, it still sells a gajillion books, toys, and tons of household items online.
Is it any wonder that Amazon (AMZN) stock continues to sizzle? Shares hit a new all-time high Tuesday. The company is now worth a staggering $370 billion.
That puts Amazon in a virtual tie with Warren Buffett's Berkshire Hathaway (BRKB) as the fourth-most valuable company in America.
Only Apple (AAPL), Google's parent Alphabet (GOOGL) and Microsoft (MSFT) are worth more. (Amazon pulled ahead of both Facebook (FB) and Exxon Mobil (XOM) recently.)
Buffett and Amazon CEO Jeff Bezos are also neck and neck in the rankings of the world's wealthiest. They're each worth more than $67 billion.
So can Amazon keep climbing? The company has already defied the odds in many ways.
Related: Bill Gates is now worth $90 billion
Amazon is not the kind of stock for the faint of heart. Value investors like Buffett wouldn't touch it since shares trade at a staggering valuation of more than 135 times earnings estimates for this year.
That's substantially higher than traditional retailers like Walmart (WMT)and Target (TGT).
But of course, both Walmart and Target are not growing anywhere nearly as fast as Amazon. They are both playing catch up.
Walmart even went as far as buying hot online retail startup Jet.com recently for more than $3 billion in order to become more competitive with Amazon.
Amazon has (mostly) lived up to the hype because it has posted levels of earnings and sales growth that are substantially higher than all of their peers -- both in the brick-and-mortar and online retail world.
Related: Amazon posts its fifth straight quarter of profits
That is expected to continue. Analysts are forecasting that Amazon's sales will rise 28% this year and more than 20% in 2017. Profits are expected to soar 360% this year and another 80% next year.
Amazon is now expanding aggressively in the grocery delivery world as well, another shot across the bow towards Walmart and Target -- as well as at supermarket kings Kroger (KR) and Whole Foods (WFM) and warehouse giant Costco (COST).
So the biggest risk with Amazon may wind up being Bezos' lofty ambitions. There have been times in the past where investors have been disappointed by short-term hits to Amazon profits as the company chose to invest aggressively in future initiatives.
Amazon has mostly lived up to the hype.
Related: Amazon and Facebook race past Buffett's Berkshire
Its Fire Phone product -- an attempt to gain ground from Apple's iPhone and the numerous Android phones out there -- has been its most notable product flop.
But Amazon has quickly recovered in the device market. Its Echo smart speakers, which features its voice assistant Alexa (sort of like Siri on steroids) has been selling well.
There's now chatter that Amazon may look to start selling cars from its site too. Amazon recently launched a new Amazon Vehicles site for researching about cars.
Yes, Amazon's stock probably has to cool off eventually. Still, it may be difficult to predict just when that will happen.
As long as Bezos keeps delivering on his lofty promises -- as he has mostly done for nearly two decades now -- then the sky (in one of those new Amazon planes) may be the limit for Amazon's stock in the long-term.