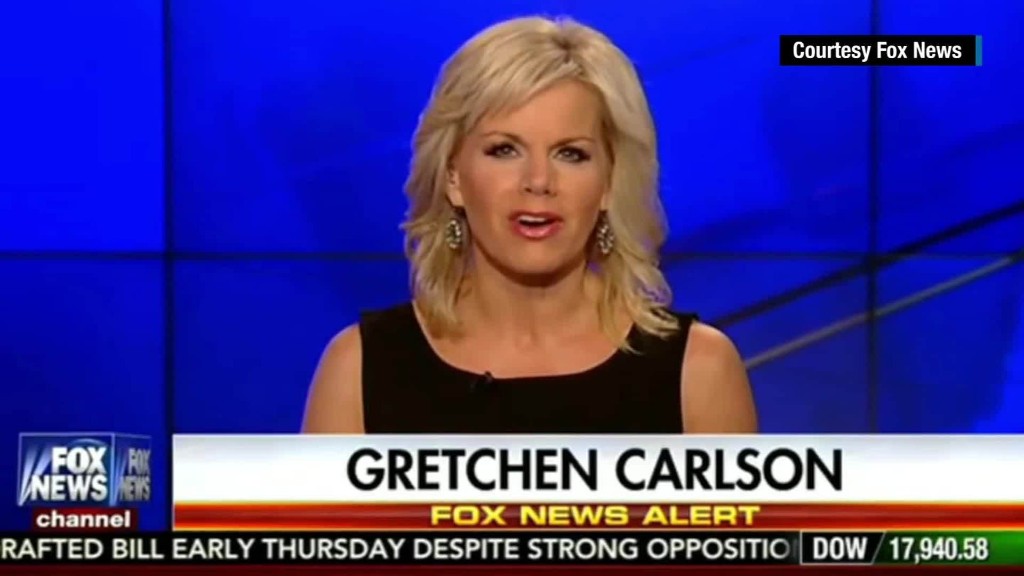 21st Century Fox has reached a $20 million settlement deal with Gretchen Carlson, the anchorwoman who sued Roger Ailes alleging harassment and retaliation in July.
The company also publicly apologized to Carlson in a highly unusual statement on Tuesday morning.
"We sincerely regret and apologize for the fact that Gretchen was not treated with the respect that she and all our colleagues deserve," Fox said.
The eight-figure deal is likely to have consequences across corporate America.
In private, 21st Century Fox has also completed settlement deals with a "handful" of other women who accused Ailes of harassing behavior, a person briefed on the matter said Tuesday.
These payments were substantially "smaller" than the $20 million paid to Carlson, the person said.
Nonetheless, the existence of multiple payouts underscores the serious nature of the sexual harassment scandal.
After Carlson sued Ailes on July 6, 21st Century Fox -- which is run by Rupert Murdoch and his sons James and Lachlan -- brought in an outside law firm to investigate the allegations.
More than 20 women reportedly spoke with the lawyers about inappropriate behavior by Ailes.
In some cases, the women retained legal counsel.
One lawsuit is known to be ongoing. Ex-host Andrea Tantaros filed suit against Ailes and Fox last month, alleging retaliation for complaining about Ailes' advances. Fox fired back, saying Tantaros "is not a victim; she is an opportunist."
Tantaros's attorney confirmed Tuesday that she has not settled with Fox.
Another former Fox News host, Laurie Dhue, has said she is writing a book that would include details of her time working for Ailes. On Tuesday Dhue's attorney declined to comment on whether she has reached any settlement with Fox.
Related: Fox News faces another sexual harassment lawsuit
Vanity Fair magazine was the first to report the Carlson settlement on Tuesday. A source close to Fox confirmed the $20 million total to CNNMoney.
The source originally said Ailes is paying an unknown portion of the settlement. But Ailes' lawyer Susan Estrich denied that. "Ailes did not contribute," Estrich said in an email message.
Estrich declined further comment on the settlement.
Ailes, the powerful Fox News CEO and chairman, resigned in the wake of the harassment allegations, which he has continuously denied.
Now out of his Fox job, Ailes is informally advising GOP nominee Donald Trump ahead of the presidential debates this fall.
Ailes, a fighter by nature, recently added a libel lawyer to his legal team.
Related: Roger Ailes enlists lawyer behind Hulk Hogan and Melania Trump suits
But 21st Century Fox has nothing to do with that. The recent settlements are part of the Murdochs' effort to move past the scandal.
It is unclear whether Fox is vulnerable to any other lawsuits.
But the settlement means that Carlson will not testify against Ailes or share any evidence of harassment. Several news outlets have reported that Carlson recorded some of her meetings with Ailes.
"I am gratified that 21st Century Fox took decisive action after I filed my complaint," Carlson said Tuesday. "I'm ready to move on to the next chapter of my life in which I will redouble my efforts to empower women in the workplace."
She also expressed thanks to the people who supported her when she filed the suit.
"I want to thank all the brave women who came forward to tell their own stories and the many people across the country who embraced and supported me in their #StandWithGretchen," she said. "All women deserve a dignified and respectful workplace in which talent, hard work and loyalty are recognized, revered and rewarded."
Carlson has hired one of the country's top publicists, Cindi Berger, and the PMK*BNC agency.
According to The Hollywood Reporter, the firm "will handle all aspects of Carlson's personal PR and rebranding as she enters the next phase of her career," including a presence on TV, a new book, speaking engagements, and philanthropy.
Separately, Fox News announced the departure of 7 p.m. host Greta Van Susteren on Tuesday morning. Van Susteren reportedly tried to renegotiate her contract after Ailes resigned, and opted to leave when the negotiations failed.