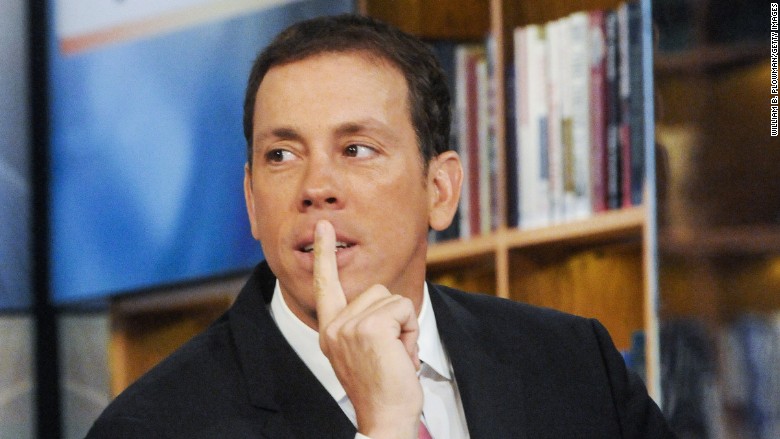 Ever since former Politico CEO Jim VandeHei left the company last April, he's been teasing the launch of a new digital media company.
Now, that company has investors -- including NBCUniversal, which has put money into several digital media properties, and Lerer Hippeau Ventures, whose managing partner, Ken Lerer, co-founded the Huffington Post and is chairman of BuzzFeed.
VandeHei's new project has raised $10 million from NBCU, Lerer and others in what amounts to a Series A funding round for the venture, which is slated to launch in early 2017, sources familiar with the investment told CNNMoney on Tuesday.
NBC News Chairman Andrew Lack and Lerer Hippeau managing partner Eric Hippeau will sit on the company's board, the sources said.
The investment group, which was first reported by The Wall Street Journal, also includes financier Steve Rattner, WalMart Chairman Greg Penner, Greycroft Partners and Emerson Collective, the firm headed by Laurene Powell Jobs, the wife of the late Steve Jobs.
VandeHei has yet to explain exactly what the media company will be, let alone what it will be called. But a general outline has emerged: Like PoliticoPro, the company will be based on a subscription model that sells high-cost subscriptions to executives and professionals in an array of industries, including technology, media and healthcare.
"We believe -- and proved with Politico -- that you can build a great media company if you offer content consumers and advertisers truly value delivered the way they truly want it," VandeHei told the Journal. "You just need to produce something people want, need and get addicted to. That's our aim."
VandeHei will serve as the company's chairman and CEO; Roy Schwartz, Politico's former chief revenue officer, will serve as president; and Nicholas Johnston, a former managing editor at Bloomberg LP, will be editor-in-chief.
Mike Allen, the founding author of Politico Playbook, will join the company later this year. VandeHei is also starting to build up his editorial staff and has already hired former Politico reporter David Nather and IJ Review editor Bubba Atkinson.
Full disclosure: This reporter was a Politico employee until joining CNN in September 2015.