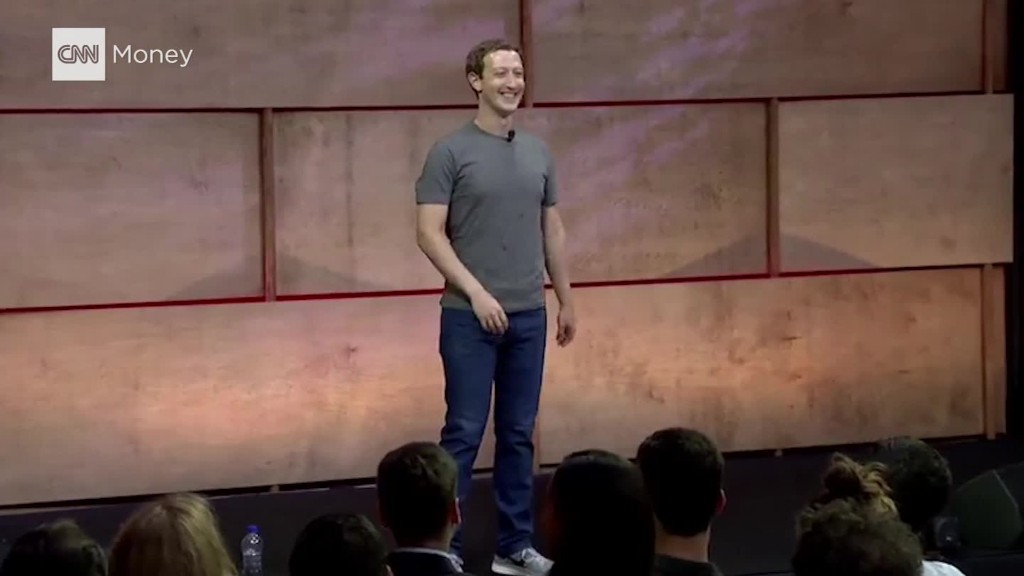 Facebook's stock is at an all-time high...and investors are starting to fantasize about the next eye-popping milestone for the company: 2 billion monthly active users. (Cue Justin Timberlake as Sean Parker talking about what's cool.)
Sure, Facebook still has a ways to go before it reaches the 2 billion user level. Facebook ended its most recent quarter with about 1.7 billion monthly users. And Wall Street is currently predicting that Facebook won't crack 2 billion until the first quarter of 2018.
But it's stunning how rapidly Facebook (FB) has amassed this many users. And the company shows no signs of slowing, either.
Facebook now has four products with more than a billion users -- the core Facebook service, Messenger, WhatsApp and Groups.
And Baird analyst Colin Sebastian said in a report Tuesday that Facebook should continue to amass users (and ad dollars) despite threats from Snapchat and other emerging social networks.
Related: Mark Zuckerberg says he misses his coding days
Sebastian thinks that it is a mistake to assume the rise of Snapchat is a negative for Facebook and its Instagram subsidiary.
He pointed out that investors used to believe that Facebook's success would be a negative for Google owner Alphabet (GOOGL), for example. But those two have found a way to peacefully coexist. Alphabet is not far from its own all-time high.
Morgan Stanley analyst Brian Nowak is also increasingly bullish on Facebook. He upgraded his price target on the stock Wednesday morning to $160 -- more than 20% higher than its current price.
So can Facebook keep climbing? It's hard to bet against it. Investors clearly have faith in CEO Mark Zuckerberg and the rest of the management team.
Related: Jeff Bezos rules the world -- Amazon at all-time high
In many ways, Facebook's rise is similar to that of Amazon's. Amazon (AMZN) also has an enigmatic founder/CEO in Jeff Bezos. And Amazon, like Facebook, has taken many risks that have paid off handsomely.
Amazon just hit a new all-time high this week as well. Both Amazon and Facebook now have market values of about $375 billion. Apple (AAPL), Alphabet and Microsoft (MSFT) are the only American companies worth more.
And Facebook, unlike Amazon, actually still trades at a somewhat reasonable valuation. Shares trade for about 26 times 2017 earnings estimates.
That is higher than the overall market. But it may be a bargain considering that analysts are predicting annual earnings increases of 35% a year for the next few years. It's also much cheaper than Amazon, which trades at 80 times next year's profit forecasts.
So don't be surprised if you start seeing more stories about Facebook's market dominance in your News Feed...along with more Facebook Lives from financial journalists like me, talking about how the company seems to be firing on all cylinders.