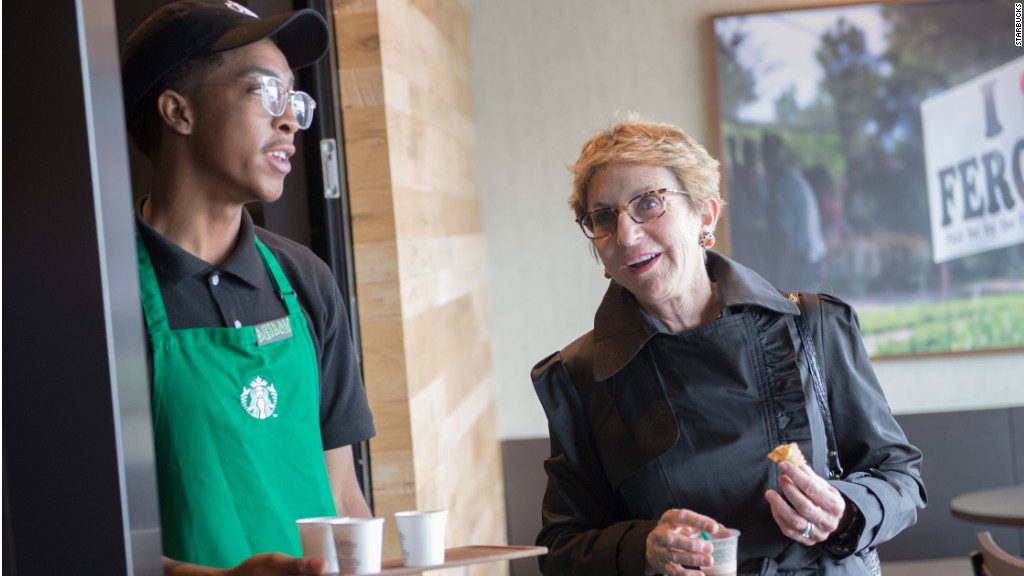 Two years ago Ferguson, Missouri, became a symbol of racial unrest when riots followed the fatal police shooting of Michael Brown, an unarmed black teenager.
Now a new Starbucks there is a symbol of rebirth and business success.
At CNNMoney's American Opportunity conference in New York Wednesday, Starbucks CEO Howard Schultz recalled driving through Ferguson after hosting a forum on racial inequality in nearby St. Louis soon after the protests.
"I was just emotionally moved by what I saw, and I said to our people, 'We need to open up a store in Ferguson,'" he said. "And people said 'Ferguson, it's just not going to succeed.'"
But Starbucks went ahead with his plan, breaking ground on the store in November 2015, and opening it in April. And it has exceeded even Schultz's expectations.
"The Ferguson store is one of the best performing stores we've opened this year. It's just unbelievable," he said.
Related: Starbucks CEO Howard Schultz endorses Hillary Clinton
And he says it's not the only inner city Starbucks defying expectations. The company has opened a store in the New York City neighborhood of Jamaica, Queens, which he said people also predicted could not support a high-end coffee shop. That store has also done well, he said.
"These are just great locations with customers who are there to buy Starbucks coffee," he said. "We need to open up more Fergusons. We're a for-profit company. We want to build shareholder value. Ferguson is a great example of that."
Citing its internal financial reporting guidelines, Starbucks would not provide precise sales or profit figures for the Ferguson store. Its ranking as one of the top performers among new stores is based upon a variety of factors, including sales compared to forecasts, customer traffic and employee retention, said Starbucks spokeswoman Linda Mills.
The opening of the Ferguson and Jamaica stores are part of a Starbucks plan to open up 15 stores in racially diverse, low and middle income neighborhoods by 2018. The company expects to open a total of 614 U.S. stores this year.