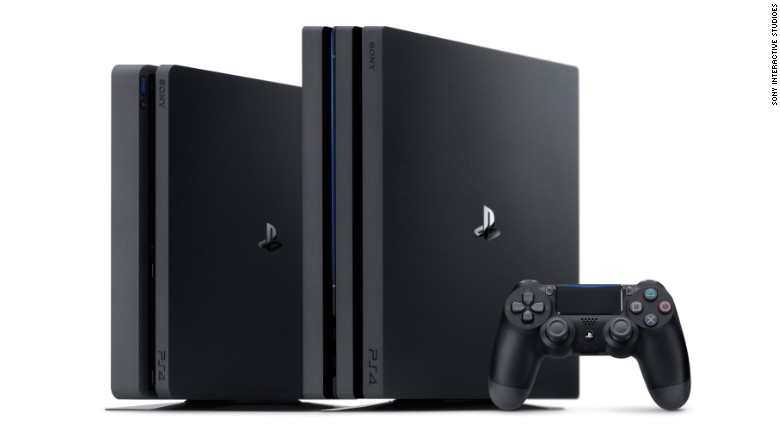 Sony announced on Wednesday a powerful new version of its PlayStation 4 gaming console.
Called the PlayStation 4 Pro, the system will be capable of playing on 4K -- or ultra-high resolution -- and on HDR televisions. It'll also be able to play 4K games.
PS4 Pro will cost $399 and hit stores on November 10.
"It's for the hardcore gamer -- or the one who's invested in a high-definition [display]," PS4 Pro creator Mark Cerny told attendees during a press event in New York City.
Related: Apple unveils iPhone 7 and new Watch
The console will feature a 1TB hard drive, advanced graphics and a faster processor, but more detailed specs were not unveiled. The PS4 console will also pair with the PlayStation virtual reality headset set to arrive in October.
The regular PS4 is also getting an upgrade. The new design will be lighter, slimmer and more powerful. It will cost $299.
Sony also announced existing PS4 consoles will get HDR compatibility, starting next week, via a firmware update.
While that announcement grabbed the attention of fans, some called the PS4 Pro's overall debut "underwhelming" on Twitter. Others were angered that the new console didn't appear to have Blu-ray compatibility.
The PS4 Pro is Sony's answer to Microsoft's Xbox Scorpio. That system debuted at the E3 conference in June, but it won't go on sale before the the 2017 holiday season. It's expected to cost about $600.
Microsoft (MSFT) said Scorpio will be able to put games onto 4K. The company no longer releases Xbox sales data, but the PS4 is known to be a better seller than the Xbox One.
The next product launch gamers await is one from Nintendo, which is expected to unveil its mobile gaming device, the NX, in the near future.
Riding a wave of renewed mass appeal thanks to Pokémon Go, Nintendo will look for the NX to be a hit on the hardware market. Its Wii U console -- launched in 2012 -- has failed to gain much traction.