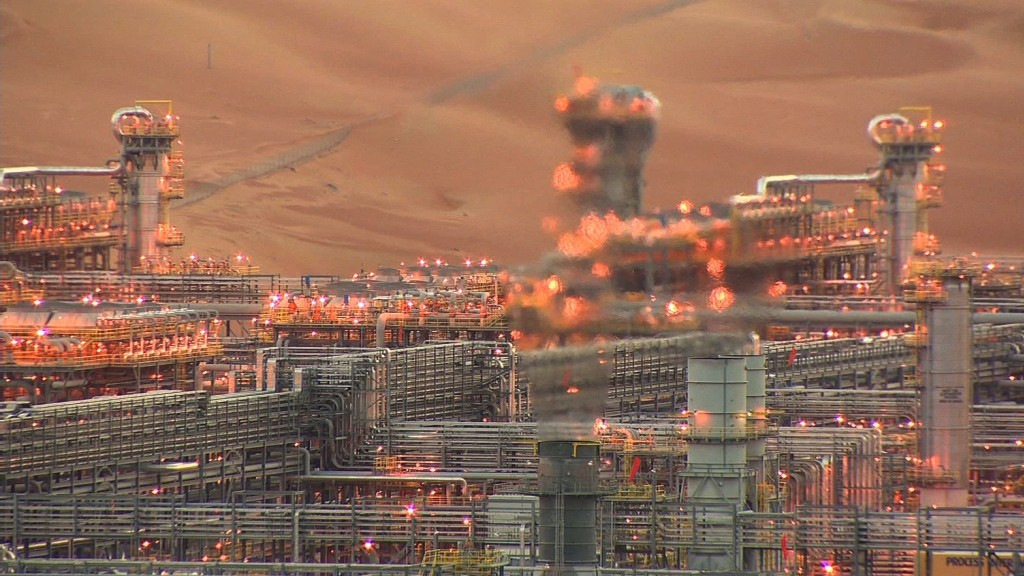 The epic oil glut just got smaller -- thanks to Hurricane Hermine.
U.S. crude oil stockpiles plummeted by an incredible 14.5 million barrels last week, the Energy Information Administration said on Thursday.
It's the biggest decline in oil inventories since January 1999 -- and the second largest on records going back to 1982.
The dramatic shift appears to be fueled by last week's stormy weather along the East Coast. Imports into the critical Gulf Coast region declined by 760,000 barrels per day last week, the EIA said.
Production in the Gulf of Mexico was hampered by Hurricane Hermine, causing platforms to be evacuated. Output in that region dropped by 150,000 barrels per day of oil production, according to estimates from ClipperData.
Related: Oil! Massive shale discovery in Texas
Oil bulls seized on the news as a signal that the huge oversupply of crude that has kept prices depressed may be nearing an end. Oil prices soared 4.7% to $47.67 a barrel on Thursday, their biggest gain in five months Crude is now up 7% this week and within striking distance of the $50 threshold for the first time since late June.
However, Matt Smith, director of commodity research at ClipperData, cautioned against reading too much into what appears to be a one-off event.
"This is a temporary phenomenon, a weather-driven situation. It may take a week or two to shake out, but we'll see a return to normal fundamentals going forward," Smith said.
"Normal fundamentals" haven't been kind to oil over the past two years. The supply glut, caused largely by surging U.S. shale production and OPEC countries also producing at full throttle in an all-out price war, caused prices to crash to $26 a barrel in mid-February. Just two years ago oil was trading at over $110 a barrel.
Indeed, the EIA estimates the U.S. still has 511.4 million barrels of oil piled up even after last week's plunge. The agency called that an "historically high" amount of supply for this time of the year.