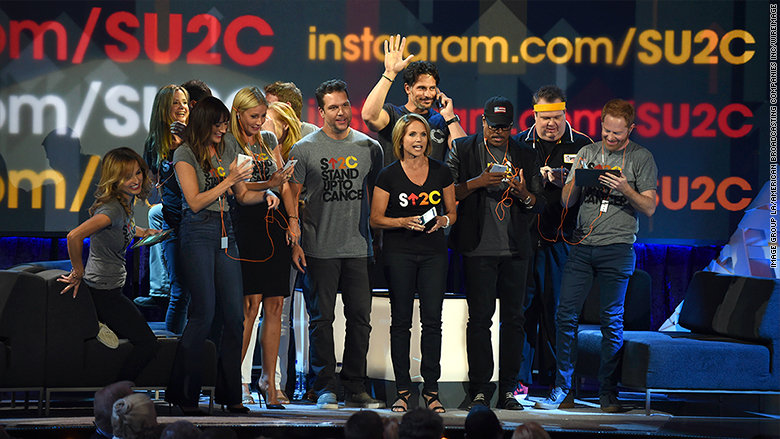 Putting together a telethon that involves dozens of celebrities, 60 broadcast and cable networks and tens of millions of dollars for cancer research is no easy task. And on Friday night Stand Up To Cancer (SU2C) is doing it for the fifth time.
The telethon, which will be broadcast live from The Music Center's Walt Disney Concert Hall in downtown Los Angeles, features an impressive list of stars: Viola Davis, Jon Hamm, Kristen Wiig, Ed Helms, Zach Galifianakis, Ben Affleck, Matthew McConaughey, Emma Stone and Anna Kendrick are all participating, among many others, along with SU2C co-founder Katie Couric.
Many of them will be talking about how cancer has affected their loved ones and friends. That includes actor Bradley Cooper, who is an executive producer on this year's telethon.
"Sadly everyone has been touched by cancer," said Lisa Paulsen, SU2C's president and CEO. "Celebrities, producers and filmmakers alike... Bradley Cooper lost his father a couple of years ago to cancer and he had participated in several [telethons] in the past and he was excited to take on this leadership role. He called many of his friends as well."
All of this will be taking place live. Paulsen admitted that gives the show an extra edge.
"Anything live is always challenging," she said. "We are always conscious, making sure our producers and show runners are running on time ... if we have someone go over on their remarks and always make sure we have plenty of fusion to allow for little things that happen here or there."
It will also, thanks to the networks that carry it, be airing without commercials.
"It is commercial free, and it was one of the advantages we felt that the networks and broadcasters were giving to us, to produce a show all about research," Paulsen told CNN. "We found by highlighting the work of our donors, rather than commercial airtime has really worked to our advantage. We have donors committing $20 to $30 million. We find it to be much more beneficial to our research."
Related Link: Stand Up to Cancer telethon secures all-star lineup
SU2C says it has raised more than $370 million to date in pledged donations for the cancer research initiatives they help to fund.
The telethon will air Friday night at 8 p.m. ET on ABC, CBS, FOX and NBC, along with HBO, HLN (which is owned by CNN's parent company Time Warner) and VH1 among others. The broadcast will also simultaneously air on four major English speaking Canadian networks: CBC, City, CTV and Global. The entire show will become available to stream on Hulu beginning Saturday, Sept. 10.