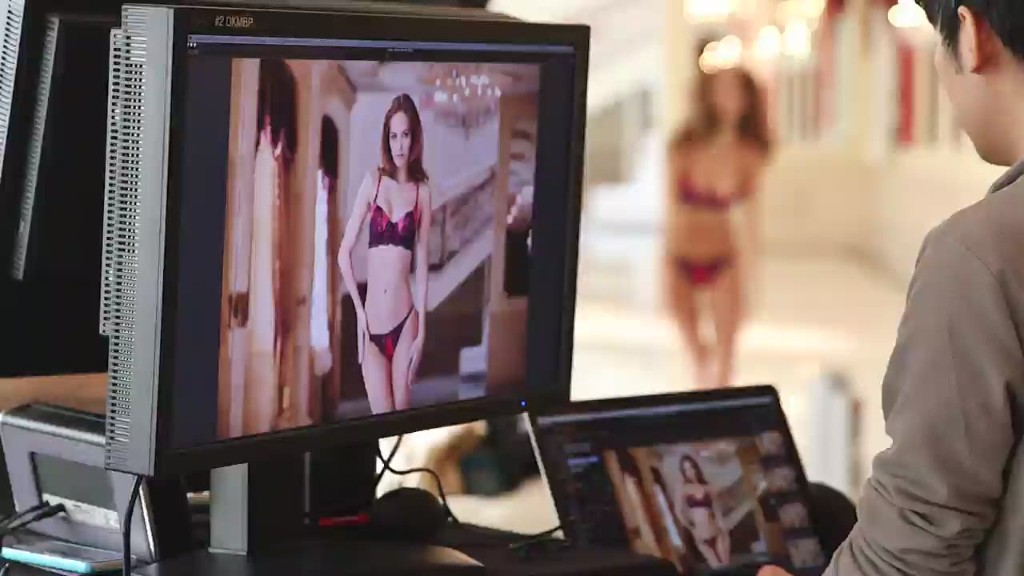 It hasn't been easy for fashion student Nayyara Chue to design clothes for women like herself.
Chue, a 22-year-old senior at Parsons School of Design, petitioned the dean of her school to use more plus-size mannequins. The petition, created last spring, garnered more than 8,000 signatures.
"I'm not going to design for a size I can't relate to anymore," Chue, who identifies as plus size, told CNNMoney. "To look for a plus-size mannequin, I'd have to go through every floor to find it. There was one size 22 in the entire school."
Parsons said it added 17 plus-size dress forms to its collection prior to Chue's petition. Those included a size 18 and a size 22. Chue's petition encouraged Parsons to place additional orders, including adding a size 26.
"It's been a very positive opportunity for us to open up the dialogue," Fiona Dieffenbacher, BFA program director at Parsons, told CNNMoney. "We're always encouraging our students to expand their ideas outside of the [fashion industry stereotypes]."
When Parsons broke down its current dress form sizes for CNNMoney, it said that just 4% of its 450 forms are plus size.
That percentage is disproportionate considering the dress size of the average American woman is between a 16 and 18, according to new research from Washington State University. Fashion designers tend to design for runway, where sizes average 0 to 4.
Related: Trolls bombard plus-size model with racist slurs
"In academia, it's [still] rare for anyone to even think about ordering a plus size," said Don Howard, executive director at Alvanon, a major mannequin manufacturing company. It sells forms to brands like Chanel and Walmart (WMT), as well as dozens of fashions schools.
According to Howard, many schools have just a handful of plus-size forms available, something that he's hopeful will change in the future.
If Chue's petition impacts other academic institutions, it could be an incredible opportunity for young designers.
"If I'm teaching kids in schools and learning about the business, you want to learn about opportunity: Where is the business going? Ignoring plus-sizes is a disservice," said Howard.
According to a recent survey from plus-size fashion startup Dia&Co, America's largest clothing retailers only offer 29% of new styles to women above a size 14. But some, like lingerie firm Adore Me, are capitalizing on this gap. The company has sought to differentiate itself from Victoria's Secret by integrating plus-size models and lingerie with "standard" size models. It's all a play to make plus-size a part of mainstream fashion.
This week, Tim Gunn, design educator and "Project Runway" cohost, called the fashion industry's blind eye to plus-size women "baffling."
"This is a design failure and not a customer issue," wrote Gunn in op-ed column for the Washington Post.
Related: plus-size models generate more sales
Speaking out and demanding change wasn't easy for Chue, a self-proclaimed "very shy person."
When her petition was covered by outlets like Refinery29, it drew a lot of attention.
"I realized that [the attention] is just something that comes along with being an activist," she said. 'I have to accept it, if I want to keep moving forward with this."
The positive support from fellow students inspired her to go all-in on designing plus size bridal gowns. "I want my clothes, my dresses, to be for real women," she said. "Whoever comes in, she won't have a problem getting into any of my clothes."