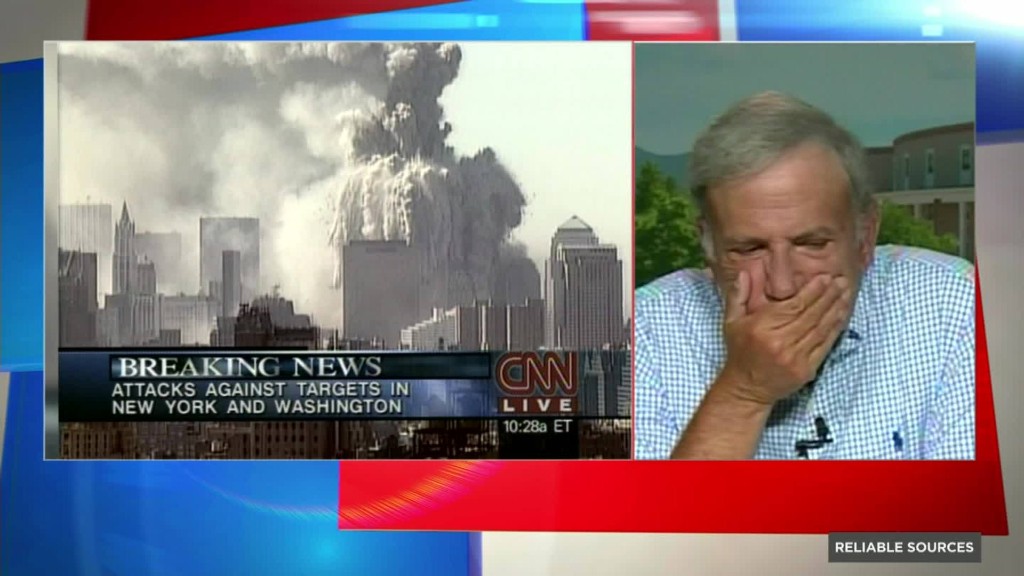 Fifteen years later, Aaron Brown still hears from viewers thanking him for his coverage of the 9/11 attacks.
He feels conflicted about it, of course. He is grateful -- "this is not a business where people say 'thank you' that often," he notes -- but he resists the attention. He seldom gives speeches or grants interviews about that day.
"It was something that I was fortunate, professionally, to do and painful, as an American, to live through. It's a weird contradiction that journalists live with -- the ambivalence of, on the one hand, loving the big story, and, on the other hand, hating the fact that that story is happening," Brown said in a rare interview on the eve of the fifteenth anniversary.
I remember watching Brown anchor CNN's coverage of the attacks, which he did from the roof of CNN's old New York bureau at the corner of 34th Street and 8th Avenue. I remember his calm, steady demeanor while narrating chaos.
"What was important is that we kept saying to people, 'Here is what we know and here is what we don't.' That's what mattered. And nothing else mattered," Brown said.
Re-watching the coverage so many years later, this remains a lesson for journalists.
As the day progressed, Brown was joined by Judy Woodruff, Paula Zahn, Wolf Blitzer, Jeff Greenfield and many other CNN journalists.
At one point, from his rooftop position, he could hear fighter jets overhead. But he told me that during the marathon day of news coverage he was never personally afraid of a followup attack in Manhattan.
"I was way too busy to be afraid of anything... I was too busy trying not to screw something up," he said.
Brown had New York and Atlanta control rooms in his earpieces simultaneously, feeding him information and guidance about what to say and where to go next.
When the towers fell
9/11 was Brown's first day on the air at CNN. He had recently been hired from ABC, and he was preparing to start a new prime time newscast called "NewsNight."
He hurried to the roof after the World Trade Center towers were attacked and took over from CNN's Atlanta-based anchors shortly after 9:30 a.m. Within minutes, word came of an attack at the Pentagon.
When the first tower fell at 9:59 a.m., Brown said he felt "profoundly stupid." While he had been thinking a lot about the impacts of the jetliners hitting the buildings, "it just never occurred to me that they'd come down."
Brown, who trained under Peter Jennings at ABC, said "it's the only time I thought, 'Maybe you just don't have what it takes to do a story like this.'"
That insecurity did not come across on the air.
When the second tower collapsed at 10:28 a.m., Brown could hear it from his perch several miles north. "Good lord," he said. "There are no words."
Some viewers, myself included, still remember his "good lord" reaction.
"From the moment the first tower fell, there was a clock ticking," he said. "It was ticking in my head. It was ticking in the heads of hundreds of millions of people in America and a billion people around the world who were watching it."
Taking the longer-term view
Brown left CNN in 2005. He now lives in New Mexico. He said "CNN was an amazing organization that day. And I was so proud to be a part of it."
When I asked him how journalism has changed since 9/11, he said he believes there's more pressure "to react to the instant, to the moment," with less time for big picture context.
"My view of 9/11, if I can just this once take a step back and give you a longer view, is that it required that we not get caught up in the moment -- that we, if anything, try and understand the implications of an attack on the United States of America.
"When I got off the air that night, or early morning, I kept thinking, 'Well, what was my daughter's day like?' Was it like my day, when Kennedy was assassinated and I was crying? And I thought, 'Her life is never going to be the same.'
"And that's a longer view of this. For my taste, too often, the lower third is dominated by some sort of instant thing or another that doesn't really help people understand the broader implications of the story, of any story. And I think, honestly, Brian, that is particularly true of this election story. That it gets way too caught up in kind of an instant check and we're not really focused enough on the broader implications of what's going on."
Getting it right
Late into the evening on 9/11, Brown was still on the roof, and he could see the smoke coming from the World Trade Center site.
"When we ended at 1 something in the morning and I sat down, in the corner of the roof, a lot of emotions happened," he recalled.
"This was the biggest moment in my lifetime in every sense -- in the history of my country, in the history of my business, in my personal and professional life."
At one point in the day, then-president of CNN Walter Isaacson came up to the roof and commented to Brown, "This isn't a story, this is history."
Brown tried to keep that in mind.
"I just wanted to get it right," he said. "I wanted to get it right for my audience; I wanted to get it right for the people who employed me; I wanted to get it right for the history."