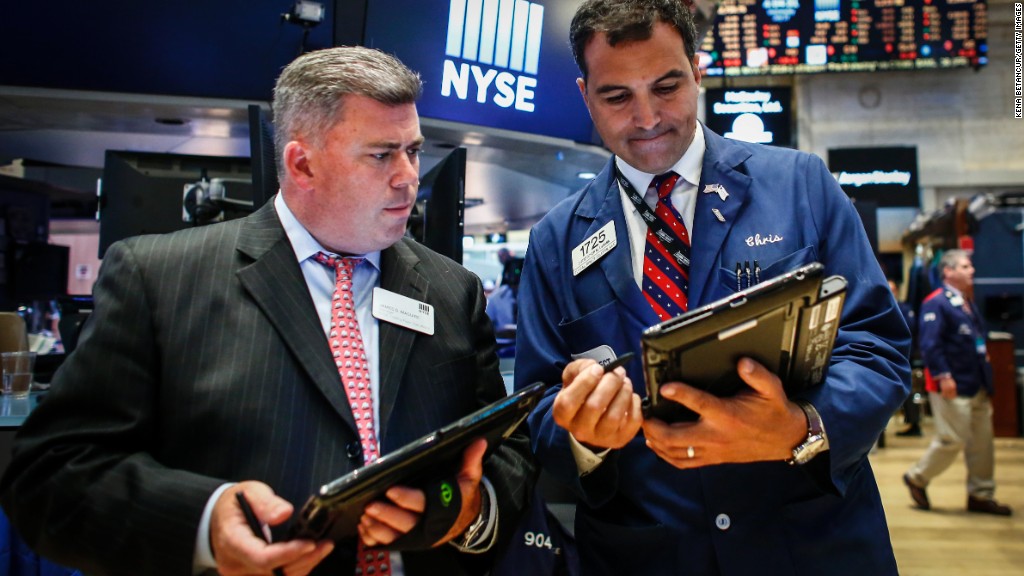 September is historically the worst (and most volatile) month of the year for stocks. Will that be the case this year too?
Hopefully not. Investors got some good news Monday. Even though stocks in Europe and Asia fell sharply Monday morning, Wall Street took those losses in stride.
The Dow, S&P 500 and Nasdaq were all up slightly in late morning trading -- and the market moved even higher after Federal Reserve governor Lael Brainard said in a speech Monday afternoon that the case to raise rates soon is "less compelling" than some thought and added that the Fed needed to show "prudence" before lifting rates.
By midday, the Dow had surged more than 200 points, gaining back more than half of Friday's nearly 400-point loss.
So was the Friday swoon for the market a one-time event? Stocks have been relatively quiet (some would argue too quiet) for most of the summer. Even with stocks down about 2% in September, they are not far from all-time highs.
But some investors are worried that the Federal Reserve might finally be ready to start raising interest rates again. That was the big reason for the market slump on Friday.
The Fed hiked rates once last December for the first time in nearly a decade. But the Fed hasn't touched rates again since then. So they are still pretty close to zero.
Investors have arguably gotten too used to rates being this Uber-low. Rates may now need a Lyft. (Ha! Dorky ridesharing humor. Sorry. I'll Gett back to business as usual now.)
A series of small and steady rate hikes is hardly a reason for the market to collapse. It's not exactly 2008 all over again. And many experts think that Fed chair Janet Yellen has no plans to raise rates drastically.
"We have been through this a zillion times. The market is doing okay and then we start hearing about the Fed looking to raise rates and stocks fall," said John Norris, managing director for Oakworth Capital.
Related: Summer's over? Dow plunged almost 400 points on Friday
"But the concern would be the Fed being overly aggressive. I don't think the Fed wants to do that. They want to get rates to 1% to 1.5% and then be done with it," Norris added.
Ted Parrish, founder of Parrish Capital, agrees. He thinks the market needs a healthy selloff to get some of the complacent momentum investors out of the market.
But Parrish is optimistic that fears of another big market (and economic downturn) will prove to be for naught.
"Nervous money can get out of the market and long-term investors will stay in." Parrish said. "Earnings should increase in 2017 and then the market can go back to moving on fundamentals. That would be nice."
Still, a pessimist would argue that it is unrealistic to expect stocks to surge dramatically higher. There may be the occasional big up (and down) day for stocks. But for the most part, the markets may remain relatively flat for the foreseeable future.
Outside of taking bets on the Fed -- and the U.S. presidential election -- there won't be much to move the market until we get more earnings reports in October.
"There's not much reason for the market to rally, but not much reason for it to sell off either," Norris said. "Stocks are not cheap, but they are not outrageously overvalued."
In other words, investors might want to brush up on their Green Day. Wake me up when September ends.