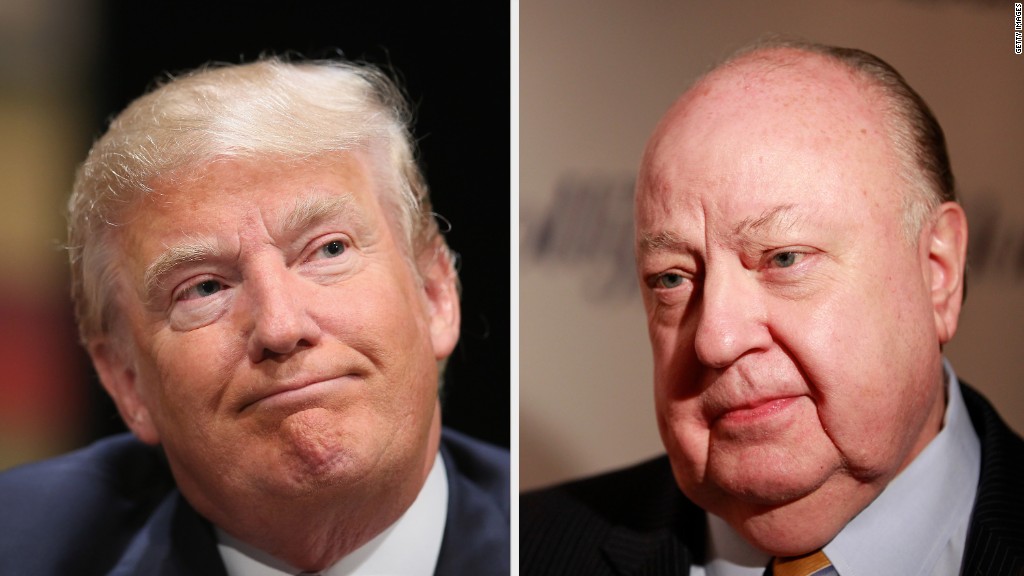 Roger Ailes' fall from grace has spread to his alma mater.
Ohio University is removing the name of the former Fox News CEO, who resigned from the network in July amid allegations of sexual harassment, from its newsroom. The college says it also plans to give back a big donation it received from Ailes.
The moves come after Ohio students voted last week to tell the university to rename the newsroom facility, which Ailes' money helped build.
"Given the allegations against Mr. Ailes and the circumstances surrounding his departure from Fox News, I have decided that the most appropriate action is to return Mr. Ailes' gift and to remove his name from the WOUB newsroom," Ohio University President Roderick McDavis said Monday.
Related: Students vote to remove Roger Ailes' name from campus
The university's WOUB Center for Public Media later tweeted several photos appearing to show Ailes' name being scrubbed out and covered up.
21st Century Fox, the owner of Fox News, recently settled several lawsuits that alleged harassment of women at the network by Ailes.
Ailes has continuously denied the harassment allegations. He is now informally advising Republican presidential nominee Donald Trump ahead of the debates this fall.
The former Fox News boss donated money to Ohio University in 2007 to help fund construction of its journalism facility. The school -- located in Athens, Ohio -- named it the "Roger E. Ailes Newsroom."
The gift totaled $500,000, said university spokeswoman Sarah Lack.
- Jackie Wattles contributed to this report.