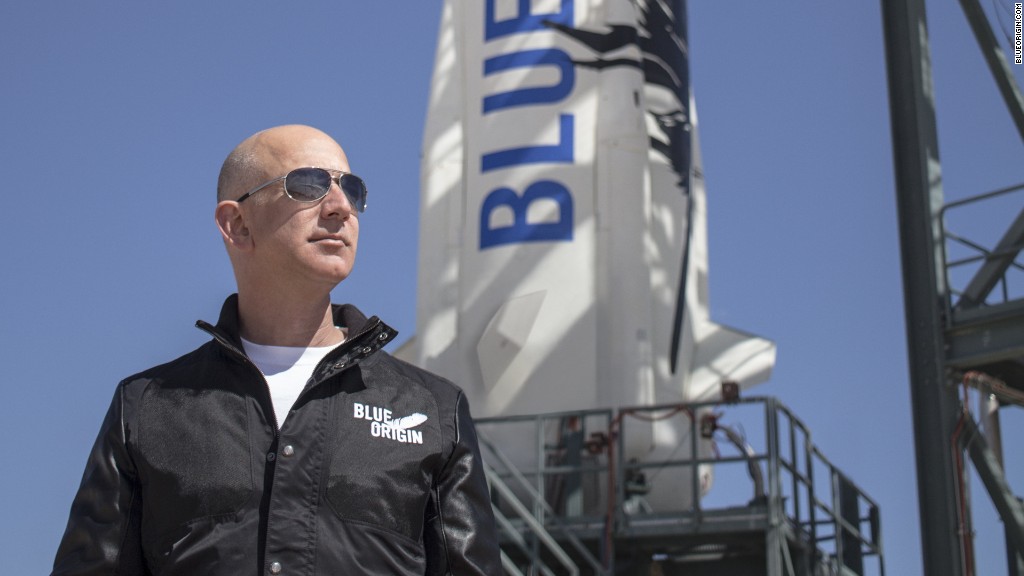 Jeff Bezos' Blue Origin has already achieved its goal of launching a reusable rocket into outer space. Now the company is planning to take the next step and put a satellite or even people into Earth's orbit.
The company's existing rocket, New Shepard, has only made suborbital flights that reach just beyond the edges of Earth's gravity and atmosphere before returning to land upright on the ground.
On Monday Amazon (AMZN) founder Bezos announced plans for a multi-stage rocket that would be nearly as high as the Saturn V rocket that carried astronauts to the moon, and which would be able to take payloads into orbit around the Earth.
The new rocket will be named New Glenn, after astronaut John Glenn, who became the first American to orbit the Earth in 1962. New Shepard was named after Alan Shepard, who became the first American in space with a suborbital flight nine months before Glenn's flight.
"We plan to fly New Glenn for the first time before the end of this decade," Bezos said Monday.
A two-stage version of New Glenn would stand 270 feet tall, while a planned three-stage version would be 313 feet tall.
The three stage rocket would be able to reach above low Earth orbit, which is where the International Space Station now circles Earth and space shuttle flights reached.
Both version of New Glenn would tower over New Shepard, a single-stage rocket.
New Shepard became the first rocket to reach space and then land upright last November. The company plans to drastically cut the cost of space flights by being able to reuse rockets rather than discarding them after a flight. It has since relaunched the same rocket and landed it again in three additional flights.
Related: Jeff Bezos does a whole lot more than just Amazon
New Shepard has yet to carry people into space in its capsule designed to hold six people. Bezos predicted in March that manned flights would begin within two years.
When the manned flights start, it is expected they will be carrying space tourists, people willing to spend large sums of money to experience the weightless of space and the view of Earth from outer space, even if they are in space for a very short period of time. It is competing with Virgin Galactic to carry such tourists on suborbital flights.
Blue Origin would not disclose whether passengers atop the New Glenn would be space tourists or whether it hopes to win a contract from NASA to carry astronauts to and from the International Space Station.
Rivals SpaceX and Boeing (BA) have won contracts from NASA to carry astronauts to and from the ISS as soon as next year. However SpaceX had a rocket explode on the launch pad at Cape Canaveral earlier this month, which could possibly delay its first manned flight.
Both companies have already carried supplies to ISS and have launched satellites into orbit.