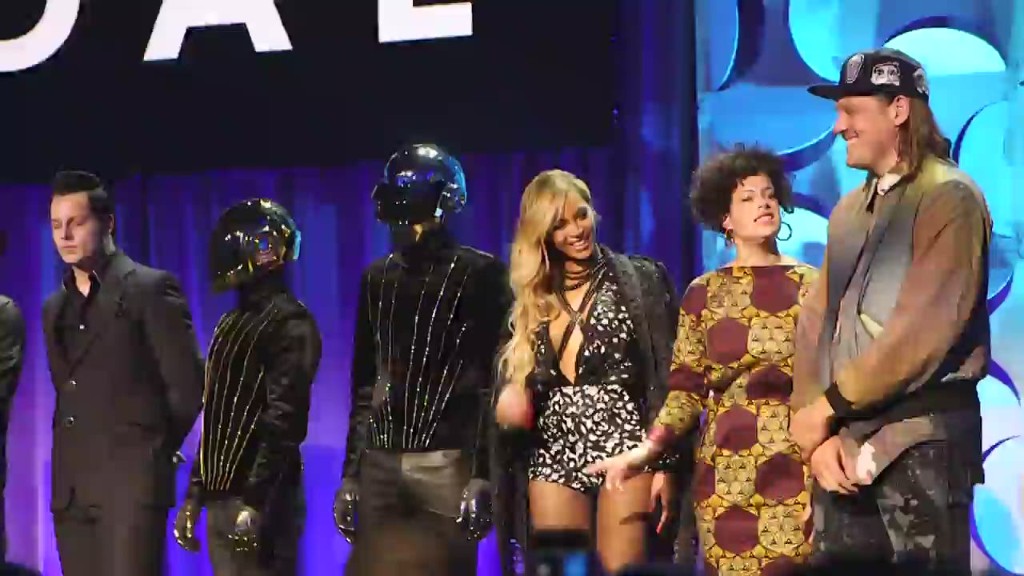 Pandora just took a big step toward competing more directly with Spotify and Apple.
Pandora (P) announced Tuesday that it has inked licensing deals with two of the three big record labels, paving the way for it to move beyond online radio to the on-demand streaming model favored by its rivals.
"We expect to launch product enhancements to both the core and subscription products soon, and unveil our on-demand product before the end of this year," Mike Herring, Pandora's president and CFO, said on an investor call.
Details on timing, pricing and features remain vague. The licensing deal includes Sony Music and Universal Music Group, but notably omits Warner Music Group.
"We're having constructive conversations with Warner and hope to have them as part of our upcoming launch," Tim Westergren, Pandora's founder and CEO, said on the call.
Pandora helped kick off the era of legal Internet streaming with its launch 16 years ago, but it has since come under pressure from competitors like Spotify, Apple Music and Tidal. Unlike Pandora, these newer services offer the option to listen to specific songs on demand.
Related: The streaming music war is getting ugly
Pandora currently has a market cap of $3.4 billion. Spotify, by comparison, is said to be valued at more than twice that on the private market.
There has been plenty of chatter that Pandora might be up for sale, but analysts have been skeptical it could find a buyer. For now, Pandora is trying to compete head on.
"We've been focused for ten years on this lean-back radio experience, and that's been our maniacal focus, and building a business around it," Westergren said in an interview earlier this year about embracing the on-demand option. "But we realized there's an opportunity for us to take this audience and do something more with them."
Pandora isn't the only tech company moving in this direction. Amazon (AMZN) is also said to be planning to launch a standalone music streaming option soon.
The streaming wars have heated up this year, with Apple (AAPL), Tidal and Spotify battling over exclusives from artists like Frank Ocean to attract customers. Google (GOOG) has also doubled down on music streaming with YouTube Red and Google Play Music.
"A major reason why you buy iPhones, Android phones and Amazon Echos is because you play music on them," says David Pakman, a venture capitalist at Venrock and former CEO of eMusic. "Right now, the current tactic [tech companies] are using to fight with each other is not features, it's content."