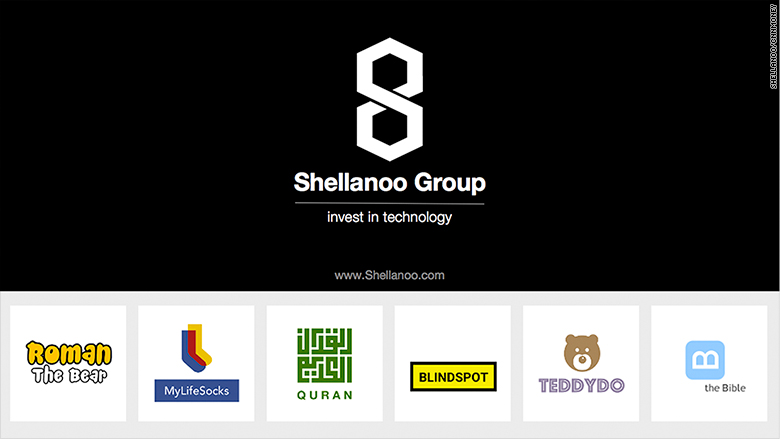 In late August, Israeli tech firm Shellanoo Group said it was planning an IPO on the Tel Aviv Stock Exchange.
But just 10 days later, the company withdrew its plans and laid off at least 20 of its employees.
The abrupt about-face followed a very public campaign against Shellanoo by influential voices in the Israeli tech community who aggressively challenged the company's business.
Shellanoo, which means "ours" in Hebrew, is a two-year old startup that develops mobile apps and internet services. One of its most well known apps, called Blindspot, is also its most controversial. It was billed as a way for teens to anonymously message one another but quickly caught flak as a breeding ground for cyberbullying.
Other apps and services listed on the Shellanoo website include "My Life Socks," a subscription service for, yes, buying socks, and interactive artificial intelligence apps for understanding the Bible and the Quran. But they have yet to launch.
Shellanoo had raised $25 million from a star-studded lineup of investors, including Nicki Minaj, will.i.am and Russian billionaire Roman Abramavich. It used celebrities (model Bar Refaeli's brother Dor Refaeli promoted Blindspot) and flashy billboards in Tel Aviv as a means of getting attention.
Shellanoo hoped to raise another $26 million from the IPO.
Then the questions began.
In Facebook posts on September 1 and September 3, Reem Sherman, who heads up mobile development at Pepper, a digital bank in Tel Aviv, openly criticized Shellanoo.
Sherman took issue with the IPO prospectus, arguing it didn't clearly represent how many people were actively using the company's products. Shellanoo's head of communications David Strauss told CNNMoney that the company clearly stated it has 11 million active users across its apps and websites.
Soon after, on September 6, business journalist Shaul Amsterdamski of Israeli Public Broadcasting Corporation produced a two minute video addressing that and other red flags. He urged the public to be aware that their money could be funding Shellanoo if pension funds were to invest in its IPO.
Other industry insiders told CNNMoney they heard that critics told potential investors to steer clear of the IPO.
Related: Cellebrite is the FBI's go-to phone hacker
"It didn't make sense that this company should go public," one entrepreneur in Israel told CNNMoney. "They didn't have any indication that they are successful. We started asking questions."
Another question people were asking was about the CEO's pay. The IPO prospectus indicated that O.D. Kobo's salary would increase on September 1 to some $80,000 per month (an increase that's more than double his salary as of January 2016, which was $32,000 per month.)
Ultimately, Kobo's salary was never raised, said Strauss. He added that Kobo makes a "minimal salary" of around $30,000 per month. He also noted that Kobo had invested $1.5 million of his own money to launch Shellanoo.
After the IPO was shelved on September 7, one Israeli venture capitalist, Michael Eisenberg of Aleph VC, posted a piece on Medium in which he called Shellanoo a "vapor company."
He wrote: "It was abundantly clear that their projected revenues derived from 'businesses' and 'technologies' that did not exist yet."
Shellanoo said that it was unfairly attacked.
"The Israeli press simply do not understand technology or the sector," wrote Strauss in an email to CNNMoney last week.
He cited Uber as an example of a company that's valued highly despite big losses. "It is unfortunate that ignorance of the Israeli press made such a poor move for the Tel Aviv Stock Exchange," he added.
Strauss confirmed that the company laid off 22 of its 71 employees, but said it was part of a strategy to shift more of its operations to Asia. "We feel that Israel is not welcoming to foreign investment and are slowly migrating operations to our offices in Asia," wrote Strauss.
Strauss also said that Shellanoo had hired a private investigator to look into the backlash, and believes the criticism was driven by competing interests, calling it an attempt "ruin our IPO deliberately."
Those CNNMoney spoke to refuted the claims.
"Israel is a very small country," one tech worker in Israel told CNNMoney about how the word spread about Shellanoo. "Comradery is a big part of the Israeli tech world."
He added that the criticism wasn't about personal gain. "I didn't get anything from it," adding it was more about protecting the reputation of the local industry.
Eisenberg was happy the IPO was withdrawn, writing in his Medium post that it saved the Israeli tech community from "irreputable actors peeing in our collective punch."
"I think some people inevitably try to take advantage of an open market," he later told CNNMoney. "The beautiful thing here is that the high tech community policed itself in a very effective way."