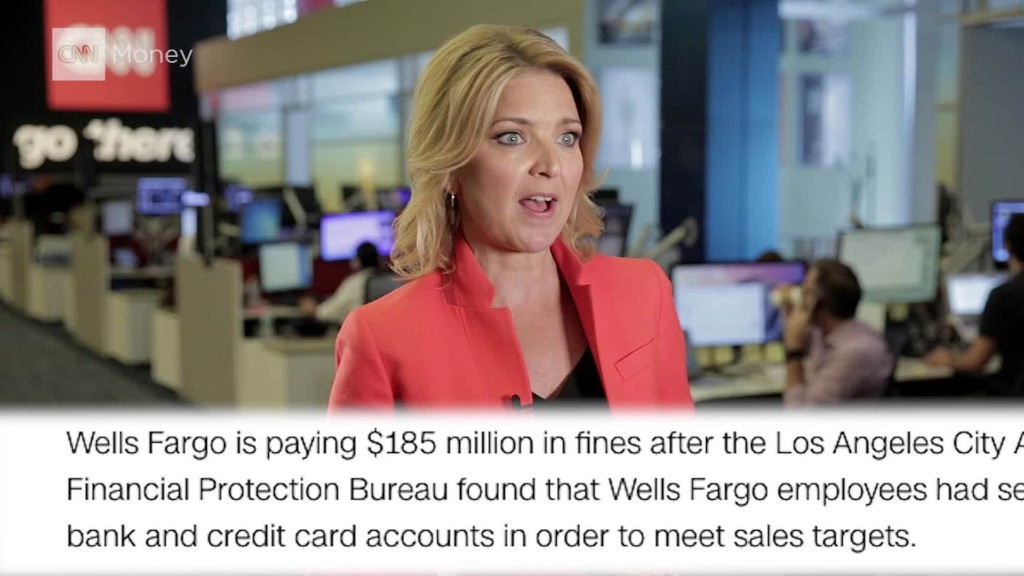 The Department of Justice has issued subpoenas to Wells Fargo over the opening of millions of fake accounts at the bank, a U.S. official told CNN.
Multiple U.S. attorneys' offices are investigating, the source said.
The investigation is still in the early stages and it's not clear if it will lead to charges.
Wells Fargo (WFC) declined to comment. The news was reported earlier by The Wall Street Journal.
News of the federal investigation comes less than a week after Wells Fargo was slapped with a $185 million fine by regulators for creating over two million fake bank and credit cards. Wells Fargo also said it had fired 5,300 people over the past few years due to improper sales tactics.
Related: 5,300 Wells Fargo workers fired over 2 million phony accounts
The shocking scandal has rocked the banking industry and raised serious questions about the sales culture that led to the opening of unauthorized accounts. Employees told CNNMoney they experienced relentless pressure and wildly unrealistic sales targets. The pressure cooker environment is also described in a lawsuit filed by Los Angeles against Wells Fargo in May 2015.
The federal investigation "reflects pent-up frustration by the public over the lack of accountability at big banks post financial crisis," said Mike Mayo, a banking analyst at CSLA.
Mayo said the scrutiny is elevated because "the abuse is easy to understand. Even a seven year old gets it."
So who's to blame? Mayo points the finger at investors for lax oversight and not holding management accountable: "This is an example of government involvement that would not be needed if investors stepped up to the plate," he said.
Wells Fargo's biggest investor is Warren Buffett's Berkshire Hathaway (BRKA). Buffett has remained silent about the controversy thus far.
On top of the federal investigation, Wells Fargo is set to be grilled by Senator Elizabeth Warren and her colleagues on the Senate banking committee on September 20. Wells Fargo CEO John Stumpf has accepted an invitation to testify at the hearing.
Rep. Elijah Cummings, the ranking member of the powerful House Oversight committee, has also requested Wells Fargo turn over documents about its sales tactics and other material.
Stumpf, in his first televised comments since the scandal broke, said he's "sorry" for the fake accounts that were opened but also indicated he has no plans to resign. "The best thing I can do is lead this company," the Wells Fargo CEO told CNBC.