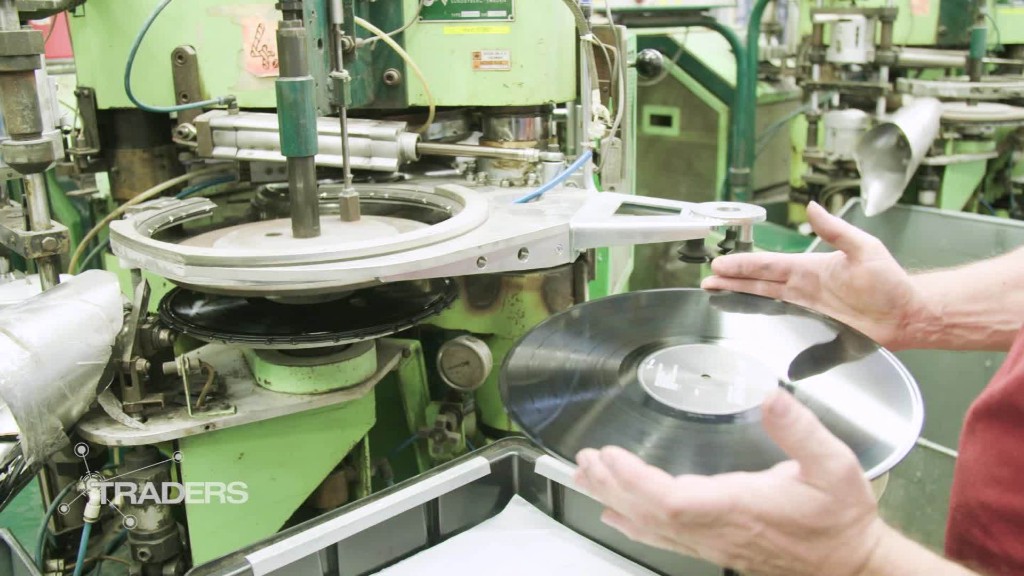 Nowadays you can't call yourself a true music fan if you aren't curating a collection of vinyl records.
Vinyl can be bought everywhere -- from independent record stores to Urban Outfitters and even Whole Foods.
"Nothing's final til it's vinyl," says the old music business saying -- but it hasn't always been that way.
In the 1990s, vinyl was dying out. The rise of the CD -- and later online downloads -- threatened to render the vinyl record obsolete.
Vinyl makers across the world stopped production, but In the Czech Republic, Zdeneck Pelc -- CEO and owner of GZ Media -- did not follow suit. His company kept its 45-year-old equipment and is now the world's biggest vinyl supplier.
"I love vinyl records," Pelc says. Because he grew up with records, it's personal for him: "One day I decided if I close the production, I will be the last one in Europe who will do it."
Pelc's convictions paid off. Over the past few years, vinyl has acquired a new lease on life. Some 18 million records were pressed in 2015.
GZ Media is at the forefront of the vinyl renaissance. Founded in 1951, the company supplied records across the Eastern Bloc during the Soviet era.
When Pelc started as CEO at the company 30 years ago, profits didn't matter, only "what you had in the plan sent to you from Ministry of Culture," Pelc explains. "It was [a] crazy system."
After the Velvet Revolution in 1989, he says, everything changed.
'A touchable product'
Fast forward to 2016. GZ Media now presses 65,000 records each day and is worth more than $100 million. It has an annual revenues of $105 million. The vast majority -- 95% -- of its sales are overseas, with the U.S. its biggest market.
Alongside its vintage equipment GZ has pressing machines it developed in-house, which came online only last year to ease production pressure.
GZ expects production capacity to increase over the next three years and has acquired pressing plants in Nashville and Toronto, and aims to follow this up with a manufacturing base in Asia or Australia.
And global appetite for vinyl is only increasing, with fans enjoying nostalgic re-issues alongside modern artists' limited editions.
Pelc thinks vinyl has endured because it's tangible. "It's like with books," he explains. "There are electronic books but some people, if they like buying books ... they prefer to have it in physical form ... and I think [it's] the same with vinyl."
"Vinyl is a touchable product," he adds.
Not that you'd necessarily want to touch every record Pelc presses. He recounts a story of the time a U.S. rock band asked him to incorporate the ashes of their deceased guitar player in one of their records.
"It was not for sale," he clarifies. "It was just for the group and for the family"
And for his part, Pelc is determined to ensure vinyl never dies.