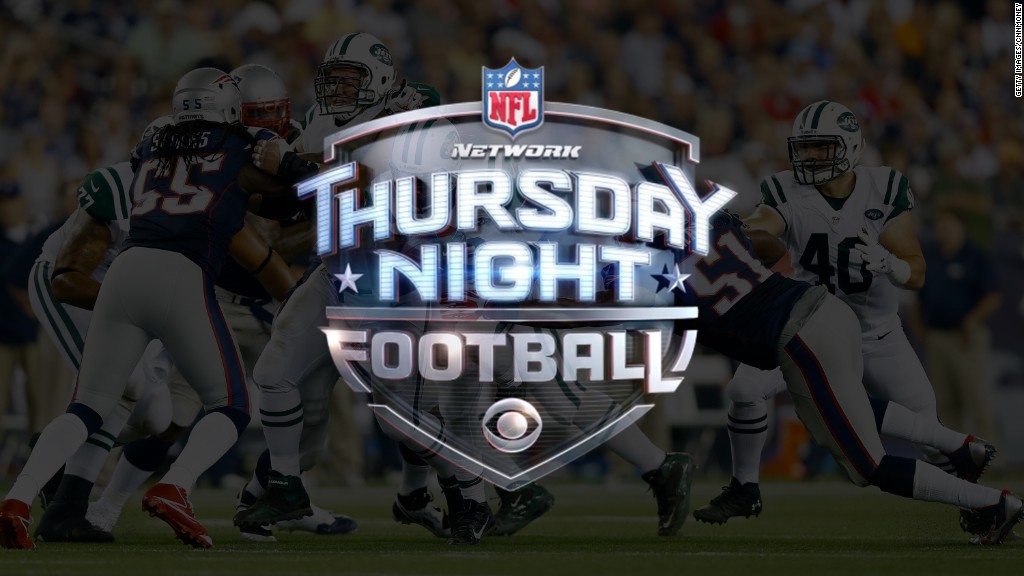 Twitter's stream of its first NFL Thursday Night Football game was a hit with the people who watched it, but the number of viewers paled in comparison to those who tuned into the game on TV.
During an average minute of the game, 243,000 people were watching the stream via Twitter (TWTR). By the same TV-style measurement, 15.4 million people were watching on CBS and the NFL Network.
Twitter's livestream of the game reached 2.1 million people, although many sampled it only briefly. That figure counts anyone who watched the game for at least three seconds.
While the numbers pale in comparison to TV viewership, there's nothing to compare them with in terms of other Twitter livestreams since these are the first such numbers that Twitter has released.
Twitter's stock price rebounded by about 4% on Friday, but the price is still down more than 17% from last year and there are still talks of a takeover.
Twitter partnered with the NFL back in April to livestream the 10 Thursday Night Football games this season. It paid millions for the right to livestream each of the games.
The NFL's motivation in making the deal with Twitter was to attract viewers who may not have cable and who use social media regularly and value mobility.
Related: Can Twitter become the next ESPN?
The first livestream of the Thursday Night Football game between the Jets and Bills was widely praised on Twitter by viewers.
The stream was easy to find on the Twitter app, was devoid of major glitches and seemed to be in HD.
The next Thursday night game to be livestreamed will feature the Houston Texans versus the New England Patriots.
Twitter will livestream CBS's broadcast for the first five Thursday Night games and NBC's for the final five. The games will play alongside curated tweets and Twitter's live video app, Periscope, will provide fans with sideline coverage before and after the game.
The stream is accessible in every country in which Twitter operates except Canada, which has a different TV rights deal with the NFL.
CNNMoney's Brian Stelter contributed to this report