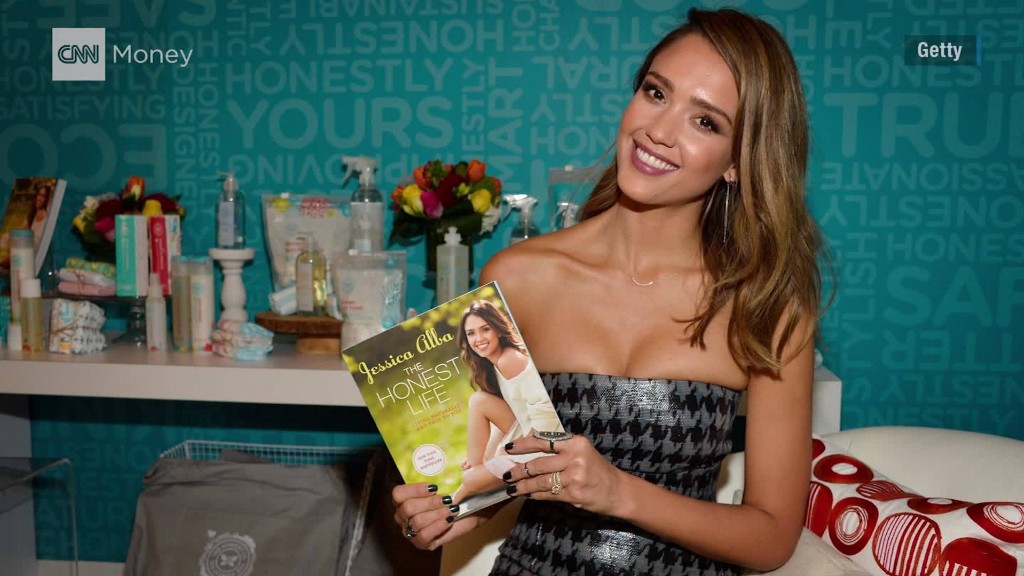 Unilever appears to be on a buying spree.
The company is now looking to buy Jessica Alba's Honest Company, a source confirmed to CNNMoney.
Jessica Alba cofounded the startup in 2011 as a new kind of consumer packaged goods company. It made a name for itself by selling nontoxic products like diapers, cleaning supplies and personal care products.
Details about a potential acquisition price were not immediately available.
Honest Company, which is based in Santa Monica, was valued at $1.7 billion in August 2015 when it raised $100 million from investors. But it's come up against criticism over the past year about its products' ingredients. It's had to publicly defend its baby food and even "redesign" its sunscreen.
Related: Walmart buys Jet.com for $3.3 billion to take on Amazon
Unilever (UL), the parent company to brands like Dove, Axe and Vaseline, is on the prowl in the Los Angeles startup scene. In July, it acquired another well-known L.A. startup -- Dollar Shave Club -- for $1 billion.
If Honest Company does sell to Unilever, it's another example of a hot startup opting for the M&A route instead of going public.
Earlier this year, there were rumors that the company was heading toward an IPO. But in May at TechCrunch Disrupt, Alba and chief marketing officer Chris Thorne shied away from that line of discussion, declining to comment on the topic.
Recode reported last Friday that Honest Company was in acquisition talks, and the Wall Street Journal first reported that Unilever was the potential buyer. Honest Company and Unilever did not respond to requests for comment.