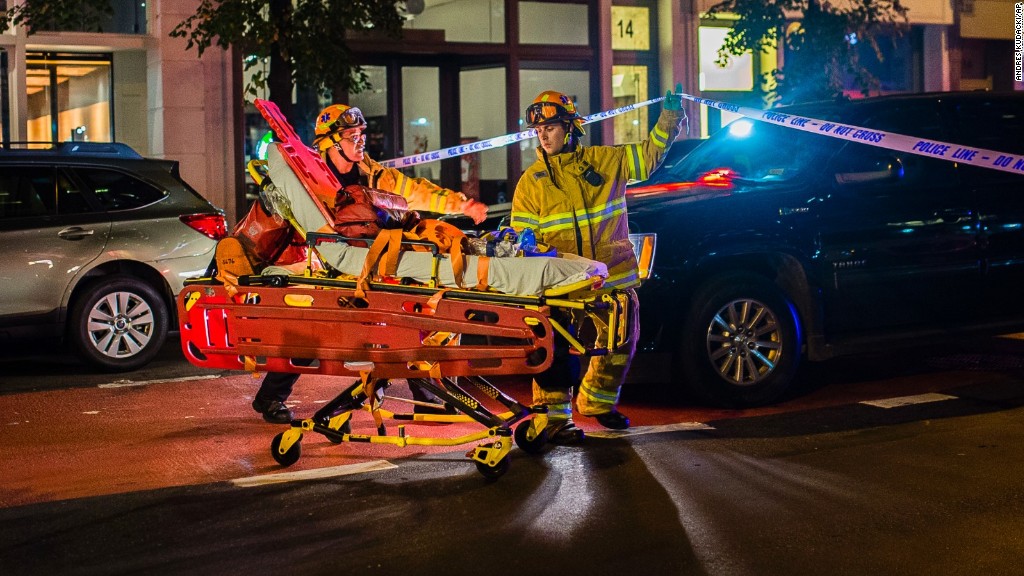 Traders shrugged off the apparent terrorist attacks in New York and New Jersey over the weekend. Stocks were largely flat in midday trading ... and it did not appear that there was any extra security added at the New York Stock Exchange.
A spokesperson for the NYSE had no comment about whether or not it boosted security on Monday. The New York Police Department was not immediately available for comment.
But a source close to the situation said the NYSE is always in contact with both New York City law enforcement and the federal government regarding any potential threats.
And there is already lots of of security at the NYSE. Guards check for ID badges and inspect bags before allowing people into the building.
Related: Officials hunt for man in New York bombing case
Bags and other personal items must then be placed on a belt for scanning (just like at an airport) and people have to walk through a metal detector before proceeding any further.
A former NYSE executive testified at a Congressional hearing in 2004 that the NYSE had spent more than $100 million to enhance security measures in the wake of 9/11. But the NYSE had no comment about how much it has spent on security since then.
What's more, the NYSE is no longer open to the general public. That has been the case since 9/11.
While visitors are still welcome, they are only allowed in if they are with an actual member of the exchange. So you won't see tourists wandering around and mingling with traders.
But small groups occasionally come and visit the balcony above the trading floor. There was one on Monday morning to watch the opening bell. Cellphones were used to take pictures. It was business as usual.
Related: The Latest from CNN on the New York-New Jersey bombings
Traders said they aren't too nervous about the weekend's events, which included a bomb explosion in the New York City neighborhood of Chelsea on Saturday night.
The fact that nobody was seriously injured was probably the main reason why investors weren't overly concerned. Even though stocks were bouncing between small gains and losses Monday, the Dow and S&P 500 and Nasdaq still are not far from their all-time highs.
And New Yorkers have grown accustomed to the notion that the city could be a terrorist target ever since 2001. So Saturday's events, while unsettling, were not enough to unnerve investors that much.
They're still focusing on the Federal Reserve's upcoming meeting on interest rates, the broader economy, earnings and the election as opposed to worrying about terrorism.
"Unfortunately, way too many people in general; including market participants, have become anesthetized to the recurring, but unspectacular terrorist attacks," said Tim Anderson, a trader with MND Partners.