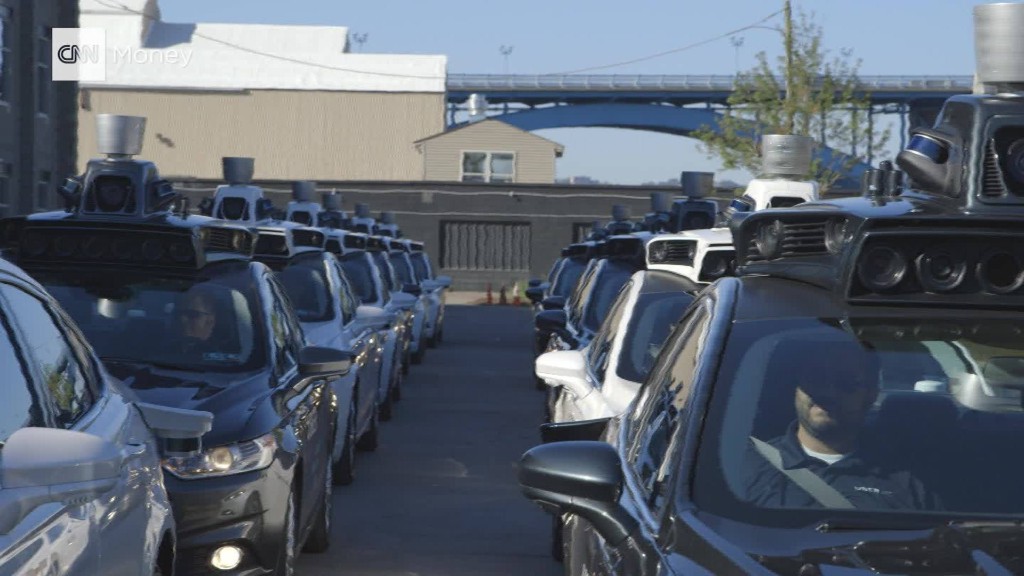 An exciting future is coming fast, but we aren't ready.
That's the message from Lyft president John Zimmer in a 4,000-word Medium post detailing his company's vision for the future of transportation.
Lyft's smartphone app lets users summon rides on demand. In five years, Zimmer said the majority of those rides will be in fully autonomous vehicles. In 10 years, he expects all of them to be.
Car ownership will disappear in most cities because self-driving rides will be so much more affordable and convenient, according to Zimmer. This belief is shared by many experts who see transportation shifting to ridesharing services that operate affordable, electric, self-driving vehicles.
Zimmer argues this will create cities that are built around people, not cars. There will be less need for parking spaces, less pollution and traffic. Housing, green spaces and businesses will replace parking lots. All of this will make cities more desirable to live in.
Related: What it's like to ride in a self-driving car
The car will be totally reinvented in the autonomous era of transportation, as Zimmer sees it. Future vehicles will be more like a personalized hotel on wheels, and Lyft could offer as many as 10 different experiences for riders.
"On the way to work, you may want to catch up on email. On your way home, you may want a social experience -- whether that's more like a bar on wheels or some type of entertainment car," he told CNNMoney. "On a family trip from California to Tahoe, you might want some space to play games."
Customers will have a Lyft ride plan, similar to a smartphone data plan. A typical rider might have 1,000 miles of rides a month. Someone wanting access to special features, such as the bar on wheels, would pay extra.
This new world could be bad news for Lyft's 315,000 drivers, whose jobs would become obsolete. The company said it will look to bring some loyal drivers on board to work in operations.
Zimmer described today as a pivotal moment, akin to before the United States invested heavily in canals, railroads and highways. Zimmer points to the negative impact of cars on cities, such as the bulldozing of neighborhoods to make way for highways. The autonomous vehicle era will likely trigger another sea change. The question is whether it will be a good one.
"It's crazy to me that this is not being discussed in this election, in any election," Zimmer said. "[Autonomous transportation] could be very powerful, but a lot of people think very short term. We might build infrastructure that becomes totally defunct in 10 years if we're not careful here."
Related: Is Uber's push for self-driving cars a job killer?
In the present, Lyft finds itself in a heated battle with Uber, the heavyweight in the ridesharing world. But this year, Lyft turned its focus toward the future. In January, Lyft and General Motors announced a partnership to launch a fleet of autonomous vehicles. This spring General Motors (GM) bought Cruise Automation, a startup specializing in self-driving vehicles. The pieces appear to be coming together to offer a futuristic transit service.
Lyft and GM have since launched Express Drive, a car rental program, in six cities this year.
Lyft isn't the only one with big plans. Everyone from Ford (F) and Daimler to Google (GOOG), Apple (AAPL) and Uber are investing heavily in the next wave of transportation.