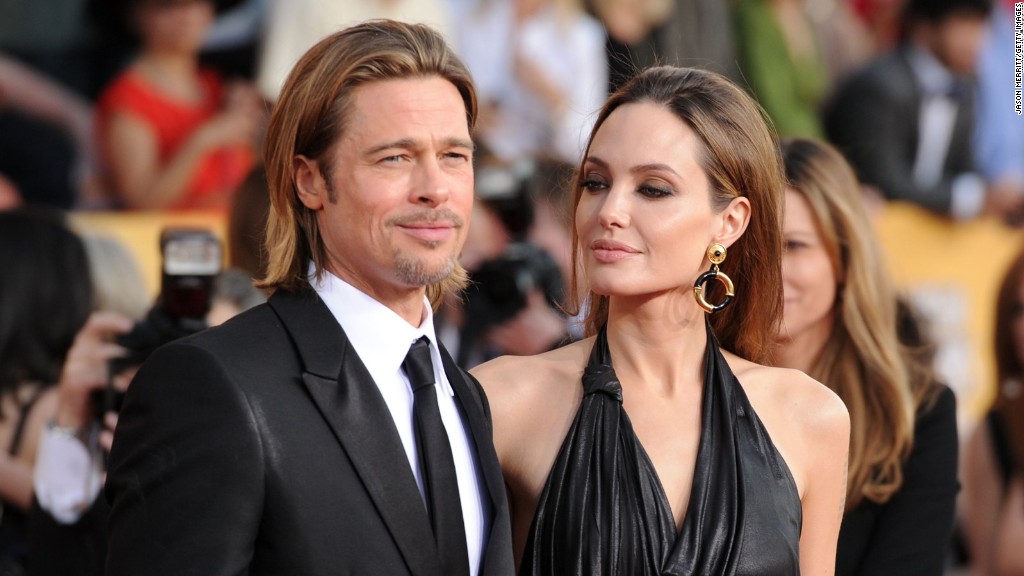 Brad Pitt and Angelina Jolie's divorce is the story of the year for any celebrity magazine. But two of the biggest ones won't have it on their covers.
Both People and Us Weekly are missing out on including the news because it came at a bad time for them, after they sent their issues for the week off to the printers.
"The divorce isn't People's cover story because we closed the issue last night," a spokesperson for the magazine told CNNMoney. "However, we are covering the story nonstop 24/7 on People's digital platforms."
As for Us Weekly, a source close to the magazine said that the celebrity couple isn't on its cover because it, too, printed Monday night.
One magazine does have Pitt and Jolie's break-up on its cover, though. In fact, InTouch was days ahead of the news. The cover of its September 26 issue, which hit newsstands last week, screams "Brad & Angelina: $400M Divorce."
"We had another story for that week and then we got some pretty strong information coming from multiple directions that [Jolie] was going to file for divorce any day," InTouch's editor in chief and editorial director, David Perel, told CNN. "That's when I bumped the cover, because we didn't know exactly which day she was going to file."
Related Link: Angelina Jolie files for divorce from Brad Pitt
It's seemingly a big win for InTouch. But this isn't the first time the magazine has devoted its cover to Brangelina being on the rocks. In fact, just since January it's had six covers suggesting the marriage was in trouble.
"Divorce Papers!" the magazine's cover announced in March, promising details on "The Woman Who Tore Them Apart" and "The final fight that caused Angie to walk out" and saying they'd been "[s]ecretly separated for months." In June, a split cover of Pitt and his ex-wife Jennifer Aniston declared "They're Both Divorcing!"
On the other hand, in July -- the same month that its cover touted an "Explosive Showdown" between Pitt and Aniston -- InTouch reported that things were looking up for Pitt and Jolie and that they had plans to adopt a seventh child.
"They are obviously a couple that we report on heavily so we follow them and we have a lot of resources directed towards finding out what's going on," Perel said.
"We've known for a while is their marriage was in very bad shape ... The thing is, the divorce didn't come out of nowhere and the fact that we're on sale now proves that... [T]o be able to have the cover on sale and have the announcement in the same week, it's a big get for us."