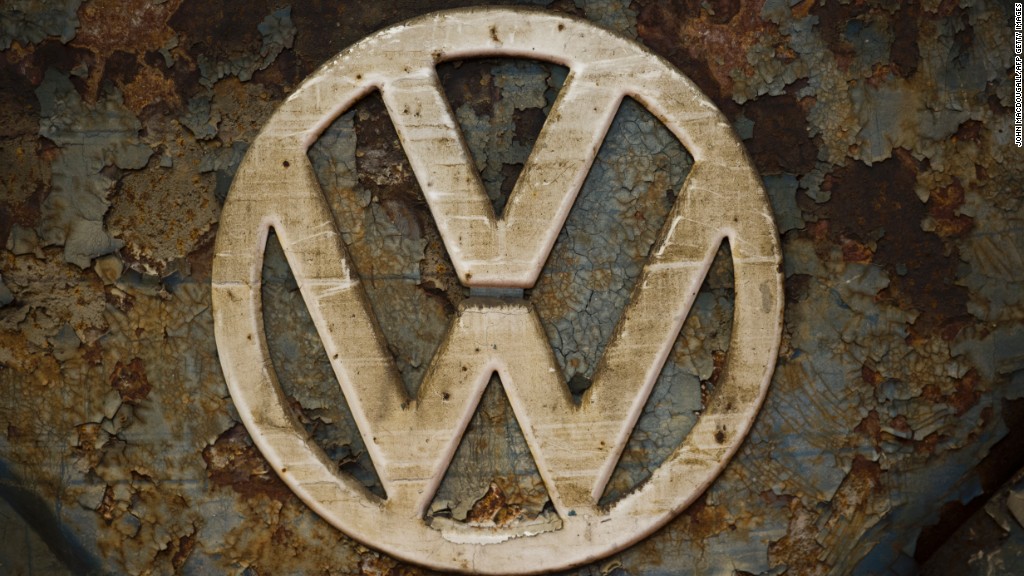 Volkswagen investors are demanding more than $9 billion in damages for the losses they sustained as a result of the automaker's huge diesel emissions scandal.
Around 1,400 lawsuits have been filed against Volkswagen (VLKAF) in Germany. The investors want payments totaling 8.2 billion euros ($9.1 billion), according to a statement from a court in Volkswagen's home state of Lower Saxony.
About 40% of the company's market value was wiped out when the scandal broke a year ago. Volkswagen admitted fitting as many as 11 million diesel vehicles worldwide with software that could cheat nitrogen oxide emissions tests.
But it only came forward after the U.S. Environmental Protection Agency alerted the world to the issue.
Investors say Volkswagen failed to provide accurate and timely information about its cheating on emissions tests. Prosecutors are investigating whether former Volkswagen CEO Martin Winterkorn and another top executive should have come cleaner sooner about the possible financial costs of the scandal.
In April, the company recorded a loss of 5.5 billion euros ($6.2 billion) for 2015, after taking a 16.2 billion euro charge.
Related: Volkswagen engineer pleads guilty in emissions cheating case
The German court said it has been swamped with lawsuits, and has even had to increase its storage capacity. It said the number of claims against Volkswagen is equivalent to half its normal annual workload.
Two of the lawsuits, worth 2 billion euros, were filed by institutional investors, and the rest by private investors.
Norway's state pension fund, Volkswagen's biggest independent shareholder, said in May it would sue the car maker for the losses it suffered. Blackrock (BLK), another top investor, is also reported to be suing the company.
Volkswagen has already agreed to pay $15.3 billion in civil penalties to compensate owners of its U.S. diesel cars, including an agreement to fix or buy back the cars.