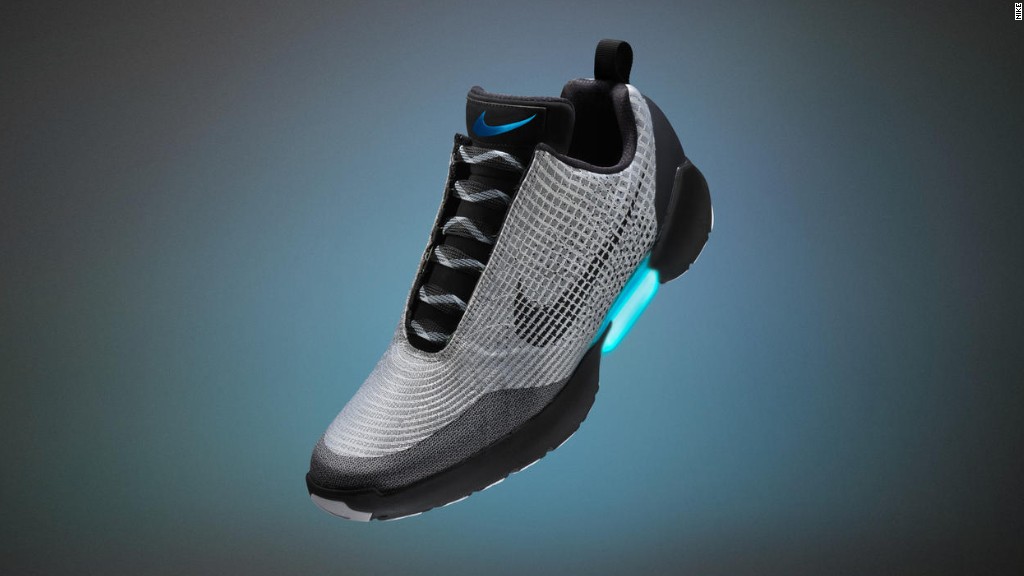 Nike just dropped new details about its self-lacing sneakers.
Nearly 30 years after Marty McFly wore Nike sneakers with "power laces" in "Back to the Future 2," the brand is launching a real version of the iconic pair on Monday, November 28, also known as Cyber Monday.
While Nike showed off the sneakers -- called HyperAdapt -- for the first time in March, we now know more about how they will work.
The shoes will be rechargeable and lightweight, Nike's public relations director Heidi Burgett tweeted Tuesday.
While Burgett didn't reveal details about cost or exact availability, she said specifics about how to make an appointment "will be announced in the coming weeks."
"HyperAdapt 1.0 will be available in the U.S. at select Nike retail locations," Burgett tweeted. "Appointments to experience & purchase begin 11.28.16."
Related: Nike unveils auto-lacing sneaker
But before you get too excited, the laces don't exactly "tie" on their own. The concept is more like automatic buckling or snow boot tightening.
Here's how it works: Sensors in the shoe detect when it's being worn. A "lace engine" in the base of the sneaker then controls a system of nylon bands that tighten around the foot based on algorithmic calculations, according to a Wired video released on Wednesday. The sneaker features two buttons that let wearers tighten or loosen the laces.
The shoe also touts LED lights in the sole, which signal information such as battery life and when the lace engine is running.
The bottom of the HyperAdapt sneakers attach to a wireless charging pod. It takes about three hours to fully charge and lasts about two weeks.
Aside from looking cool, the adaptive lacing shoes are designed to serve a practical purpose for athletes, Nike says.
For example, fit adjustments can be made on the fly -- see what we did there? -- during crucial times, such as in the middle of a game or right before a race.
While the HyperAdapt sneakers are a bit different than the fictional models highlighted in the film -- it's a symbol of what the future could look like -- and Nike is finally taking us one step closer to that reality.