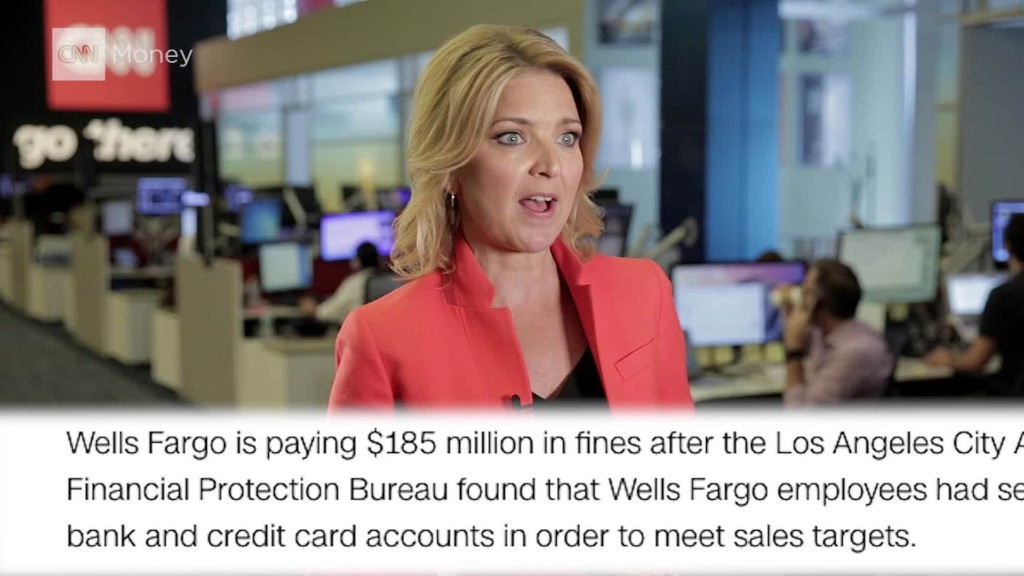 Most Americans were shocked when they learned that thousands of Wells Fargo employees had opened millions of fake accounts.
People who work at other banks weren't surprised at all.
Nearly a dozen current and former employees at large and regional banks such as Bank of America (BAC), Citizens Bank, PNC (PNC), SunTrust (STI), and Fifth Third (FITB) tell CNNMoney that a sales obsession pervades their banks. They say they too are under immense pressure to get customers to open multiple accounts.
They described a focus to push as many different products -- think debit cards or new online accounts -- as they can, an industry practice known as cross-selling.
"Wells Fargo is not the exception (with its) absurd sales culture," said one former manager of two large regional banks.
Related: 5,300 Wells Fargo workers fired over 2 million phony accounts
'Industry-wide problem'
No other major banks have been accused by regulators of widespread opening of phony accounts like Wells Fargo (WFC) has been.
But Thomas Curry, one of the country's chief banking regulators, said that "banks are under enormous margin pressure. That could be a bad environment."
Curry, the head of the Office of Comptroller of the Currency, told a Senate panel this week that the agency is investigating whether other banks have employed high-pressure sales tactics that led to fake accounts.
One former banker at a regional bank told CNNMoney he witnessed the practice at his company.
"The customers wouldn't even know," said the banker, who insisted his name not be used. "Wells Fargo isn't the only one. This is an industry-wide problem."
Another scam this banker witnessed involved employees rearranging debit charges on customer accounts to maximize the size of the overdraft fees they experienced.
"The competition and pressure in the banking industry is unbelievable," he said.
All the people CNNMoney spoke to for this article had to pursue similar aggressive sales goals pushed by senior management.
"We get badgered every single day by management. It's sad," said a 30-year banking veteran who is a branch manager for a big regional bank.
Another banker puts it this way: "There is a blurred line between what's best for the customer and what's best for our sales goals."
Related: I called the Wells Fargo ethics line and was fired
Over 31,000 complaints
These concerns are reflected in consumer complaints about banks as well. Customers have filed over 31,000 complaints under the category of opening, closing and management of bank and credit cards, according to stats from the Consumer Financial Protection Bureau.
Likewise, the National Employment Law Project, an advocacy group for low-wage workers, published a report in June detailing how banks' aggressive sales metrics encourage "front-line workers to push multiple banking 'solutions'" on often "unwitting customers."
The report quoted tellers, bankers and other employees from various banks, including SunTrust and Bank of America. "Managers really pushed me to ignore it when consumers say no," one bank employee said.
A spokesman for the American Bankers Association, which represents the banking industry, told CNNMoney: "We condemn any kind of dishonest or unethical behavior at any bank at any time." The ABA added that "banks work hard to make sure customers receive products that they want and value."
Bank of America and SunTrust declined to comment on the concerns raised by their workers.
A PNC spokesperson told CNNMoney the bank trains employees to have "thoughtful discussions" with customers and "only act on what a customer wants to pursue." Fifth Third said it "always" puts the customer first and has a "well-designed process to identify and meet their needs."
A Citizens Bank spokesman said the bank adheres to "strict" accountability and compliance standards aimed at putting the "customers first." He said, "Our colleagues are incented to do the right thing for our customers."
Related: Does Warren Buffet have a new favorite bank?
Cross selling is at the heart of modern retail banking
The relentless focus on cross-selling is not new. Bob Hedges, global head of financial service practice at management consulting firm A.T. Kearney, said the emphasis began in the 1970s and 1980s.
"It's like at McDonald's, if you order a cheeseburger, they ask if you want fries," Hedges said. At a bank, if you open a checking account, they'll ask if you want a debit card."
Banks have discovered that the more products customers have, the less likely they'll be to jump to another bank. Multiple accounts can also be profitable for the fees they generate.
This has taken on greater importance given how bank profits have been squeezed by the one-two punch of higher regulatory costs and extremely low interest rates.
"The retail banking business is under incredible earnings pressure," said Hedges.
Related: Workers tells Wells Fargo horror stories
'Mind-blowing' Wells Fargo scandal
Some bankers were surprised Wells Fargo got away with opening as many unauthorized accounts as it did. One employee said his bank has enough controls in place to catch such violations.
"It's just mind-blowing you would have that number of accounts that could get through without being audited," he said.
But it's now gotten the attention of lawmakers and regulators.
"A lot of us are worried that there's similar doings going on in other banks," said Senator Richard Shelby, chairman of the powerful Senate Banking Committee.
And Richard Cordray, director of the consumer watchdog agency CFPB, said this while announcing the Wells Fargo settlement: "We've put the industry clearly on notice."