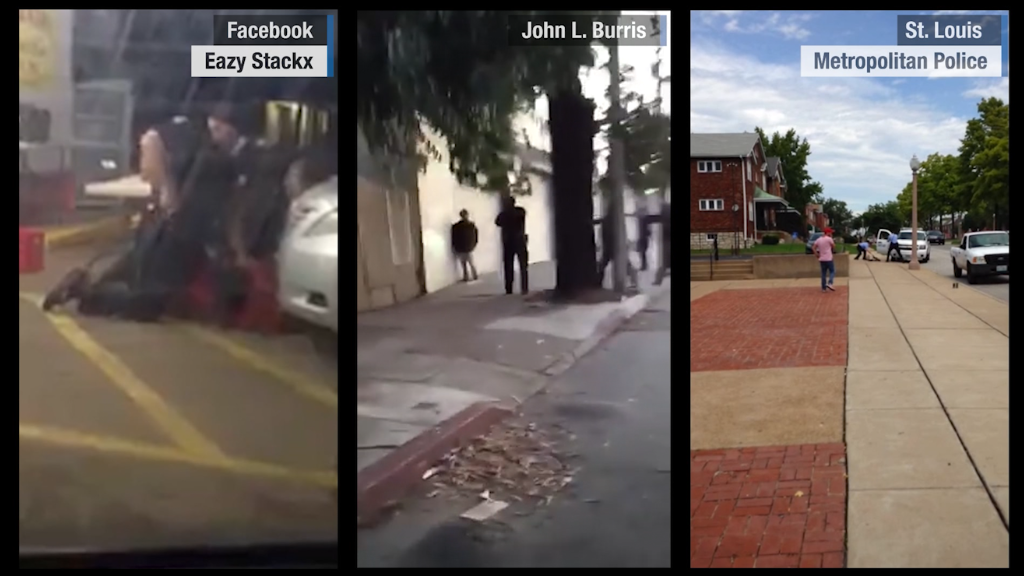 The fatal shooting of Keith Lamont Scott by a cop in Charlotte has once again sparked outrage about police officers' treatment of black men when looking for suspects.
Scott's death has also reignited the debate about the use of body cameras in law enforcement -- and whether or not having more police officers wearing them could help cut down on disputed shootings.
That may be a reason why shares of Taser, the company most famous for its signature stun guns, are up more than 60% this year. The stock has gained nearly 8% since Scott's death on September 20.
That's because Taser (TASR) also makes the Axon line of body cameras that police departments across the nation have been buying. The city of Atlanta just put in a large order of Axons for its police officers.
And the Charlotte-Mecklenburg Police Department ordered more than 1,400 Axon cameras from Taser last year.
It also purchased a subscription to Taser's Evidence.com service, which allows officers to upload, share and store digital video and audio from their cameras.
Charlotte's police department released footage of the encounter with Scott this past weekend. There was dashboard camera footage from a police car as well as video from a uniformed Charlotte police officer -- but not from the shooter.
The Charlotte police claim that Scott had a gun and subsequently released photos of a gun and holster recovered at the scene. But the videos do not show Scott pointing a gun at anyone.
Officials from the Charlotte-Mecklenburg Police Department were not immediately available for comment about whether or not the footage was shot with Taser's Axon cameras.
Related: Charlotte's economic success masks deep black-white divide
Scott's family also released cell phone video footage from Scott's wife. In it, she's clearly heard saying, "Don't shoot him. He has no weapon."
So far, the footage released from Charlotte's police department does not answer the most pressing questions about the killing.
Was Scott really a threat to officers trying to talk to him? Or, as Scott's wife and family claims, did police overreact and use unnecessary force?
Even though this particular footage was inconclusive, more and more police departments around the country will likely be using similar technology to film future shootings and arrests.
The demand for body cameras has surged after Michael Brown was shot and killed in Ferguson, Missouri, on August 9, 2014. There have been numerous other officer-involved shootings of black men throughout the country since then as well.
Knowing that there will be video footage of arrests could make some officers think twice about how they treat suspects. At the same time, police who've been falsely accused of misconduct could be exonerated thanks to video evidence.
Related: Gun and body camera stocks surge after Dallas police officers shot in July
Another small technology company, Digital Ally (DGLY), also makes body cameras for police officers. Its stock is higher than where it was two years ago. But it's fallen lately as investors bet that Taser and Axon will wind up winning more law enforcement contracts.
Japanese electronics giant Panasonic (PCRFY) and privately-held companies VieVu and Wolfcom also make body cameras.
But regardless of which camera manufacturer wins out, experts think it's only a matter of time before the use of body cameras are prevalent in all police departments throughout the country -- despite privacy concerns.
Luke Larson, president of Taser, told CNNMoney in 2015 that "every police officer will be wearing this technology" within the next few years.