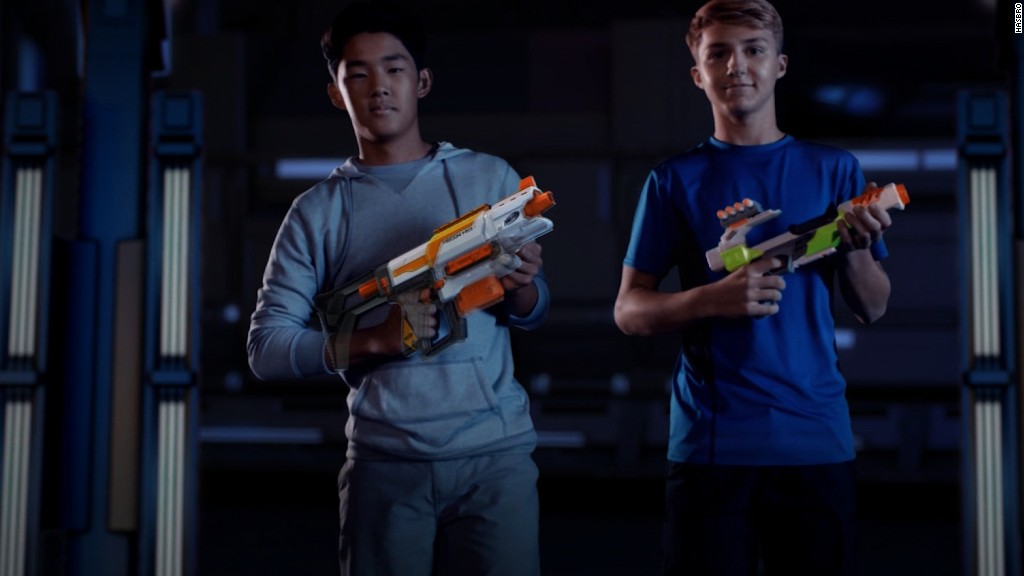 It may seem like the whole country is focused on the Trump vs. Clinton presidential race, Monday night's big debate and nothing else.
But for Americans too young to vote -- way too young -- there's a more pressing concern: What to put on their holiday gift lists.
After all, Christmas is less than three months away. And that could be great news for Hasbro and Mattel.
The two toymakers are both already big hits on Wall Street this year. Shares of each company are up nearly 20%.
Mattel (MAT) is turning its fortunes around under a newish CEO. And Hasbro (HAS) is still doing extremely well thanks to successful franchises like Nerf, Transformers and the Disney Princess and Frozen lines of toys.
And both could get a bigger boost than usual in the next few months as they prepare to release toys tied to the upcoming Star Wars prequel "Rogue One."
Toy stores across the country will be holding a second "Force Friday" to unveil Star Wars merchandise. Last year, it was all about "The Force Awakens," the seventh installment in the Star Wars saga.
While the anticipation for "Rogue One" -- which takes place between the events of the third and fourth movies -- is not as intense as it was for "The Force Awakens," there's still a good chance that many fans will eagerly scoop up the new toys.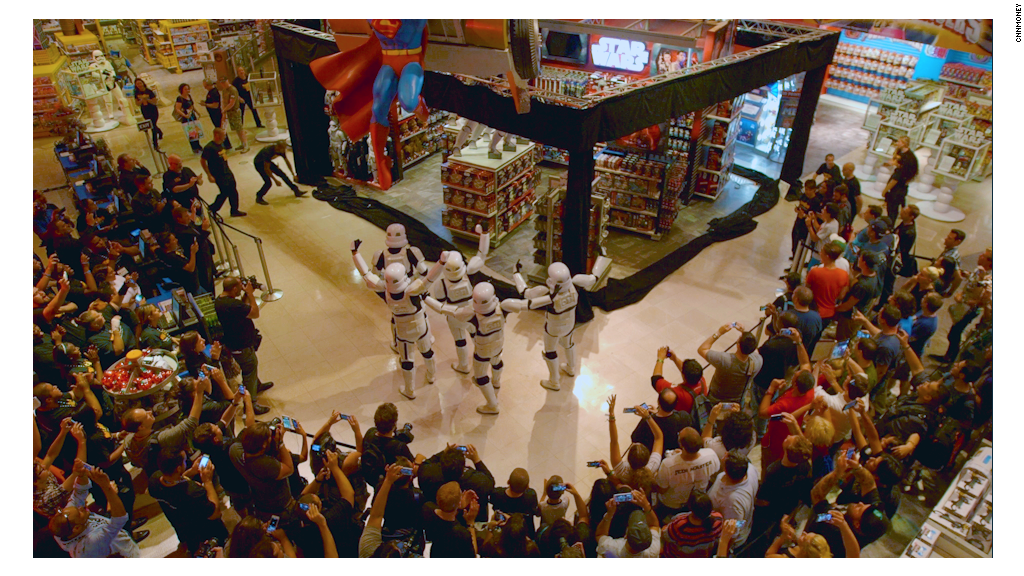 Hasbro has more to gain than Mattel because it has the bulk of the Star Wars licenses, as well as other toys tied to various Disney movies. But Mattel's Hot Wheels unit will have new "Rogue One" toys, too.
Hasbro might be a better bet for investors. While Mattel is taking strides to get sales growing again, analysts still expect revenue to be down for the next few quarters.
Hasbro also now has the majority of the lucrative Disney licenses, a deal that Mattel had for years.
Related: Hasbro should rename itself Disney Toys
Mattel was even rumored to be a takeover target for Hasbro earlier this year, although talk has died down after many experts speculated that it might be tough for a merger to get past regulators because of antitrust concerns.
There are reasons to believe that the worst may finally be over for Mattel, though.
The Barbie brand is enjoying a comeback. The company continues to mint money from its line of Thomas & Friends toys. (Even though this dad can't wait for his youngest to finally age out of the Thomas, Percy and Gordon phase.)
And Mattel won the rights to the Jurassic World toys license earlier this year. A sequel to the blockbuster film will hit theaters in June 2018.
But both Mattel and Hasbro trade at about the same valuation -- nearly 18 times earnings estimates for their next fiscal year. Hasbro's sales are expected to increase this holiday season while Mattel's are not.
Mattel still has a lot to prove, despite its recent rebound. Hasbro has been more nice than naughty to shareholders over the past few years.
With that in mind, it's not too hard to figure out which stock makes more sense as a stocking stuffer.