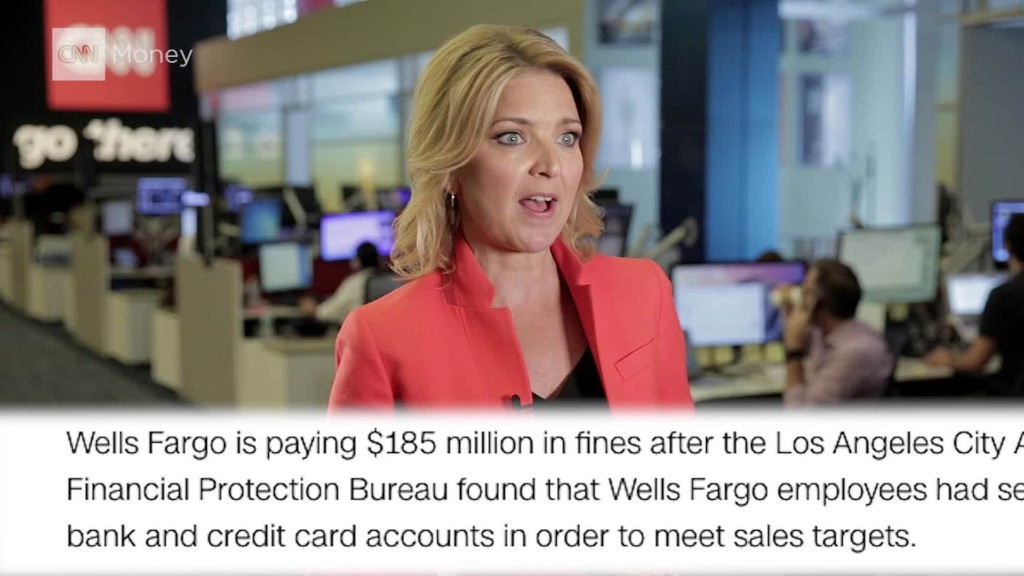 Wells Fargo's fake accounts have been around a long time.
Almost a dozen Wells Fargo (WFC) workers told CNNMoney that the shocking tactic -- where employees opened unauthorized accounts to meet unrealistic sales goals -- has been around much longer than the bank has acknowledged.
"These practices were going on way before 2011," said Susan Fischer, a former Wells Fargo branch manager, who worked at the bank for five years, starting in 2004.
Americans were stunned to learn earlier this month that Wells Fargo employees had opened as many as two million fake accounts since 2011, and that 5,300 people had been fired as part of the scam since then.
The Justice Department launched an investigation two weeks ago. Two Congressional hearings have been called. CEO John Stumpf was skewered in the Senate last week and the House hearing is scheduled for this Thursday.
Related: Fired Wells Fargo workers fight back with lawsuit
Fischer said she remembers her district manager instructing her in 2007 to make the employees reporting to her open unauthorized accounts. It was about a year after she moved from Wisconsin to Arizona to manage a Wells Fargo branch.
"My district manager told me, 'Do whatever you need to do,'" Fischer said.
But Fischer ran into trouble when she refused take part in fraudulent activity. Superiors said she wasn't hitting her goals. Soon, Fischer got so stressed from her work environment that she had to take a medical leave of absence and wasn't allowed to return.
"It took a huge chunk of my life and my income," said Fischer.
Why is the former Wells Fargo branch boss speaking up now? "If someone doesn't stand up, this is going to continue," she said.
Related: I called the Wells Fargo ethics line and was fired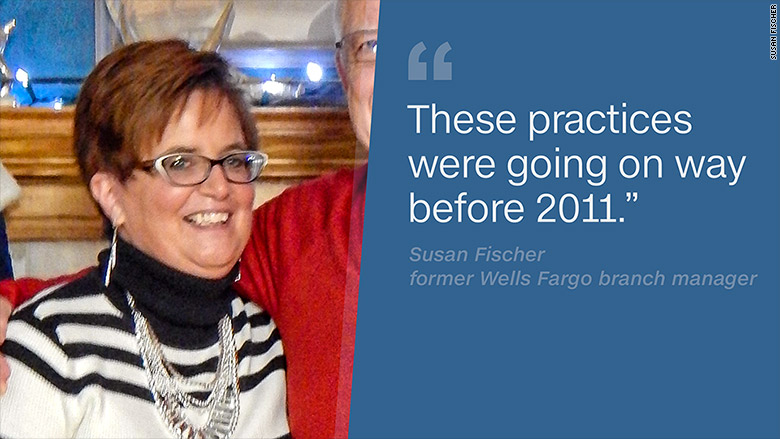 Fischer's account matches those of other employees, who spoke to CNNMoney, where the bank made employees' lives difficult when they couldn't meet sales targets, whether via legitimate or illegal tactics.
It's not clear exactly how far back the fake account trouble goes, nor how widespread it was prior to 2011.
However, a confidential Wells Fargo sales quality manual that was last updated in August 2007 suggests the bank's compliance team was aware of issues even then.
The document, used in a 2011 legal case against the bank, stressed that employees must obtain a customer's "express consent and agreement" -- those words were underlined and in bold -- for each and every line of credit opened.
The manual further reminds employees that customers must "request issuance of a Business ATM/Check Card" and that "check cards should not be mailed to store addresses or held at a store location." Wells Fargo also warned that splitting a customer deposit into multiple accounts to boost incentive metrics is a "sales integrity violation."
Wells Fargo itself seems to have tacitly acknowledged that fake accounts may have been a big problem earlier than the 2011. Earlier this week, while under fire at the Senate hearing, the Wells Fargo CEO said the bank would expand its review to include 2009 and 2010.
Wells Fargo declined to comment on why only those two years will be included, nor about the allegations former employees made to CNNMoney.
When Denny Russo started working in April 2010 at a Wells Fargo in Petaluma, California, he found that accounts were already being opened without authorization. "The sales machine was well under way then," the former teller said.
Russo said Wells Fargo's senior executives are lying when they claim they were unaware of this problem.
"The part that really upsets me the most is these directives absolutely came from upper management," he said.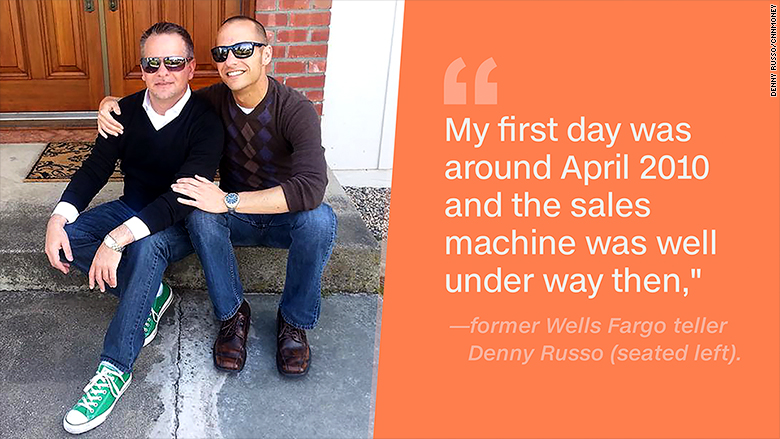 Related: 'Wells Fargo isn't the only one'
Emilie Ward, another Wells Fargo teller in Chaska, Minnesota, told CNNMoney that "100% this began long before 2011."
Ward joined Wells Fargo in 2008 and said customers often had no idea about accounts being opened.
"They would set up debit cards people didn't know about and have them mailed to the bank," she said.
Another former teller, Rebecca Lewis, said she saw unauthorized accounts -- especially credit cards -- opened when she was hired in March 2009 in Idaho. Her attempts to flag the issue by calling the ethics hotline backfired, echoing allegations other former workers who say they were retaliated against.
"Wells Fargo has been a hazard to the public for a long time," Lewis said.