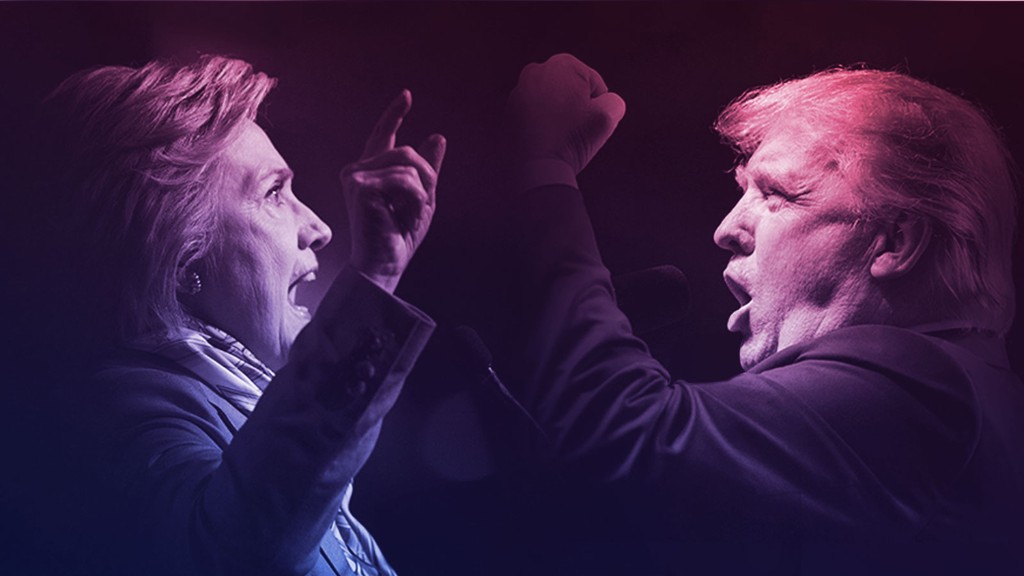 Donald Trump doesn't have much support from C-level executives.
So to boost his image as a business leader, his campaign plans to release a letter of support Monday signed by executives and thought leaders on economic issues.
The letter will reinforce Trump's promise to generate economic growth of 3.5% to 4%, and says GDP "could exceed even that amount," according to people who have seen a draft of the document. It also says Clinton plans to "redistribute income," and that her policies will result in economic stagnation or a return to recession.
But none of the individuals listed are household names. Only two are affiliated with brands most people know: Bernie Marcus, co-founder of Home Depot (HD) and its former CEO, and Andrew Puzder, who is chief executive of Carl's Jr.'s parent company CKE (CKE). There are only two women among the 29 people who signed it, according to a draft version.
Related: If Donald Trump wins debate, stocks likely to tank
According to two people close to Trump's campaign, major corporate leaders are reluctant to support the unconventional and controversial candidate. These people say that corporate America is more comfortable with a known entity like Hillary Clinton.
"CEOs who support Trump privately might be reluctant to do so publicly for fear of a backlash from consumers," said Carl's Jr.'s CEO Andrew Puzder, "and the perception that the press won't be fair to them."
That's surprising given that Trump sells himself first and foremost as a successful businessman, and has promised business-friendly initiatives such as lowering corporate taxes and cutting regulations.
His camp says he appeals more to the entrepreneurial set, and Peter Thiel, an early investor in Facebook (FB), has indeed been a vocal Trump supporter.
Related: Here's how the 'king of debt' plans to balance the budget
But plenty of other big Silicon Valley names back Clinton, including Airbnb co-founder and CEO Brian Chesky, Salesforce (CRM) CEO Marc Benioff, and Netflix (NFLX) founder and CEO Reed Hastings.
And Clinton is continuing to gain traction with business leaders. Ursula Burns, the chief executives of Xerox (XRX), said Clinton is better for business.
The letter of executives backing Trump comes three months after a group of 56 business leaders endorsed Clinton. Among them are some executives who have supported Republicans in the past, including Jim Cicconi, a senior AT&T (T) executive, who said he's supported every Republican for president since 1976.
Trump spokeswomen Hope Hicks did not return a message seeking comment.