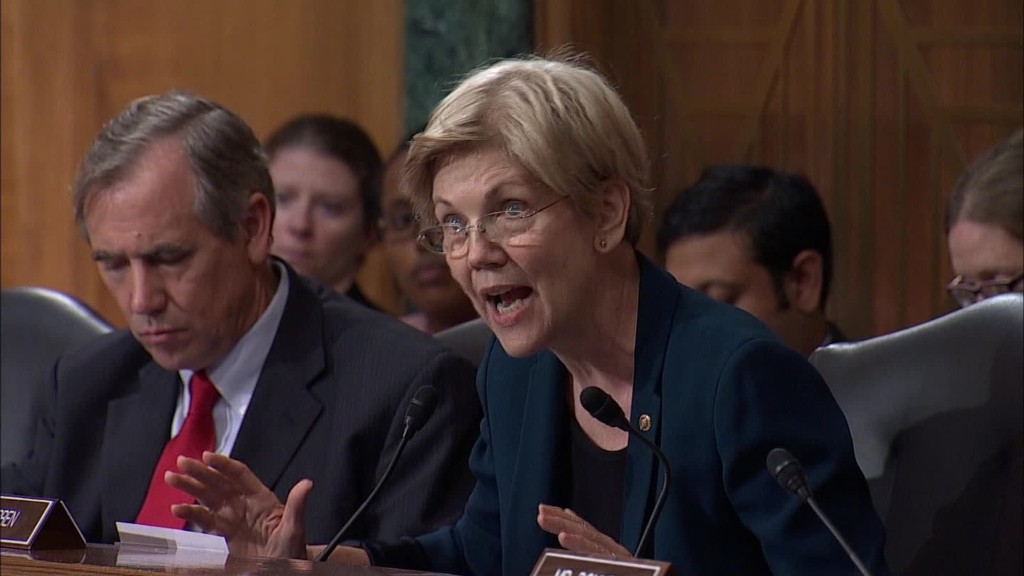 The Wells Fargo executive who led the division that created fake accounts could still walk away with a fortune of $77 million -- even after the bank slashed her pay.
Carrie Tolstedt was forced by Wells Fargo (WFC) late Tuesday to forfeit $19 million in stock awards in response to a national outrage over her compensation.
But that still leaves Tolstedt, the former head of community banking, with $43 million in Wells Fargo shares that she accumulated from her 27 years at the bank. That's based on an updated tally of Tolstedt's stock holdings that Wells Fargo recently sent Senator Elizabeth Warren.
Related: 5,300 Wells Fargo employees fired over 2 million fake accounts
Tolstedt is also sitting on $34 million in stock options. Wells Fargo said Tolstedt, who has left the company ahead of her scheduled year-end retirement, has agreed not to exercise those options as independent directors carry out a newly-announced investigation into the scandal.
That means that if Wells Fargo decides not to claw back more of Tolstedt's compensation, she could walk away with shares and options valued at $77 million today.
By comparison, a CNNMoney analysis had earlier revealed that 56-year-old Tolstedt could walk away with a huge fortune when she retires at the end of the year -- a payday worth as much as $124 million through a mix of shares, options and restricted stock. Wells Fargo put that figure closer to $100 million.
Related: Fired Wells Fargo workers fight back with lawsuit
The huge package was accrued over her two-plus decades at Wells Fargo and was not directly tied to her retirement. Last year, as executive vice president of the division, Tolstedt made $9 million in total pay, a reward for "continued growth in primary checking customers" and other metrics.
Stephen Sanger, the board's lead independent director, said Wells Fargo executives could face further penalties, depending on the results of the investigation.
Wells Fargo is likely to field questions from angry lawmakers about this compensation issue at Thursday's hearing in front of the House Financial Services Committee.
Related: I called the Wells Fargo ethics line and was fired
Earlier this month, Wells Fargo apologized for creating as many as 2 million unauthorized bank and credit cards, and also said it fired 5,300 workers over the past several years.
The findings shocked the nation, leading to two Congressional hearings. The Department of Justice and the Labor Department have each launched separate investigations into the bank's practices. And lawsuits against the bank -- from customers, former employees and shareholders -- are piling up.
Wells Fargo's CEO John Stumpf also will forfeit much of his 2016 salary -- including his bonus and $41 million in stock awards -- as the bank launches a probe into its phony accounts scandal.
Related: Wells Fargo isn't alone
One of Tolstedt's biggest achievements when she led the division was the expansion of multiple accounts held by Wells Fargo customers. In 2014, Wells Fargo specifically cited "strong cross-sell ratios" as a factor behind Tolstedt's multi-million dollar pay.
In fact, that same year, in a presentation to investors, Tolstedt and other executives touted the bank's "expertise" in selling multiple products, which was immensely profitable for the bank. In fact, customers that had 10-plus products each with the bank were 10 times more profitable. The phrase "cross-sell" came up in the presentation 19 times.
It was this kind of internal analysis that led to Wells Fargo's internal goal of selling at least eight financial products per customer. Wells Fargo calls it the "Gr-eight initiative."
The pursuit of cross-selling was at the heart of the pressure cooker environment described by Wells Fargo employees to CNNMoney. In fact, a lawsuit filed by Los Angeles against Wells Fargo in May 2015 says that the bank was consumed by this goal. District managers discussed daily sales for each branch and employee "four times a day, at 11 am, 1 pm, 3 pm and 5 pm," the lawsuit said.