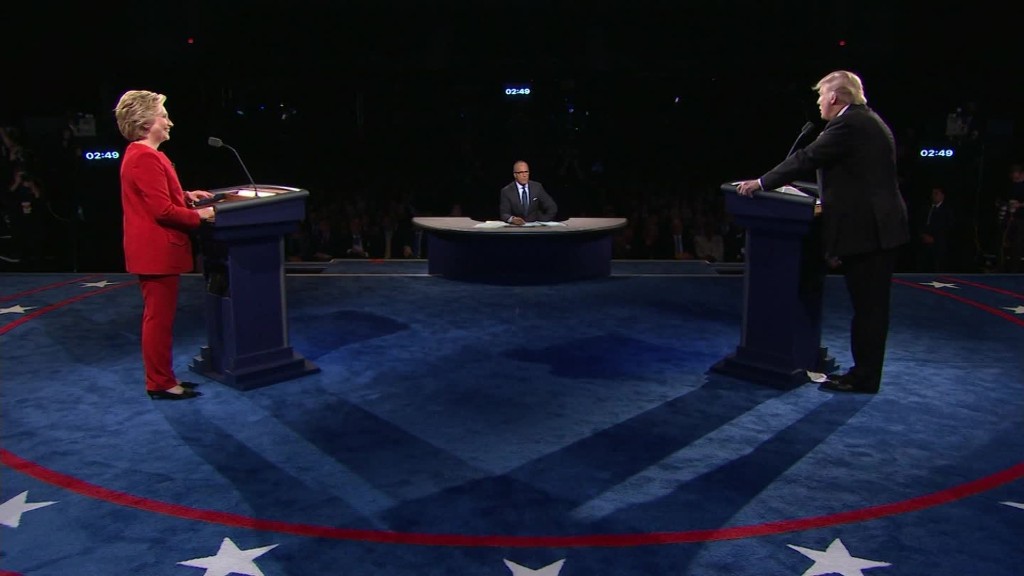 The NFL normally plays backup to no one -- but Monday night ESPN's "Monday Night Football" had to compete with the first presidential debate between Hillary Clinton and Donald Trump, and it took a big hit as a result, bringing in the program's lowest viewership in at least the past 25 years.
The Atlanta Falcons 45-32 win over the New Orleans Saints brought in an average of roughly 8 million viewers. This is the lowest viewership in ESPN's records which go back to 1992. The previous low was a game between the Denver Broncos and San Diego Chargers on Christmas Eve, 2007.
Despite the historic low, ESPN probably doesn't have much reason to worry, as there was likely nothing that could have done better. The showdown between Clinton and Trump was the most-watched debate in U.S. history, bringing in more than 80 million people.
These ratings seem to prove Trump was wrong when he suggested this summer that the Clinton campaign and the Commission on Presidential Debates had colluded to schedule the debate against the NFL in order to minimize viewership for the debate.
Viewership for the game, which ran from 8:15 p.m. to 11:37 p.m. ET, peaked right before the beginning of the debate with 9.7 million viewers at about 8:45 p.m. ET.
Related: Debate breaks record as most-watched in U.S. history
The NFL has struggled out of the gate this season, with viewership down or stagnant across the board. "Monday Night Football" wasn't immune to this even before the debate; it was down 12% from last year through the first two weeks.
"MNF" is averaging 11.8 million viewers through the first two weeks, down from the 13.4 million viewers it averaged in the same period last year.
This is not the first time that "Monday Night Football" had to go against a presidential debate. In 2012, ESPN's broadcast of the Chicago Bears 13-7 win over the Detroit Lions averaged 10.6 million viewers on the same night as the third and final presidential debate, down from an average of 12.8 million that year.