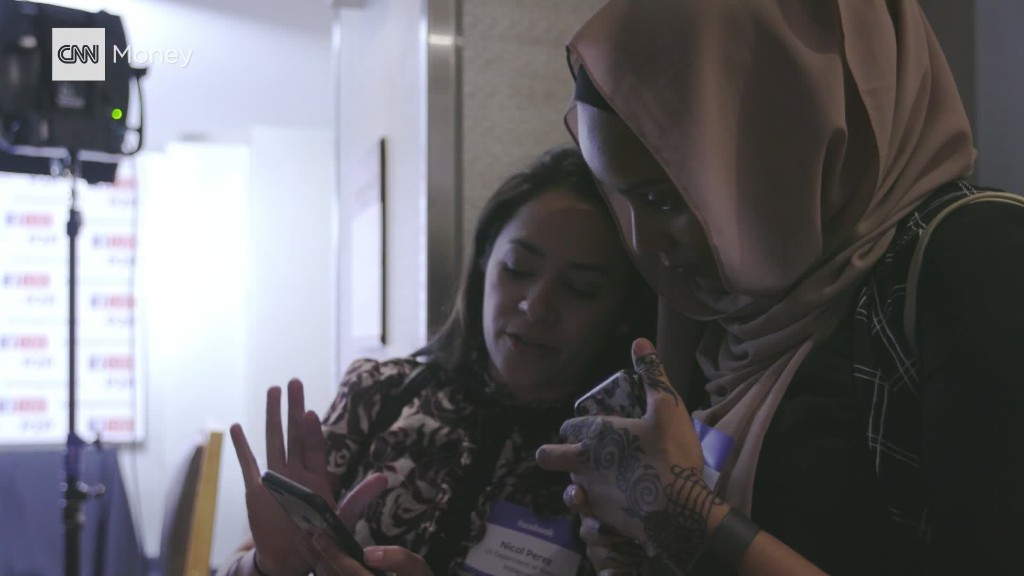 Facebook was the talk of one of the biggest advertising events of the year -- but not for a good reason.
Top execs from Facebook (FB) went on an apology tour at Advertising Week in New York days after a controversy erupted in the marketing community over the social network mistakenly overstating a key video metric.
Late last week, Facebook apologized for miscalculating the average time users spend watching videos, citing the number was "overstated."
The error was first discovered a month earlier, but not shared with the general public.
Andrew Bosworth, a longtime Facebook executive now in charge of ads and business platforms, called it a "clearly regrettable mistake" in response to an audience question after an otherwise upbeat presentation on Tuesday.
"It's a bug in the code, highly embarrassing and we feel bad about it," Bosworth said on stage. "The most important thing is to commit to people that obviously we try not to make mistakes, but if mistakes do happen, you will hear about it from us."
Related: 5 big facts from Sheryl Sandberg's study of women at work
Asked about the issue at a separate panel, Facebook COO Sheryl Sandberg stressed the error was "just one metric" of many that the company tracks for video.
"It's not a metric advertisers were buying on," Sandberg said. "We take every mistake very seriously."
Facebook VP Carolyn Everson admitted on stage Monday at another AdWeek event that the company should have "made it public that we found this error" sooner. Instead, Facebook communicated with individual clients.
The company has established itself as a leading force in the marketing world on the strength of its advertising products for smartphones and tablets.
Throughout the last year, Facebook has tried to double down on video and live video, with the potential to attract money from TV ad budgets. But the video metric flaw could throw a wrench into those plans.
"There has certainly been a breach of trust," says Paul Verna, senior analyst with eMarketer, a research firm. "In this case, they were either deceptive, or if not deceptive, at least out of touch with their own data. Neither scenario is particularly good."
Related: Vietnam photo censorship reignites debate over Facebook's responsibilities
Verna doubted the incident would be make or break for Facebook's ad efforts, but some in the industry said it could leave a stain on the company.
"Apologies aside, this mistake will taint Facebook video for months," said one ad agency exec, who spoke on condition of anonymity. "Every time Facebook releases some new data or trumpets research results, there will be doubts to overcome."
There's now growing pressure from the marketing community for Facebook to open itself up to more third-party services that track metrics, just like Nielsen does for television.
"Publishers should not 'grade their own homework,' " Joanne Trout, a spokesperson for Omnicom Group, said in a statement.
Executive from tech companies like Twitter and AOL were also asked to address the measurement issue at Advertising Week, as a result of Facebook.
"Anyone that knows me and knows our team knows that we take both accuracy, transparency and trust extremely seriously," Adam Bain, COO of Twitter, said on stage.
At least some of the frustration over Facebook's video metrics may be a result of the lopsided balance of power between the social network and the marketers who flock to it.
"Facebook has a lot of leverage in every conversation they have with an advertiser, maybe more leverage than anybody has ever had over advertising dollars in history," says Ian Schafer, CEO of Deep Focus, a digital agency. "Some of the energy spent on this conversation is a pent up frustration about that."