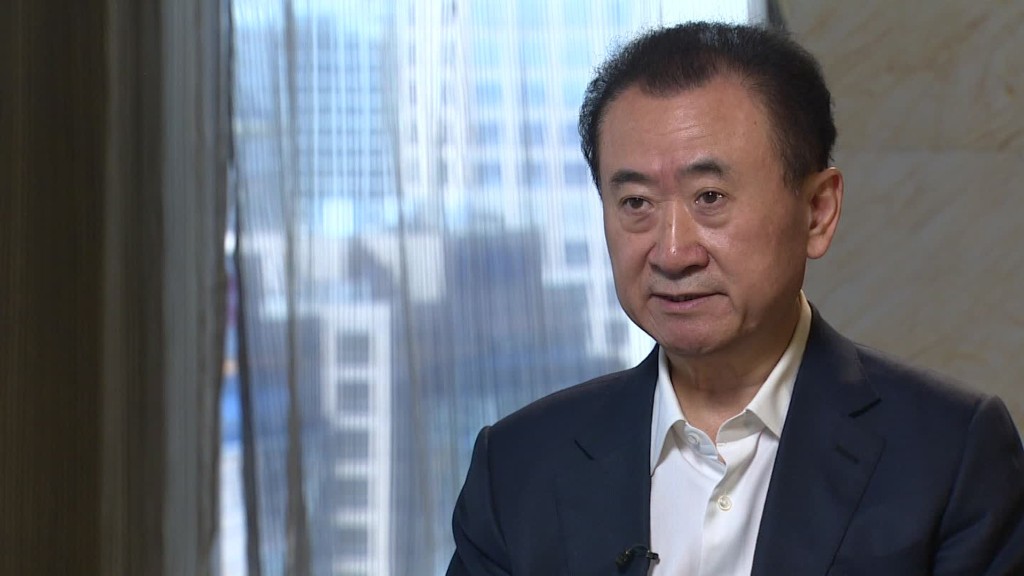 China's richest man Wang Jianlin is planning to conquer the entertainment world.
The real estate and entertainment mogul has vowed to take on Disney in China, buy one of the major Hollywood film studios and turn his Dalian Wanda Group into a renowned multinational company within a decade.
"Considering my personality and how the company has been executing my plans, I think we will be No. 1 in the world in real estate, entertainment, tourism and sports," he told CNNMoney in an exclusive interview on Wednesday.
Here's how he plans to turn Wanda into "a juggernaut":
Buy a movie studio
Wang has been very open about his desire to own movie studio.
But not just any studio will do -- he wants to buy one of Hollywood's "Big Six," a group that includes 20th Century Fox, Warner Bros. (TWX), Paramount (PGRE), Universal (CCV), Columbia (SNE) and Walt Disney (DIS).
And he's not interested in a minority stake.
"If we want to buy something ... our minimum would be 50% ... we are waiting for the opportunity," he said.
Take on Disney
Wang is also open about his quest to crush Disney in China after it opened a new theme park in Shanghai.
"When it comes to movies, Disney is our biggest partner and our market share is the largest ... but when it comes to entertainment tourism, we are archrivals," he said.
He said that Wanda is launching multiple project at the same time to encircle Disney (DIS).
"We want to smash them," he said. "It's not personal -- it's where the interest of the company lies."
Keep investing in the U.S.
Wanda has cut a series of deals that seek to expand the company's American entertainment footprint.
Wanda has owned cinema chain AMC since 2012. It bought Legendary Entertainment in January, paying $3.5 billion for the studio behind "Jurassic World" and "Interstellar."
Wang is also in talks to buy Dick Clark Productions, which produces the American Music Awards, Billboard Music Awards and the Golden Globe Awards, among others.
Related: This Chinese province is churning out billionaires
The billionaire is confident about his company's potential in the U.S. And he's not concerned about the outcome of the upcoming presidential election, despite Donald Trump's anti-China rhetoric.
"Whoever becomes the president, their campaign rhetoric isn't the same as their policies," Wang said.
"They [China and the U.S.] are the two largest economies of the world, and China is the biggest holder of US debts ... if bilateral ties change drastically, it would affect not just China, but the U.S. even more."