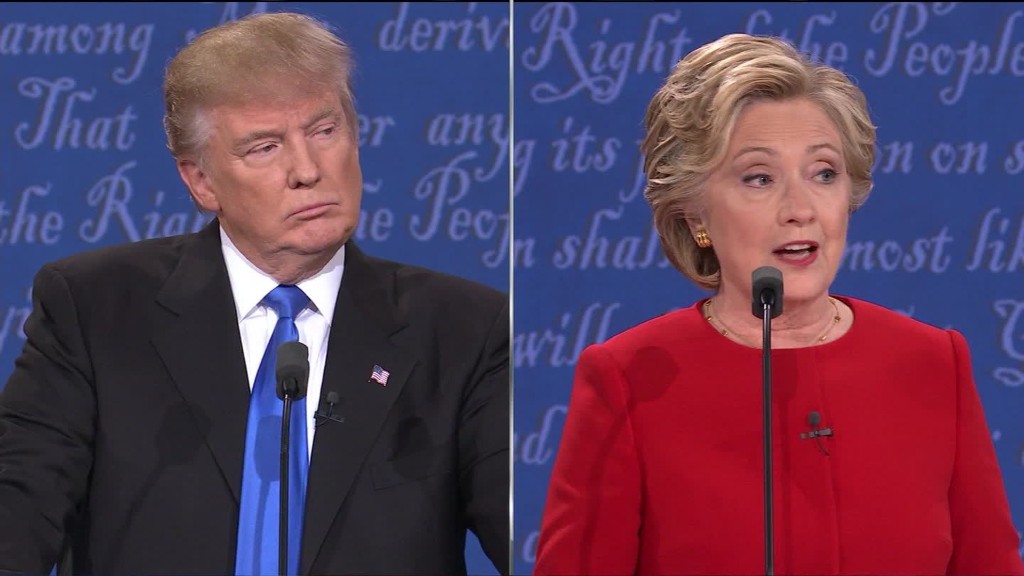 Donald Trump says Mexico isn't playing fair on trade.
He argues that Mexico sets a trade barrier on U.S. companies, but the same penalty isn't applied to Mexican companies that sell in America.
"When we sell into Mexico, there's a tax...When they sell into us, there's no tax. It's a defective agreement," Trump said at the debate on Monday.
His critics believe his latest comment is misleading. It is true that Mexico has a 16% value-added tax (VAT) that American companies must pay in Mexico. It's also true that Mexican companies don't pay a VAT tax in the United States.
However, Mexican companies do pay the same VAT tax in Mexico that U.S. companies pay.
Trade experts say the VAT tax isn't a trade barrier, or tariff, because local companies are paying the same tax in their home country.
"He was implying that it's a trade barrier, and it's just not," says Alan Deardorff, an economics professor at the University of Michigan. Trump's comment Monday night "was incredibly misleading."
Related: Could 'President Trump' tear up NAFTA? Yes
About 160 countries outside the United States have a value-added tax, which is imposed on goods and services at each stage of production and on the final sale. So companies pay the tax on improvements they make to the parts they receive from suppliers, while consumers then pay the tax when they purchase the final product. The U.S., however, levies a sales tax on purchases.
In a report released Monday, Trump's economic advisers Peter Navarro and Wilbur Ross argue it's not fair that products that American companies are subject to this additional levy from VAT countries. That's because under World Trade Organization rules, foreign companies that manufacture in their own countries and then export goods to the U.S. receive a rebate on the VAT taxes they paid in their homeland.
This makes it more economical for U.S. companies to move their factories abroad and export their products back home, Trump's advisers say. If the U.S. firm is based overseas, it also receives the rebate.
"This turns the VAT into an implicit tariff on U.S. exporters over and above the U.S. corporate income taxes they must pay," they write.
Related: 'Without NAFTA, we would be out of business'
Trump wants to exempt U.S. exports to Mexico from the VAT tax, said Gary Hufbauer, senior fellow at the Peterson Institute for International Economics. But that would likely go over as well as having the Mexican government pay for a border wall between the two countries.
"Mexican firms will scream bloody murder because they'll say it's unfair," Hufbauer said, since Mexican companies still have to pay VAT taxes on goods they sell within their own border.
Mexico has become a focal point of Trump's campaign.
He has threatened to put tariffs of 35% on some goods made in Mexico and sold in the United States. Trade experts say such a tariff would be devastating to Mexico, which sends about 80% of its exports to the United States. They also argue it would hurt U.S. exporters because Mexico could retaliate with a tariff of its own on U.S. goods.
Trump wants to renegotiate or "terminate" NAFTA, the free trade agreement between Mexico, Canada and the U.S. He says NAFTA is responsible for the loss of millions of manufacturing jobs to Mexico.
An analysis of NAFTA's economic impact by the nonpartisan Congressional Research Service found that NAFTA has had a small, positive impact, and that it isn't the central cause of the decline in manufacturing jobs. Trade with China and improved technology have played bigger roles, experts say.