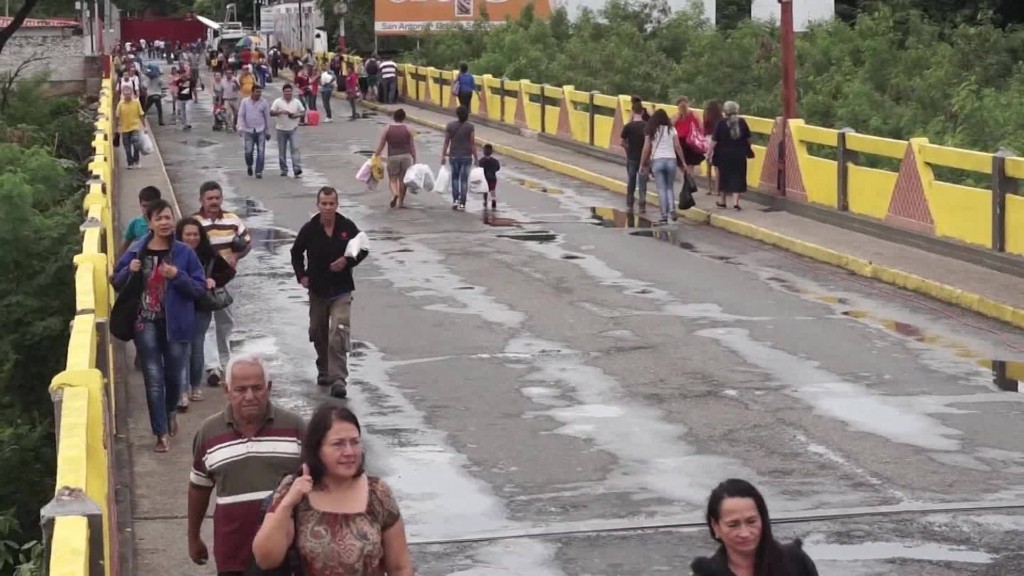 Carmen Mendoza came to New York to visit her daughter Anabella -- and also to buy toilet paper, soap, toothpaste, beans, corn flour, tuna fish, mayonnaise and aspirin.
Mendoza, 66, can't find these basic goods in her home country: Venezuela.
Venezuela's deep economic recession has spiraled into a humanitarian crisis. Venezuelans are suffering through severe food and medical shortages while crime skyrockets and massive protests call for President Nicolas Maduro to resign.
Mendoza has spent the past month in New York with her daughter and realizes she's lost a sense of what normalcy means. In Venezuela, she lived without toilet paper for a month in July, using paper napkins instead.
Just half a block away from her daughter's Brooklyn apartment, a new Whole Foods (WFM) recently opened and Anabella told her mom check it out. Mendoza fought back tears when she saw fully stocked food shelves and lush vegetables and fruits, a rare sight in Venezuela today.
"My eyes got wet," Mendoza says, becoming emotional recounting the Whole Foods visit. In Venezuela, "You are so happy when you find something as basic as milk."
Related: Venezuela food crisis deepens as shipments plummet
She isn't alone. About half a million Venezuelans visited the United States last year. Increasingly, Venezuelans living in the U.S. say their friends and family who can afford it are coming to America to buy basics.
"It's just a testament to how badly the country is being managed," says Beatriz Ramos, a Venezuelan tech entrepreneur, who lives in New York. Ramos has hosted six friends from Venezuela this year: "It's been steadily getting worse and worse and worse."
Ramos, Mendoza and others believe life in Venezuela won't be this bad forever but they aren't optimistic about seeing improvements anytime soon. Still, change could be brewing.
Venezuela's national election committee recently announced that it would give opposition leaders three days in late October to gather enough signatures needed for a presidential referendum vote -- a vote to remove Maduro.
Maduro's opponents need 20% of registered voters to sign the petition and then the referendum would happen in early 2017.
Some Venezuelans like restaurant-owner Ernesto Chang believe life won't get better for at least another five years. He brought his wife and their four children to the U.S. in September for a reprieve from the shortages. He saved up for two years to pay for all of them to visit the United States.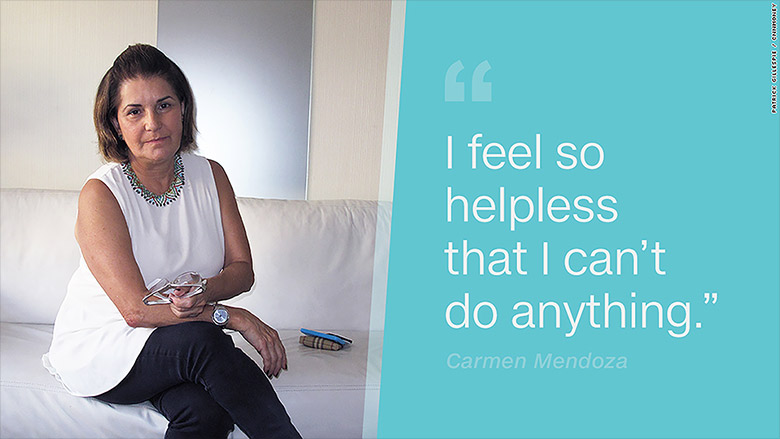 Related: Colombia, FARC end civil war, paving way for prosperity
Chang and his family flew in to Miami and took the 28-hour Amtrak train ride to New York, stopping for a few hours in Orlando to show the kids Disney World.
Staying with his brothers in New York City, Chang realized how Venezuela's crisis has affected his kids.
"Even though the kids are so innocent, they keep asking me every time we go to the supermarket, 'Why aren't aisles of the supermarket in Venezuela like this?'" says Chang, a Venezuelan restaurant owner of Chinese descent.
He adds: "I wish I could take everything home, from food to medicine," says Chang, who lives in the industrial city of San Diego, about a three-hour drive from the capital, Caracas.
Before his trip to the U.S., Chang's two-year old son got sick. He went to seven pharmacies, only to find each one out of penicillin. Eventually a neighbor lent him the medicine. Chang is now stocking up on Tylenol, powder milk, lentils, soap and several other goods.
Chang and Mendoza both say they are middle class Venezuelans. They are both well dressed, speak English and tote iPhones. Mendoza's late husband was a diplomat in the 1970s and the couple lived in London for three years. Chang graduated from Baruch College in New York in 1994 and settled in Venezuela in 2000.
Related: Venezuela chaos: the biggest threat to cheap oil
But even middle class life in Venezuela sounds anything but normal with no basic necessities available.
And getting to the U.S. has been nightmarish, these Venezuelans say. In addition to no direct flights, no airline flying to the U.S. will accept Venezuela's currency, the bolivar, because it's lost so much value. Travelers must use cash savings or rely on loved ones in the U.S. for help.
Mendoza tutors high school students with special needs and earns $150 a month. She used to teach seven to eight students daily. Now she only has three to four students, and some families can't pay her on time.
Chang earns $60 a month between a few jobs: managing the family restaurant, working at a bank and helping a local food importer. Five years ago, when Venezuela's economy wasn't suffering as much, Chang made about $200 a month, a livable income, he says.
But the value of their income has been decimated by Venezuela's skyrocketing inflation. This year alone, the IMF forecasts inflation will rise over 700% in Venezuela. The country's government doesn't provide reliable data. No matter how much salaries go up, prices go up faster.
Mendoza once dreamed she would be retired by this point in her life. But having had her home robbed twice and savings depleted, she must keep working. Her daughter Anabella helped cover some of the cost of the flight, she says.
In her free time, Mendoza often accompanies her 25-year old son, protesting in the streets against the government and dodging tear gas bombs police fire at her.
"There isn't any place in Caracas where you feel safe," she says.
What will she miss most about New York when she returns to Venezuela this week?
"I will miss walking in the streets because you can't do it there," Mendoza says.