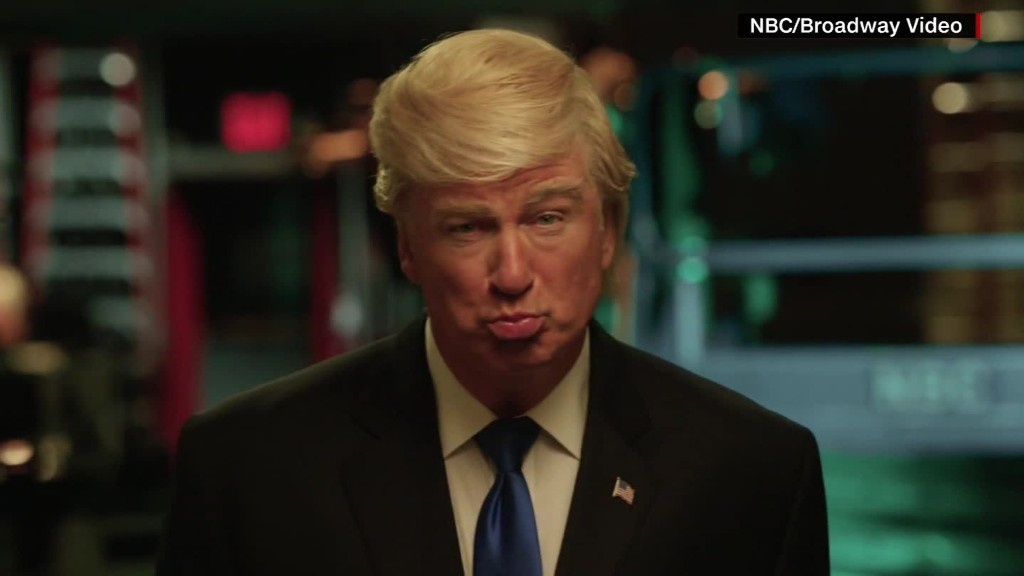 Live from New York... it's the 2016 election!
"Saturday Night Live," one of the country's best satirical institutions, kicked off its 42nd season by bringing in a big name: Alec Baldwin. The actor, who has hosted the show a record 16 times, opened the show as Donald Trump in a debate sketch against Kate McKinnon's Hillary Clinton.
"Good evening, America," Baldwin's Trump said. "I'm going to be so good tonight. I'm going to be so calm and so presidential."
He then rattled off how jobs were leaving the country and going to China (which he pronounced as "gina") and that his great response had already won him the debate.
"Donald, there's 88 minutes left. It's a 90 minute debate," Michael Che as debate moderator Lester Holt said.
Baldwin's stunned Trump paused and responded, "My microphone is broke. She broke it with Obama. She and Obama stole my microphone."
Che's Holt then asked, "Secretary Clinton, what do you think about that?"
"I think I'm going to be president," McKinnon's Clinton quipped to huge cheers from the audience.
Baldwin and McKinnon sparred back and forth throughout the sketch seemingly taking many jokes directly from the debate itself. The two then used their final remarks to give the iconic line, "Live from New York... it's Saturday night!"
The announcement of Baldwin as Trump took place earlier this week and stirred excitement and curiosity on how the "30 Rock" alum would parody the brash businessman turned presidential candidate.
Baldwin will portray Trump at least through the election.
The premiere -- which was hosted by actress Margot Robbie -- also poked fun at fact checking with the "Suicide Squad" star "fact checking" her own opening monologue.
The show also featured a politically themed "Family Feud" sketch. A parodied Trump family -- with Robbie as Ivanka Trump -- faced off against a team Clinton and Bernie Sanders, who like last season was again played by Larry David.
If it seems that "SNL" is returning from hiatus later than usual this year, it is. The show has traditionally premiered in September, but producers chose to start in October this year in order to follow the first presidential debate and have more consecutive shows leading up to the election.
"SNL" has been satirizing presidential campaigns since Ford vs. Carter in 1976.
Related: Big names, big viewership: 'Saturday Night Live' gets ready to mock Trump and Clinton
McKinnon, who won an Emmy last month, has portrayed Hillary Clinton in numerous skits -- including an episode last season in which she was joined by the candidate herself.
That said, this election has proven to be arguably unlike any other in terms of chaos and comic potential. The "SNL" cast should have plenty of material through November.