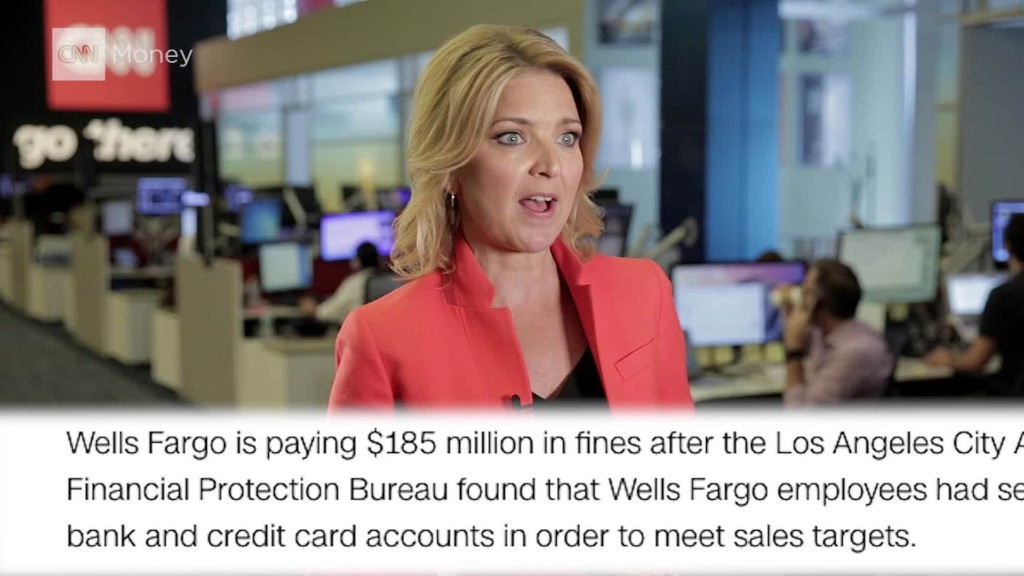 A top economic adviser to Donald Trump called the Wells Fargo scandal "just stupid, greedy behavior."
Trump has yet to say anything about the revelation that shocked the nation. In contrast, Clinton said she was "deeply disturbed" by Wells Fargo's illegal practices and spelled out a plan to address them.
On September 8, Americans learned that Wells Fargo (WFC) had fired 5,300 employees for secretly creating as many as 2 million unauthorized accounts since 2011. The scandal erupted in the midst of an presidential election that has been heavily critical of Wall Street.
"Wells Fargo....shame on them, just shame on them," Peter Navarro, an economic adviser to the Trump campaign, said Sunday.
Navarro was asked about the banking scandal in a head-to-head debate in Ohio with Austan Goolsbee, an economic adviser to President Obama and Hillary Clinton. The event was sponsored by financial firm EF Hutton.
While Navarro slammed Wells Fargo for unethical behavior, he defended Trump's stance to cut regulation, including on Wall Street banks. Trump wants to dismantle the Consumer Financial Protection Bureau, the very government agency that helped discover the wrongdoing by Wells Fargo. The bank was fined $185 million.
"What we need to stop doing in this country is to overreact, which gives us a set of bad regulations," Navarro said.
Related: Trump or Clinton? The stock market says the winner will be...
But how far would Trump go?
"The Consumer Financial Protection Bureau is absolutely a crown jewel. It is the kind of regulation we need to find these abuses," said Goolsbee, Clinton's adviser, on Sunday. "Donald Trump is for abolishing the CFPB."
Trump has been clear that if elected president, he would dramatically rewrite Dodd-Frank, President Obama's Wall Street reform law that was enacted after the financial crisis. Trump told Reuters he would come "close to dismantling" Dodd-Frank, which created the CFPB.
The 2016 Republican Party platform that Trump's team helped write also calls explicitly for the repeal of the CFPB.
Clinton posted a letter on her website in late September pledging to defend the CFPB and add "additional safeguards." She also called for executives at the bank to "take a hit" to their compensation.