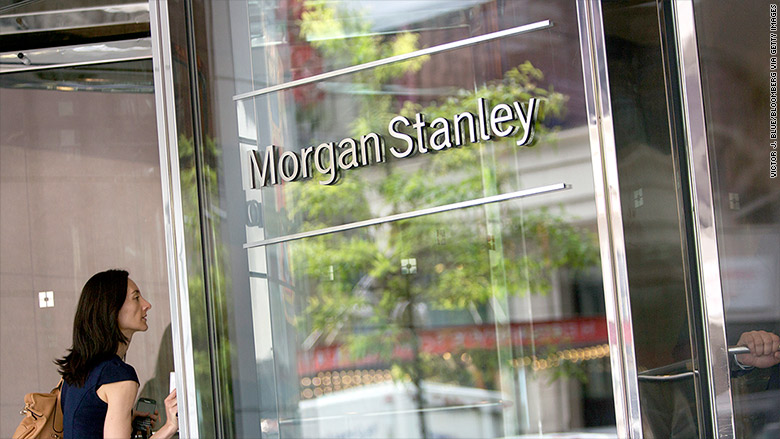 Massachusetts has sued Morgan Stanley, accusing the bank of dishonest conduct to meet sales goals.
The lawsuit, filed by the state secretary on Monday, says the bank pressured employees to open customer accounts. Morgan Stanley ran "sales contests" targeting loans to wealthy clients. The lawsuit explains that in doing so, the bank ran afoul of its own internal rules.
Indeed, Morgan Stanley eliminated the practice after more than a year of conducting sales contests in 2014 and 2015 across Massachusetts and Rhode Island.
The case is another instance of a major financial institution squeezing its bankers to meet business targets. Wells Fargo has been in the spotlight for the past several weeks after regulators revealed that bank employees opened fake accounts to meet aggressive sales goals.
Morgan Stanley (MS) defended its actions. The bank said the loans at issue were willingly opened by customers.
"These accounts are valuable to clients, providing access to low cost liquidity whenever they choose to access it," the bank said in a statement.
Morgan Stanley said it will fight the lawsuit in court. "We object strongly to these allegations," the bank said in a statement Monday.
But the state's lawsuit points out a particularly thorny issue. It claims that Morgan Stanley's financial advisers -- whose job is to make sure customers properly manage their money -- were pressured to push out loans, even if the customer didn't need or want one.
According to bank documents cited in the lawsuit, Morgan Stanley rewarded employees with an extra $1,000 for making 10 loans, $3,000 for 20 loans, and $5,000 for making 30 loans.
"The sales contests created a material conflict of interest" for financial advisers, the lawsuit says.
In a statement, Massachusetts Secretary of State William Galvin said bankers acted ""without regard for the fiduciary duty owed to the investor."
State investigators say they were tipped off about Morgan Stanley's behavior when a financial adviser quit rather than take part in the contests.
The lawsuit quotes the unnamed tipster: "I did not feel comfortable recommending every customer establish a credit line, because I felt that my role as a financial advisor and fiduciary was to help customers save and make money and not go into bad debt."
According to bank documents cited in the lawsuit, these contests paid off. One regional bank saw loans nearly triple.