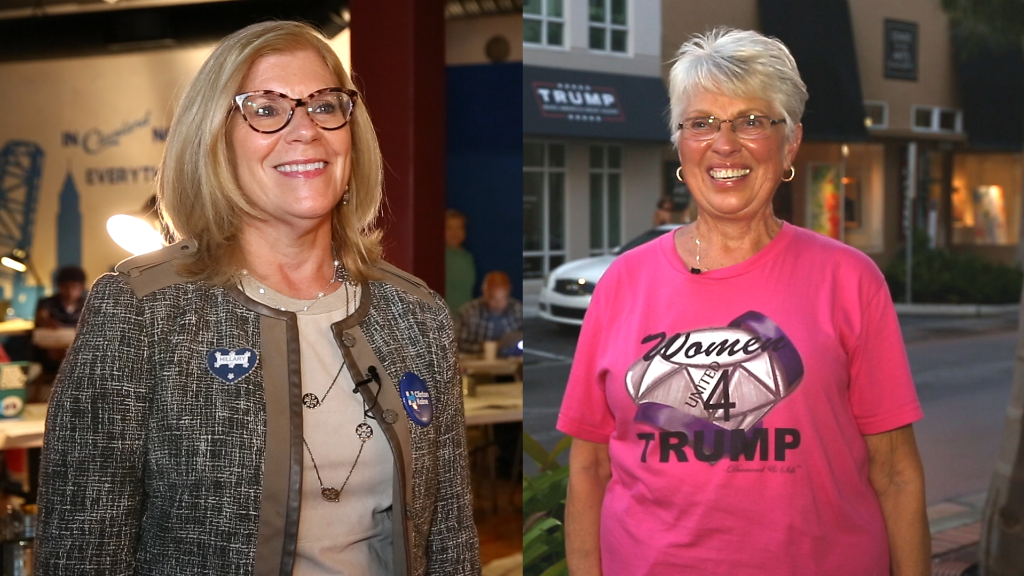 Education is rarely mentioned on the 2016 campaign trail. Hillary Clinton and Donald Trump might be making a huge mistake not talking it up.
That's because education is consistently the No. 1 or No. 2 issue on the minds of a key voter bloc: Latinos.
"Education was a big thing for us at home," says Maria Garcia, a Cuban-American grandma in Orlando. She has typically leaned Republican but is undecided this year.
CNNMoney heard about the importance of education over and over from Latino voters we talked to while touring the swing states for a "Your Money, Your Vote" TV special airing October 15. It's not a new trend. Pew Research has document how critical education is to Latino voters for years.
"Making pizzas is not exactly my dream job," says Noel Miranda, a 20-year-old Puerto Rican in Florida who had to put his computer programming studies on hold because he can't afford college. Miranda -- and his parents -- are listening closely to what the candidates say about lowering college costs.
Education could tip the election in Florida, yet it was mentioned only three times in the first debate -- all by Clinton. Both Trump and Clinton might want to change that.
Related: Voters say this is the ultimate 'lesser of two evils' election
College grads earn double what high school grads do
Out of all states, Florida was the closest in 2012 (President Obama narrowly won it). The sunshine state will once again be one of -- if not THE -- ultimate battleground states this year. The key to wining Florida is the Latino vote. It's grown the most since 2012, with almost 250,000 new Hispanic voters in the state.
Among the dozens of voters CNNMoney spoke with, few could recall much, if anything, about Clinton or Trump's education proposals.
"We've got to educate our youngsters because, unfortunately, without education you aren't going to make a lot of money," says Lizbeth Martell, a Puerto Rican who grew up working 364 days a year at her family's restaurant outside Orlando. She also works as a real estate agent.
Martell hasn't made up her mind who she will vote for yet, but she's right about education leading to economic success. College graduates earn almost double the weekly wages of people with only a high school degree, according to the U.S. Labor Department.
Martell and many of her friends don't like Trump or Clinton. Some aren't sure if they'll vote, but they listen to what the candidates say on education.
Related: Trump supporters want his tax returns released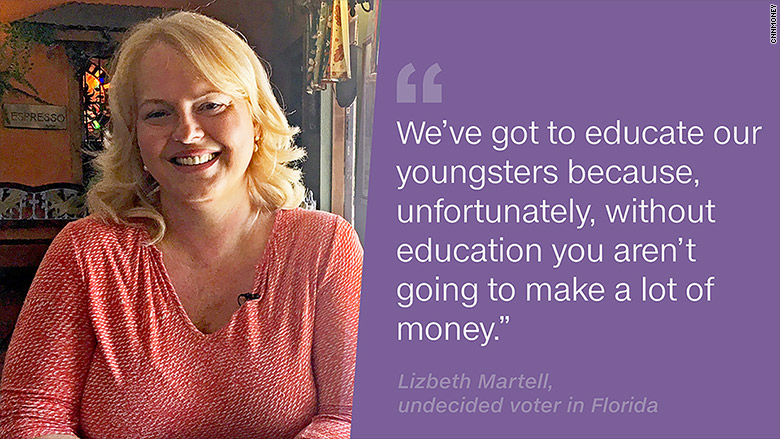 The key to winning Florida: Latinos
For Trump to win Florida, he needs to bite into Clinton's lead with Latinos. Meanwhile, Clinton needs more Hispanic voters to register and go to the polls.
A surprising number of Hispanic voters told CNNMoney they are on the fence about voting. The last day to register to vote in Florida is October 11.
Hillary Clinton brought up her plan for "debt-free college" at a recent rally with Bernie Sanders to try to woo younger voters, but it was a rare moment where she put it front and center.
Trump talks about education even less.
"We haven't heard enough for any candidate" on education, says Jitu Brown of Chicago. Brown is the nation director of Journey for Justice Alliance, a grassroots education reform group with over 40,000 members. He calls President Obama's education policy "a disaster."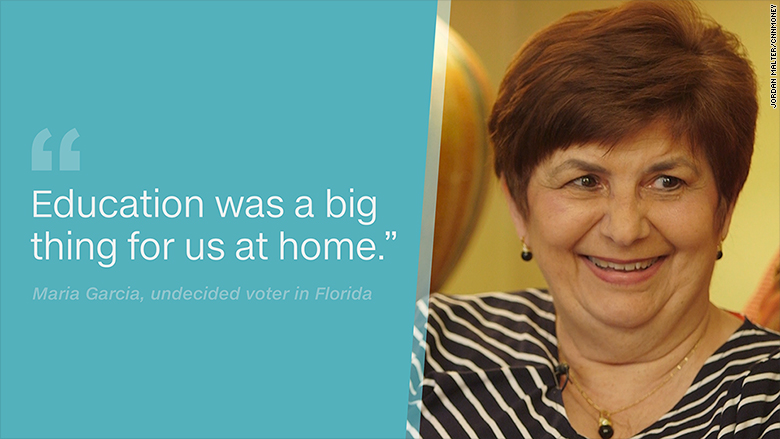 Related: Here's how the 'king of debt' plans to balance the budget
'We haven't heard enough' on education
"The schools are failing. There is nothing done about equity," says Brown, a former teacher and parent of a school-aged student. There are "stark differences in the quality of education offered to white students versus black and brown students."
Clinton's website talks about her dedication to "strong public education" and her plans for pre-school for all Americans, but they aren't mentioned much on the campaign trail.
Trump's website says he wants to end Common Core, the controversial national education standards that specify what students should learn in each K-12 grade. But it's not a top talking point for him.
Education is the most important issue for Miriam Casanova, a Puerto Rican voter who lives near Disney World. She puts it simply: "Education is a necessity. If you don't get it, it's like stopping your heart."
Casanova plans to vote for Clinton, but a friend sitting across from her at the Puerto Rican restaurant isn't sure she'll vote. In a state where every vote counts, that could be trouble for Clinton.