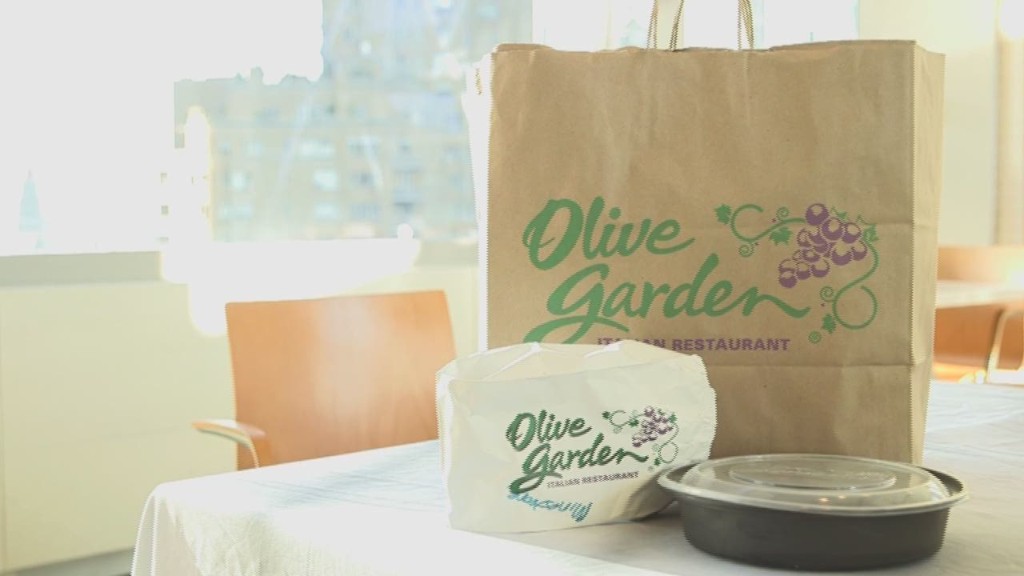 October 4 may be National Taco Day on Twitter. But it's National Breadstick Day for Olive Garden owner Darden Restaurants on Wall Street.
Shares of Darden (DRI) rose Tuesday after the company reported earnings that topped forecasts and also raised its outlook for the rest of the year.
The stock is now up more than 40% since activist hedge fund Starboard Value took over the company's board in October 2014, ousted the CEO and made changes to the menu at Olive Garden.
Starboard waged an epic battle for control at Darden a few years ago that focused mainly on the quality of the food at Olive Garden.
The hedge fund put out a blistering, 294-slide presentation detailing what it thought were major culinary sins at the chain, including failure to salt pasta water, excessive amounts of gloopy sauce on its food and too many breadsticks.
Cristina Alesci and I -- the two Italian-American food critics at CNNMoney -- did our own taste test too. We were even harsher than Starboard. ("It smells a little bit like cat food." "That ... is really terrible.")
Consumers -- and investors -- apparently still love those breadsticks, though. (Starboard's complaint wasn't the taste per se, but that the chain was wasting food by giving away too many.)
Olive Garden just had its biggest sale ever for its popular Unlimited Pasta Passes.
And Darden said Tuesday that same-store sales for Olive Garden in the most recent quarter rose a respectable 2%.
Related: Olive Garden served up biggest Unlimited Pasta Pass sale ever
So CEO Gene Lee, who took over after Starboard pushed out Clarence Otis, deserves kudos for listening to Starboard and getting Olive Garden back on track.
But Darden, despite its impressive turnaround, still is having a tough time getting a lot of new customers to try Olive Garden.
The company said the chain's traffic actually fell 1% in the quarter. The improved sales were due to price increases and a change in the menu mix.
Menu prices are going up largely due to higher labor costs. And that trend is likely to continue as more and more companies bow to pressure to pay their workers more. Many are being forced to do so as states and cities hike minimum wages.
It's all well and good that Olive Garden continues to satisfy its core group of loyal customers -- and that it is getting them to keep coming back even as prices for a meal go up.
But Darden may need to do a better job of attracting new customers, especially since cheaper prices for food at the grocery store could be convincing more consumers to eat in instead of dining out.
In fact, executives at Wendy's (WEN), McDonald's (MCD) and other fast food and casual dining chains have warned in recent months that food deflation may hurt restaurant sales.
This doesn't seem to be a huge problem for Darden just yet.
Although I'd never bring my family to an Olive Garden -- Pepperoni Fettuccine Alfredo? Seriously? -- I recognize that many other diners aren't as picky as I am. And that's great news for Darden.