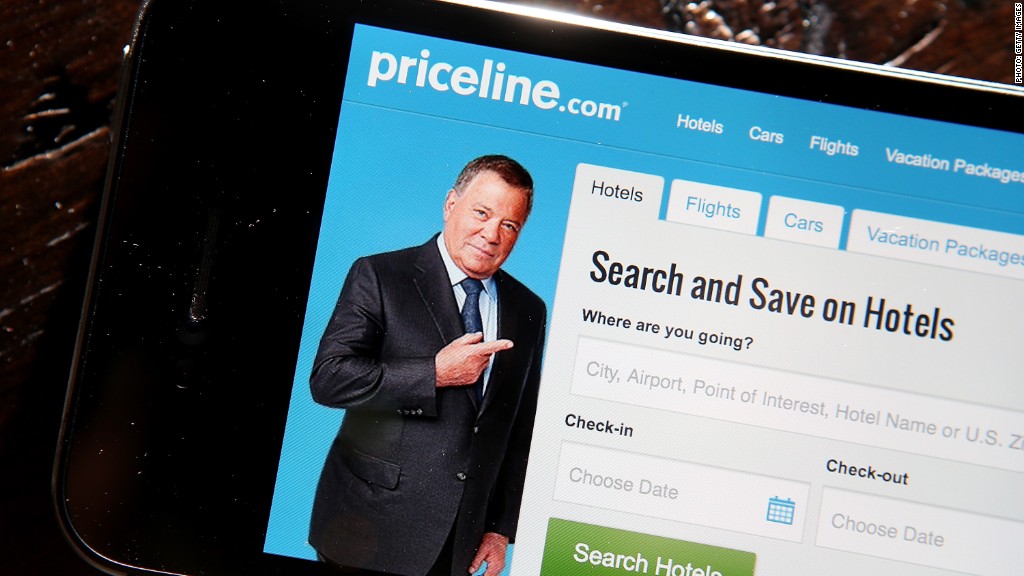 For $1,500, you could fly away for the weekend, spend a night or two in a nice hotel and have a fancy dinner. Or you could buy one share of Priceline. But only one.
Priceline (PCLN) hit a new all-time high of above $1,500 on Wednesday. That makes it the priciest stock in the S&P 500.
Priceline stock is now up nearly 20% this year. The company is worth about $75 billion.
To put that in perspective, it's three times as valuable as leading airline Southwest (LUV) and nearly five times higher than the market value of Marriott (MAR).
Priceline is worth more than twice as much as buzzy unicorn Airbnb too, and its market value is four times higher than rival Expedia (EXPE).
In other words, Priceline is the king of the travel industry. Not bad for a company that was in danger of going under during the big dot-com bust 16 years ago. (Remember when Al Gore and George W. Bush were running for president? How quaint.)
Priceline has come a long way from being a quirky site that let you name your own price for airline tickets. In fact, it quietly killed off that gimmicky feature last month.
William Shatner's Priceline Negotiator character is no longer a star of the company's TV commercials either. Thankfully, Shatner is still present though. He's just the voiceover narrator now. (Don't short the Shat!)
Priceline now owns six big travel and leisure related online brands.
There's the namesake site of course. But it also owns Booking.com, which is huge in Europe and expanding aggressively in the U.S., hotel reservations site Agoda, travel search engine Kayak, restaurant reservation service OpenTable and Rentalcars.com.
This diverse lineup of brands has served the company well.
Fears about a slowing global economy -- particularly turmoil in Europe due to Brexit and worries about China -- briefly dented Priceline's stock earlier this year. But it's quickly recovered.
The company also didn't suffer from the surprise resignation of CEO Darren Huston in April after it was revealed that he had an extramarital affair with a female employee.
Related: Priceline CEO out after sexual relationship with co-worker
The company's revenue and earnings have continued to grow at a healthy clip. Wall Street is predicting profit increases of about 16% a year for the foreseeable future as well.
And despite that, the stock still trades at a reasonable valuation of about 19 times 2017 earnings estimates.
But what about that sticker-shock inducing price? Some investors aren't exactly willing to just spend hundreds of dollars on the market, let alone $1,500 for one share.
Investors shouldn't hold their breath waiting for the company to split its stock in order to push the price down though.
Companies occasionally will issue more shares to existing shareholders in order to lower the share price. The value doesn't change. If Priceline split its shares 5 for 1, for example, investors would have 5 shares worth $300 instead of one at $1,500.
But Priceline has only split its stock once. And it was a reverse split ... a move where companies cut the number of shares to prop up the price. Priceline did that in 2003 -- when investors were worried about the company's survival.
The move ensured that Priceline wouldn't become a penny stock. If that happened, it could have been delisted from the Nasdaq. Big mutual fund investors could have been forced to sell the stock as well.
That obviously didn't happen. Priceline is now one of the most successful tech companies out there.
And even though the price of one share may seem insanely high, the company clearly hasn't had a problem finding new buyers.
The same can be said for two other tech giants. Amazon (AMZN) and Google parent Alphabet (GOOGL) each cost more than $800 a share. And like Priceline, those two stocks are near all-time highs.